Rhum Barbancourt 15 Year Estate Reserve Rum
Out of Stock

(was $64.97)
Distiller Notes
Fragrant and complex nose, with candied citrus and roasted flavors. A powerful body from the onset revealing an almost explosive aromatic richness based cooked pears, citrus fruits, cinnamon and pepper. The finish is very long, spicy with the return of citrus fruits.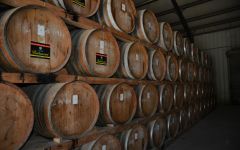 Distilled in Haiti since 1862, Rhum Barbancourt is crafted from 100% sugar cane juice, no molasses, giving its taste most delicate flavors. Depending on the aging, 4 different rums come out of the distillery, each with its own unique trait: the 15 years old Estate Reserve, the 8 years old Réserve Spéciale 5 star, and the 4 years old 3 stars are aged in oak barrels, while White Rhum is aged under a year in a stainless tank.
Often referred to as a Gold Rum, an Aged Rum is one that has been aged in barrels, often Ex-Bourbon or White Oak before bottling. As the Rum continues to age, it draws more and more color and flavor from the wood, adding both body and complexity to the finished product. Aged Rums can be sipped neat or added to cocktails. They fall somewhere in between White and Dark Rums in terms of their respective strength of flavor.