Raventos i Blanc de Nit Rose 2018
Regular price
Currently Unavailable

$27.99
Winemaker Notes
The vines of the Barbera, Plana and Viader plots have deep soil with a clay loam texture, which provides us with freshness and elegance. The Monestrell plot, situated on the terraces on Serral hill, marks the De Nit sparkling wine with its personality.
Blend: 40% Xarel·lo, 34% Macabeo, 19% Parellada, 7% Monastrell
Critical Acclaim
All Vintages
Pepe Raventós adds depth and a touch of color to this sparkler with fruit from monastrell vines planted in 1974. That addition lays a smoky note and red-fruit hints over a base of xarello, macabeo and parellada. You could con- template the narcissus scents, the peach fuzz, the brisk clarity of flavor for hours if you had some oysters, and if you didn't immediately race through the bottle, as its elegance is hard to resist.
Simple nose but very pretty red crunchy fruit and mulberries on the palate. Pleasant acidity and excellent length. Very pretty.
View More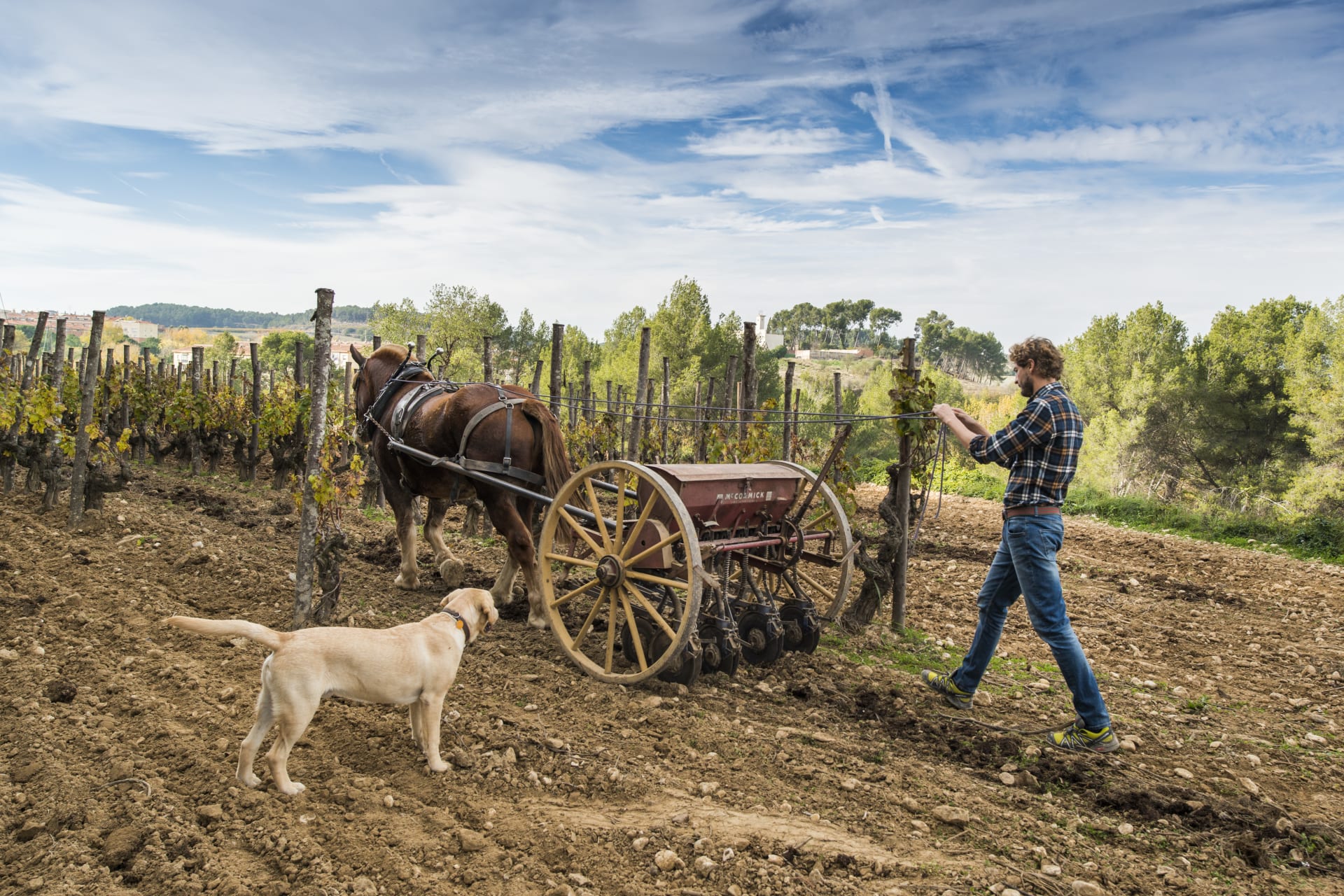 Pepe Raventós is the 21st generation of the most exciting Spanish Sparkling producers, Raventós i Blanc.
With a documented history of viticulture back to 1497, officially creating the first sparkling wine in Spain in 1872 by Josep Raventós i Fatjó, the Raven- tós family are one of the best sparkling wine produ- cers in the country.
Pepe Raventós, of the current generation, is a dy- namic and forward-thinking man and honed his expertise with internships alongside the late, great Didier Dageneau in the Loire and Domaine Hubert Lamy in Burgundy, before returning to the family domaine to produce exceptional sparkling wines from their biodynamic, fossil-rich terroir.
In 2012, Raventos i Blanc withdrew from the Cava DO to initiate a new, terroir driven appellation, Conca del Riu Anoia, due to a desire to set a stan- dard in high quality wine production, where rules such as the use of only indigenous grapes, ecologi- cal viticulture (100% Biodynamic), estate-produced and estate-bottled fruit and minimum of 18 months of ageing requirements, apply.
A superior source of white grapes for the production of Spain's prized sparkling wine, Cava, the Penedes region is part of Catalunya and sits just south of Barcelona. Medio Penedès is the most productive source of the Cava grapes, Macabeo, Xarel-lo, and Parellada. Penedes also grows Garnacha and Tempranillo (here called Ull de Llebre in Catalan), for high quality reds and rosès.
What are the different types of sparkling rosé wine?
Rosé sparkling wines like Champagne, Prosecco, Cava, and others make a fun and festive alternative to regular bubbles—but don't snub these as not as important as their clear counterparts. Rosé Champagnes (i.e., those coming from the Champagne region of France) are made in the same basic way as regular Champagne, from the same grapes and the same region. Most other regions where sparkling wine is produced, and where red grape varieties also grow, also make a rosé version.
How is sparkling rosé wine made?
There are two main methods to make rosé sparkling wine. Typically, either white wine is blended with red wine to make a rosé base wine, or only red grapes are used but spend a short period of time on their skins (maceration) to make rosé colored juice before pressing and fermentation. In either case the base wine goes through a second fermentation (the one that makes the bubbles) through any of the various sparkling wine making methods.
What gives rosé Champagne and sparkling wine their color and bubbles?
The bubbles in sparkling wine are formed when the base wine undergoes a secondary fermentation, which traps carbon dioxide inside the bottle or fermentation vessel. During this stage, the yeast cells can absorb some of the wine's color but for the most part, the pink hue remains.
How do you serve rosé sparkling wine?
Treat rosé sparkling wine as you would treat any Champagne, Prosecco, Cava, and other sparkling wine of comparable quality. For storing in any long-term sense, these should be kept at cellar temperature, about 55F. For serving, cool to about 40F to 50F. As for drinking, the best glasses have a stem and a flute or tulip shape to allow the bead (bubbles) and beautiful rosé hue to show.
How long do rosé Champagne and sparkling wine last?
Most rosé versions of Prosecco, Champagne, Cava or others around the "$20 and under" price point are intended for early consumption. Those made using the traditional method with extended cellar time before release (e.g., Champagne or Crémant) can typically improve with age. If you are unsure, definitely consult a wine professional for guidance.
PBC9170427_2018
Item#
717214