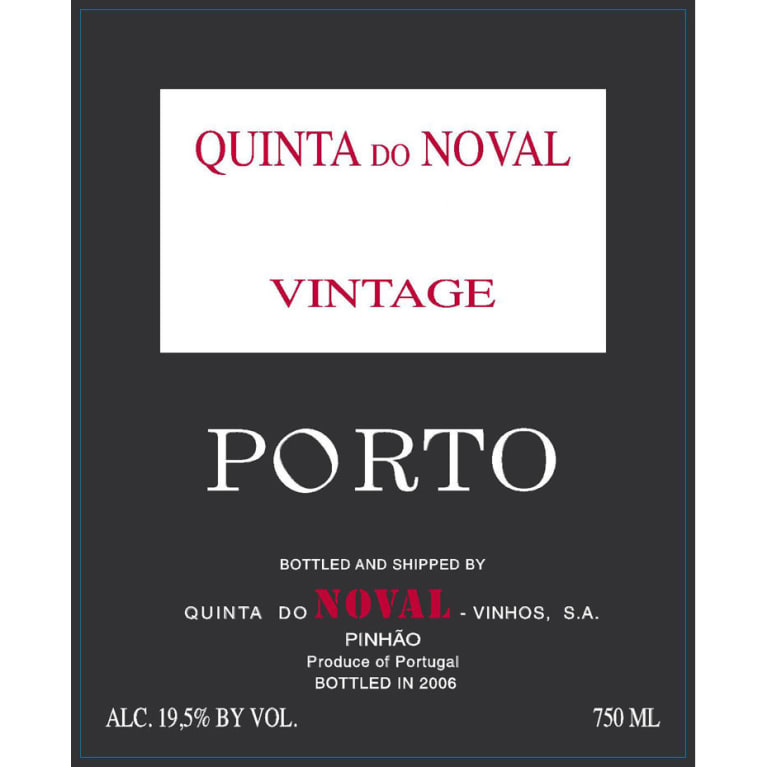 Quinta do Noval Vintage Port 2015
Winemaker Notes
Quinta do Noval Vintage Port is produced exclusively from selected plots at the Quinta, and only declared in exceptional years. Touriga Nacional, Tinta Cao, Touriga Francesca, Tinta Roriz and Sousao are the grape varieties, all trodden by foot in the lagares at Quinta do Noval. The wine is aged around 20 months in old oak barrels of 640 liters or larger.
Quinta do Noval Vintage Port is characterised by its purity of fruit and a fine, delicate quality that is typical of the wines of the property in general, but which finds its most remarkable and enduring expression in the Vintage Ports. Intensely powerful and concentrated, this port is perfectly adapted to age in bottle, and has the capacity to mature gracefully over decades.
Critical Acclaim
All Vintages
Exquisite aromas of blackberry, stone, violet and blueberry. Lead pencil too. Ink. Full body, chewy and linear with super polished yet intense tannins and a long and flavorful finish. Classic Noval character through a direct punch to the palate. This needs at least until 2022 to open but already excellent.
The 2015 Vintage Port is a field blend. It comes in at 94 grams per liter of residual sugar. This was a tank sample, out of barrel and the final blend, about two weeks away from bottling when tasted at Noval's lodge, but it was also retasted from bottle in the USA a short while later. Given the shipping not long after bottling, I'll still use a range, even if leaning to the higher part of it. It should be in the marketplace by the time this article appears. Lighter styled, this has an elegant mid-palate and subtle demeanor—but Noval always seems to me to emphasize mid-palate finesse. Then, there are the gloriously fresh flavors of the vintage, a year that produced fine intensity of flavor. Strongly aromatic, it also has hints of eucalyptus on the nose and/or cistus. Tightening steadily as it aired out, it demonstrated that it has that serious backbone, the firmness, I've come to expect, too. It was much more interesting about three days after it was first opened, sunnier and more expressive. The finish is long and jam-packed with delicious fruit, while the purity of that fruit is remarkable. Between its backbone and the freshness of the year, it should age well. Few will refuse a second glass of this debonair Porto at the moment, but it has a significant upside in the cellar. The fashionable trend these days is to suggest drinking Vintage Port younger and younger, but many will be happier with this around 2030-2035 or so. Admittedly, it is wonderfully delicious now.
Barrel Sample: 94-95
Noval, one of the showpiece estates of the Douro, releases vintages in most years. This wine gives a fine reflection of what is, in fact, a great vintage which was almost a general declaration. It is impressive, ripe with generous black fruits and a fine balance between the spirit and the rich structure and fruit. It is going to mature quickly in the sense that it can be drunk within the next five years. It will also age for several decades.
This is very polished in feel, with long, caressing, fine-grained structure that allows plum eau-de-vie, boysenberry puree and blackberry cobbler notes to play out at their leisure. Light anise and ganache hints accent the finish while the fruit blazes through. Rock 'em, sock 'em Port. Best from 2030 through 2045.
The 2015 Vintage Port is the normal blend of Touriga Nacional, Touriga Franca, Tinto Cão and Sousão, all from the estate, that spent 18 months in barrel. This full-bodied, rich, opulent effort offers textbook plum and raisined fruits with loads of candied black olives, orange rind, and spice. Despite its richness and depth, it's surprisingly fresh and lively, with integrated acidity, sensational purity of fruit, and a brilliant sense of elegance. It needs a decade of cellaring and will keep for 3-4 more decades.
View More
One of the oldest port houses, Quinta do Noval is also arguably the greatest. It is unique among top port houses in that most of the ports are made from estate-grown fruit and, notably, all of the vintage Noval wines are from the single Quinta do Noval vineyard. In addition, it is difficult to elaborate on Quinta do Noval without mentioning Nacional, the legendary port made from a 6 acre parcel of ungrafted vines. When declared, only 200-300 cases of Nacional will be made, and instantly become the most sought after port in the world. Many vintages of Nacional are considered as the finest ports, and some of the finest wines, ever made.
Noval is mentioned in land registries going back to 1715, and has been sold just twice in that time, once in the late 19th century, and to its present owners in 1993. Noval has, however, a reputation for being an innovative, independent producer. Noval's focus on its vineyard and estate ports distinguishes it, but there are numerous other areas in which it has been a pioneer:
Noval was the first to introduce stencilled bottles in the 1920s.
Noval pioneered the concept of Old Tawnies with an indication of age.
In 1958, Noval was the first to introduce a late-bottled vintage (LBV).
The astonishing terraced vineyards of Noval, perched above the Douro and Pinhao rivers, are an infertile schist, and not soil as much as sheer rock. The elevation of the vineyards goes from just above river level to 1,200 feet, with density at about 2,000 vines per acre, and vines producing on average 30-35 hectoliters per hectare. The tremendous rewards of the work done at the estate over the last fifteen years are visible across the range of Noval ports, and have placed Noval a step ahead of everyone in the Douro.
Best known for intense, impressive and age-worthy fortified wines, Portugal relies almost exclusively on its many indigenous grape varieties. Bordering Spain to its north and east, and the Atlantic Ocean on its west and south coasts, this is a land where tradition reigns supreme, due to its relative geographical and, for much of the 20th century, political isolation. A long and narrow but small country, Portugal claims considerable diversity in climate and wine styles, with milder weather in the north and significantly more rainfall near the coast.
While Port (named after its city of Oporto on the Atlantic Coast at the end of the Douro Valley), made Portugal famous, Portugal is also an excellent source of dry red and white wines of various styles.
The Douro Valley produces full-bodied and concentrated dry red wines made from the same set of grape varieties used for Port, which include Touriga Nacional, Tinta Roriz (Spain's Tempranillo), Touriga Franca, Tinta Barroca and Tinto Cão, among a long list of others in minor proportions.
Other dry wines include the tart, slightly effervescent Vinho Verde white wine, made in the north, and the bright, elegant reds and whites of the Dão as well as the bold, and fruit-driven reds and whites of the southern, Alentejo.
The nation's other important fortified wine, Madeira, is produced on the eponymous island off the North African coast.
Port is a sweet, fortified wine with numerous styles: Ruby, Tawny, Vintage, Late Bottled Vintage (LBV), White, Colheita, and a few unusual others. It is blended from from the most important red grapes of the Douro Valley, based primarily on Touriga Nacional with over 80 other varieties approved for use. Most Ports are best served slightly chilled at around 55-65°F.
CWC38952_15_2015
Item#
371015