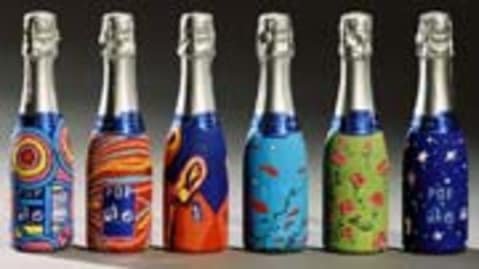 Pommery POP Art Collector 6 Pack
Non-Vintage Sparkling Wine
from
Champagne, France
Ships Thu, Dec 20
Limit
0
bottles
per customer
Add to Cart
Limit Reached
Winemaker Notes
In 1999, Pommery was the first Champagne house to launch a product that would revolutionize the Champagne market: POP, a Champagne presented in a split-sized (187 ml) bottle designed for drinking straight from the bottle or through a straw.
In the same cutting edge and avant-garde style, Champagne Pommery is once again a brush stroke ahead of its time by introducing the POP Art Collection.
The POP Art Collection showcases the playful artistry of Olivier Lannaud, a talented young French artist commissioned to create designs for 6 POP Art Collection bottles, which he based on a colorful representation of the four elements sky, water, nature and light.
The POP Art Collection is offered in this limited edition 6-bottle set. Available just in time for holiday 2003, POP Art Collection is available exclusively through wine.com.
This Pommery Art pack will ship on Dec. 12, 2003
Pommery has always been avant-garde, but moderness would mean nothing without tradition. Tradition and savoir-faire, the art of blending just the right mixture of crus to create a champagne that is luminous, light, tender and lively. Such is the legacy handed down by Madame Pommery from generation to generation. It is all part of the Pommery style - natural elegance.
Associated with luxury, celebration, and romance, the region, Champagne, is home to the world's most prized sparkling wine. In order to bear the label, 'Champagne', a sparkling wine must originate from this northeastern region of France—called Champagne—and adhere to strict quality standards. Made up of the three towns Reims, Épernay, and Aÿ, it was here that the traditional method of sparkling wine production was both invented and perfected, birthing a winemaking technique as well as a flavor profile that is now emulated worldwide.
Well-drained, limestone and chalky soil defines much of the region, which lend a mineral component to its wines. Champagne's cold, continental climate promotes ample acidity in its grapes but weather differences from year to year can create significant variation between vintages. While vintage Champagnes are produced in exceptional years, non-vintage cuvées are produced annually from a blend of several years in order to produce Champagnes that maintain a consistent house style.
With nearly negligible exceptions, three varieties are permitted for use in Champagne: Chardonnay, Pinot Noir, and Pinot Meunier. These can be blended together or bottled as individual varietal Champagnes, depending on the final style of wine desired. Chardonnay, the only white variety, contributes freshness, elegance, lively acidity and notes of citrus, orchard fruit and white flowers. Pinot Noir and its relative Pinot Meunier, provide the backbone to many blends, adding structure, body and supple red fruit flavors. Wines with a large proportion of Pinot Meunier will be ready to drink earlier, while Pinot Noir contributes to longevity. Whether it is white or rosé, most Champagne is made from a blend of red and white grapes—and uniquely, rosé is often produce by blending together red and white wine. A Champagne made exclusively from Chardonnay will be labeled as 'blanc de blancs,' while ones comprised of only red grapes are called 'blanc de noirs.'
Equal parts festive and food-friendly, sparkling wine is beloved for its lively bubbles and appealing aesthetics. Though it is often thought of as something to be reserved for celebrations, sparkling wine can be enjoyed on any occasion—and might just make the regular ones feel a bit more special. Sparkling wine is made throughout the world, but can only be called "Champagne" if it comes from the Champagne region of France. Other regions have their own specialties, like Prosecco in Italy and Cava in Spain. Sweet or dry, white or rosé (or even red!), lightly fizzy or fully sparkling, there is a style of bubbly wine to suit every palate.
The bubbles in sparkling wine are formed when the base wine undergoes a secondary fermentation, trapping carbon dioxide inside the bottle or fermentation vessel. Champagne, Cava and many other sparkling wines (particularly in the New World) are made using the "traditional method," in which the second fermentation takes place inside the bottle. With this method, dead yeast cells remain in contact with the wine during bottle aging, giving it a creamy mouthful and toasty flavors. For Prosecco, the carbonation process occurs in a stainless steel tank to preserve the fresh fruity and floral aromas preferred for this style of wine.