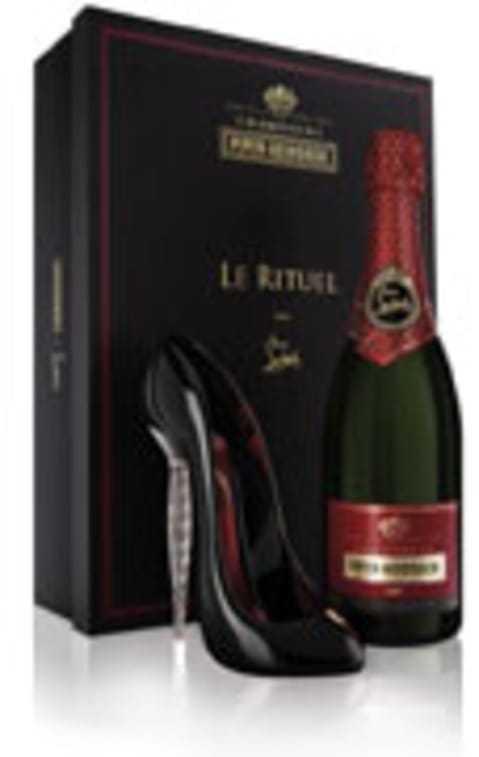 Piper-Heidsieck Le Rituel par Christian Louboutin
Out of Stock

(was $500.00)
Winemaker Notes
In 19th century Russia, gentleman patrons celebrated a ballerina's triumphant performance by raising her champagne-filled slipper in a toast. Scandalously, this tradition was adopted at the Folies Bergère in Belle Époque Paris, where the revelry of the dancers and their admirers often transcended just the dancing.
Piper-Heidsieck has resurrected this tradition with Le Rituel by Christian Louboutin. A marvelous crystal stiletto champagne flute by this master shoe designer stands on a translucent sole saturated by his iconic red hue of seduction, which perfectly pairs with the renowned red label of Piper-Heidsieck Brut in this extraordinary gift set.
Available in extremely limited quantities and at the price of $500, only a fortunate few will have the pleasure
Limit one Le Rituel gift set per customer. Any misuse of this policy will be subject to order cancellation.
In the event Le Rituel is sold out, we are creating a waiting list for a potential Spring 2010 delivery. Email our fine wine specialists with your request for Le Rituel par Christian Louboutin and we'll contact you directly if we are able to import additional sets.
Discount promotion codes are not valid on this product.
The Most Awarded Champagne House of the Century
Steeped in history, innovation and excellence have been at the heart of Piper-Heidsieck since 1785 when Florens-Louis Heidsieck founded his Champagne House with the dream to create a 'cuveé worthy of a queen'. That dream was realized when he boldly presented his first cuvee to Queen Marie Antoinette and she declared love at first sip. She quickly became the champagne's first brand ambassador and when Henri-Guillaume Piper joined the Reims venture in 1815, he and Florens-Louis' nephew Christian Heidsieck set out to promote the Champagne House's reputation well beyond the borders of France. Today, Piper-Heidsieck is poured in over 100 countries and is the most awarded Champagne House of the century, with over 275 medals*. 
Piper-Heidsieck's worldwide success is attributed to the passion and expertise of its chief winemakers. Cellar Master, Émilien Boutillat, the youngest chef de cave to lead winemaking for a major Champagne House, continues the House's uncompromising commitment to wine excellence. Devoted to protecting the terroir of Champagne through sustainable viticulture, Piper-Heidsieck is proud to hold dual certifications for its vineyards; Viticulture Durable en Champagne and Haute Valeur Environnementale Fruit is also sourced from like-minded winegrower partners representing 319 crus throughout the Champagne region. Concentrated in Montagne de Reims, Vallée de la Marne, Cote des Blancs and Cote des Bar, these winegrowers are committed to implementing increasingly stringent environmentally friendly practices in the vineyard by reducing the use of chemicals, improving biodiversity, dry farming and energy and waste management. 
Since Queen Marie Antoinette and Royal Warrant Appointments from 14 royal and imperial courts, Piper-Heidsieck has been universally sought out by high society, to include Hollywood's rich and famous. Making its Hollywood debut appearance in the Laurel and Hardy motion picture, "Sons of the Desert" , Piper-Heidsieck has played best supporting actor to A-list stars from Clark Gable to Marilyn Monroe, who has been quoted, "I go to bed with a few drops of Chanel No. 5 and I wake up each morning to a glass of Piper-Heidsieck; it warms me up". Piper-Heidsieck's red carpet reputation is world-renown at film festivals across the globe, and it is also the official sponsor of the Cannes Film Festival and the Academy Awards. The House remains committed to cinematic art and the preservation of cinematographic heritage and is currently a patron of the Motion Picture Arts & Sciences and a partner of the Cinematheque Francaise.   
*Régis Camus, then Chief Winemaker of Piper-Heidsieck, received the prestigious title of "Sparkling Winemaker of the Year", awarded by the International Wine Challenge jury, eight times since the beginning of the century. 
Associated with luxury, celebration, and romance, the region, Champagne, is home to the world's most prized sparkling wine. In order to bear the label, 'Champagne', a sparkling wine must originate from this northeastern region of France—called Champagne—and adhere to strict quality standards. Made up of the three towns Reims, Épernay, and Aÿ, it was here that the traditional method of sparkling wine production was both invented and perfected, birthing a winemaking technique as well as a flavor profile that is now emulated worldwide.
Well-drained, limestone and chalky soil defines much of the region, which lend a mineral component to its wines. Champagne's cold, continental climate promotes ample acidity in its grapes but weather differences from year to year can create significant variation between vintages. While vintage Champagnes are produced in exceptional years, non-vintage cuvées are produced annually from a blend of several years in order to produce Champagnes that maintain a consistent house style.
With nearly negligible exceptions, . These can be blended together or bottled as individual varietal Champagnes, depending on the final style of wine desired. Chardonnay, the only white variety, contributes freshness, elegance, lively acidity and notes of citrus, orchard fruit and white flowers. Pinot Noir and its relative Pinot Meunier, provide the backbone to many blends, adding structure, body and supple red fruit flavors. Wines with a large proportion of Pinot Meunier will be ready to drink earlier, while Pinot Noir contributes to longevity. Whether it is white or rosé, most Champagne is made from a blend of red and white grapes—and uniquely, rosé is often produce by blending together red and white wine. A Champagne made exclusively from Chardonnay will be labeled as 'blanc de blancs,' while ones comprised of only red grapes are called 'blanc de noirs.'
A term typically reserved for Champagne and Sparkling Wines, non-vintage or simply "NV" on a label indicates a blend of finished wines from different vintages (years of harvest). To make non-vintage Champagne, typically the current year's harvest (in other words, the current vintage) forms the base of the blend. Finished wines from previous years, called "vins de reserve" are blended in at approximately 10-50% of the total volume in order to achieve the flavor, complexity, body and acidity for the desired house style. A tiny proportion of Champagnes are made from a single vintage.
There are also some very large production still wines that may not claim one particular vintage. This would be at the discretion of the winemaker's goals for character of the final wine.