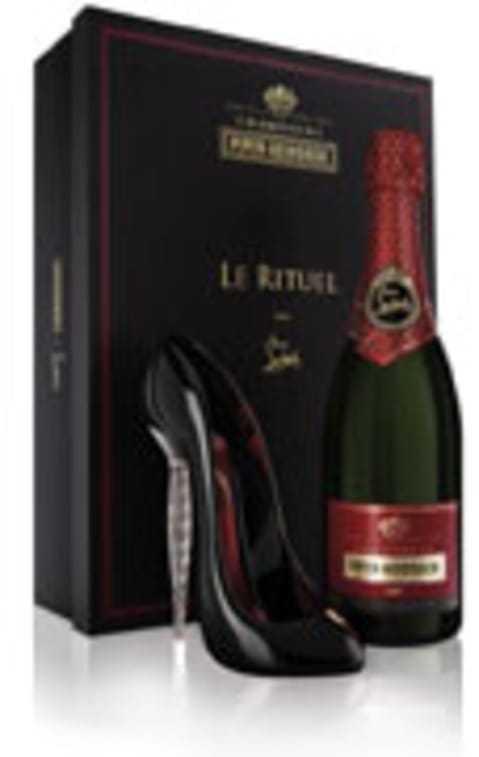 Piper-Heidsieck Le Rituel par Christian Louboutin
Non-Vintage Sparkling Wine
from
Champagne, France
Ships Sat, Mar 2
Limit
12
bottles
per customer
Winemaker Notes
In 19th century Russia, gentleman patrons celebrated a ballerina's triumphant performance by raising her champagne-filled slipper in a toast. Scandalously, this tradition was adopted at the Folies Bergère in Belle Époque Paris, where the revelry of the dancers and their admirers often transcended just the dancing.
Piper-Heidsieck has resurrected this tradition with Le Rituel by Christian Louboutin. A marvelous crystal stiletto champagne flute by this master shoe designer stands on a translucent sole saturated by his iconic red hue of seduction, which perfectly pairs with the renowned red label of Piper-Heidsieck Brut in this extraordinary gift set.
Available in extremely limited quantities and at the price of $500, only a fortunate few will have the pleasure
Limit one Le Rituel gift set per customer. Any misuse of this policy will be subject to order cancellation.
In the event Le Rituel is sold out, we are creating a waiting list for a potential Spring 2010 delivery. Email our fine wine specialists with your request for Le Rituel par Christian Louboutin and we'll contact you directly if we are able to import additional sets.
Discount promotion codes are not valid on this product.
The 'Piper' style plays on a register of freshness, vivacity and fruitiness. Piper-Heidsieck wines are joyful, youthful champagnes, with aromas of citrus and pip fruits contributing to their sense of liveliness. Consumers are pleasantly surprised when they taste these wines for the first time. If they were to be defined as a fragrance, they would be described as belonging to the Floral-Fruity-Fresh perfume family. These are wines that ring true, with great appeal yet good, clear-cut structure. The Cuvée Brut blend is made of around fifty crus, with not one jarring note allowed, since the final flavor should be one of simplicity and pleasure. Pinot Noir grapes from the Montagne de Reims and Côte des Bars areas add strength to the structure while Chardonnays from the Côte des Blancs and the Sézannais vineyards provide floral nuances following on to an exciting freshness. Finally, Pinot Meunier from the Vallée de la Marne and the Massif Saint-Thierry areas adds a touch of refreshing fruit. Although it is certainly true that Piper-Heidsieck wines have a strong personality, their harmony is all in subtlety. Cuvée Brut and other more complex champagnes such as Brut Divin, Cuvée Sublime and Cuvée Rare reveal Piper-Heidsieck's different shades of style.
ABP4263050_0
Item#
100759