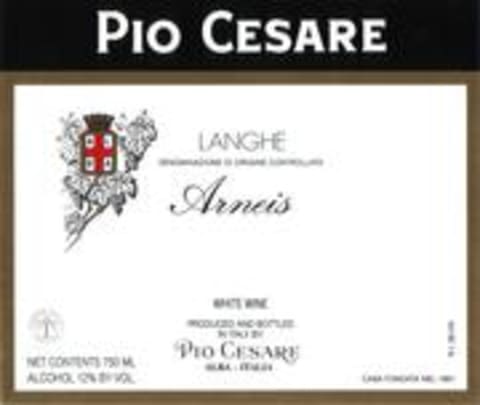 Pio Cesare Langue Roero Arneis 1996
Winemaker Notes
Pio Boffa decided to source grapes for his Arneis from the Barbaresco sone, which is part of the large Langhe DOC for Arneis. The hillside vineyards of Barbaresco produce a superior fruit to the sandy valley soils of Roero. Arneis normally produces a wine that is light in style. Pio Cesare ferments on the lees to produce a more intense, floral wine with body and length.
Pio Cesare has been producing wine for more than 100 years and through generations. The tradition began in 1881, when Pio Cesare started gathering grapes in his vineyards and purchasing those of some selected and reliable farmers in the hills of Barolo and Barbaresco districts.
At Pio Cesare, there has always been a conviction that great wine can come only from the finest grapes and the winery's output has always been limited through adherence to the highest standards. Pio Cesare limits its production by using only the most mature and healthy grapes. The ripening of the grapes is carefully monitored and the harvest is rigidly controlled with each grape selected by hand.
Today, the estate is managed by Pio Boffa, great-grandson of Pio Cesare. Under his stewardship, the wines of Pio Cesare have become famous throughout the world. Great strides have been made in quality, and single vineyard offerings have dazzled the wine press.
Even to this day, the Roero folklore lives on about witchcraft lurking behind its dramatic contours and obscure woods—but these stories only add to the region's allure and charm. Actually today Roero winemakers are some of the most astute and motivated in Piedmont. While the white Arneis has attracted global attention for some time, now Roero Nebbiolo wines (elevated to the same DOCG status as Barolo and Barbaresco) are making a name for themselves. Keep an eye on any labeled with the vineyard, Valmaggiore, as Barolo producers have been investing here for years. If you're looking for hidden gems, this is your region!
Yielding a dry and subtly scented wine, Arneis is the star white grape of Piedmont. Though the grape has been local to Roero since the 1400s, it didn't experience real popularity until the 1980s when local demand for white wine exploded. Somm Secret—A few key Roero producers are also focusing on exploring the ageability of high quality Arneis. It is only grown outside of Piedmont to a very limited extent.