Or Haganuz Amuka Blanc Blend (OU Kosher) 2021
Last call - only 5 left!
Ships Tomorrow
Winemaker Notes
Or Haganuz - a unique blend of Mount Meron terroir and selected vineyards rich with history that can be traced back for centuries. The result is high quality boutique wines with a distinctive identity. This wine was produced from northern Galilee Sauvignon Bland and Chardonnay grapes froth Avtalion and Yohanan vineyards.
This wine is Kosher for Passover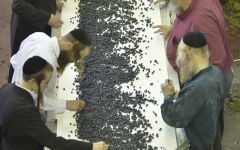 High quality wine is always the result of excellent ingredients. Or Haganuz wines are based on grapes grown in prominent vineyards in the area of Or Haganuz, Mount Meron and Dalton. The vineyards enjoy the unique northern Galilee climate at heights ranging from 780 to 870 meters (2400 - 2500 feet) above sea level, which is optimal for high quality grapes. These vineyards grow in plots rich with history that can be tracedback hundreds of years. Or Haganuz Winery was founded in 2005 at the foot of Mount Meron, and it strives to produce high quality wines with a true "boutique" feeling. Grapes are strictly selected from among the senior vineyards separately for each series. The harmony between the soil and the different wines transforms the entire production into a much more personal process. The unique blends combine high quality vineyards and the special terroir of the Mount Meron region is one to give Or Haganuz wines the rich aromas and flavors that characterize them.
With a rich history of wine production dating back to biblical times, Israel is a part of the cradle of wine civilization. Here, wine was commonly used for religious ceremonies as well as for general consumption. During Roman times, it was a popular export, but during Islamic rule around 1300, production was virtually extinguished. The modern era of Israeli winemaking began in the late 19th century with help from Bordeaux's Rothschild family. Accordingly, most grapes grown in Israel today are made from native French varieties. Indigenous varieties are all but extinct, though oenologists have made recent attempts to rediscover ancient varieties such as Marawi for commercial wine production.
In Israel's Mediterranean climate, humidity and drought can be problematic, concentrating much of the country's grape growing in the north near Galilee, Samaria near the coast and at higher elevations in the east. The most successful red varieties are Cabernet Sauvignon, Merlot, and Syrah, while the best whites are made from Chardonnay and Sauvignon Blanc. Many, though by no means all, Israeli wines are certified Kosher.
With hundreds of white grape varieties to choose from, winemakers have the freedom to create a virtually endless assortment of blended white wines. In many European regions, strict laws are in place determining the set of varieties that may be used in white wine blends, but in the New World, experimentation is permitted and encouraged. Blending can be utilized to enhance balance or create complexity, lending different layers of flavors and aromas. For example, a variety that creates a soft and full-bodied white wine blend, like Chardonnay, would do well combined with one that is more fragrant and naturally high in acidity. Sometimes small amounts of a particular variety are added to boost color or aromatics. Blending can take place before or after fermentation, with the latter, more popular option giving more control to the winemaker over the final qualities of the wine.
PDXFL933577_2021
Item#
933577