Mount Gay Extra Old Peated Rum
Out of Stock

(was $248.97)
Distiller Notes
Wine Enthusiast Top 100 Spirits of 2019
The Master Blender Collection is a celebration of Mount Gay's 315 years of rum expertise and pioneering spirit. As the oldest rum producer in the world, our long standing heritage provides us with the skills and knowledge of previous generations. This savoir-faire allows us to innovate and create new products, always pushing the boundaries of the category. We are continually looking towards the future with our mission is to create the future of tradition. This series is an opportunity for our Master Blender, Allen Smith, to fully exert his creativity and to embody the revolutionary and innovative essence of Mount Gay. Mount Gay XO The Peat Smoke Expression is the first limited edition of this collection, and marks the beginning of a highly original and inventive series.
Crystal clear, brilliant coppery hue. Slow running lanky legs develop when swirled. Distinct old oak aroma, stewed fruit and sweet caramel interlaced with warm chocolate, bourbon vanilla and smoke. Initially delicate on the palate with a velvety texture, followed with a powerful freshness that culminates in a long opulent finish. 
Critical Acclaim
All Vintages
This unique bottling starts with pot-stilled rums aged eight to 15 years in American oak barrels, then matured for an additional 6 months in casks that previously held peated Islay whisky. Look for a rich maple scent and a palate with caramel and vanilla flavors, with the peat emerging on the finish. Add water or ice to tame the fiery alcohol in this overproof rum.
View More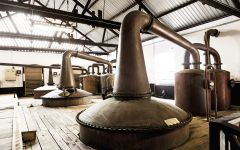 Mount Gay History: Every great story begins with a time and a place. For Mount Gay Rum that time and place is the Caribbean Island of Barbados in 1703. Rum, originally called "Kill-Devil" by the Barbadians who first distilled it, is truly a product of the island. The abundance of molasses combined with the culinary ingenuity of early settlers and, of course, their legendary thirst for alcohol lead to this unique discovery in the production of spirits:
Sir John Gay was a respected leader and businessman who worked tirelessly in service of the island of Barbados. A friend of Sir John Gay's, the contrarily named John Sober, inherited a then-unknown distillery and had asked for Sir John's help in managing it. Sir John Gay took quickly to the business of making rum. He refined the distillation process and began producing a noticeably superior product that we know today as Mount Gay Rum.
Barbados is an island of warm, friendly people, exciting culture and, in the interest of making rum, a great wealth of natural resources. Originally discovered by the Portuguese, "Barbados" which means bearded ones, was the name given to the island to describe the lush, "bearded" trees that grew in abundance. Later settlers to the island found the rich soil and favorable wet season ideal for growing sugar cane.
Trudiann Branker, Master Blender: Trudiann Branker's lust for life is palpable and her passion for her work is second to none. When she arrived at Mount Gay in 2011 as Quality Assurance Manager, she was certainly not thinking that she would one day take the helm as the first female Master Blender of Mount Gay distillery, the oldest continuously running rum distillery operating since 1703. But here she is stepping into a role that was once a dream. Trudiann has been appointed to this prestigious position for one sole reason. She knows how to make a delicate, yet versatile rum layered with aromatic complexity, and it's her love, patience and dedication that make her a perfect fit for the job.
Trudiann's keen ability to understand the subtle balance between scientific precision and the nuanced instinct required to produce rum is one of her greatest strengths. She embodies a natural curiosity, diligence and great professionalism that guarantees a prosperous future for Mount Gay. Trudiann's pure enthusiasm gives her the desire to create, explore new ideas, and establish a productive dialogue that is in line with Mount Gay's ambition for many years to come.