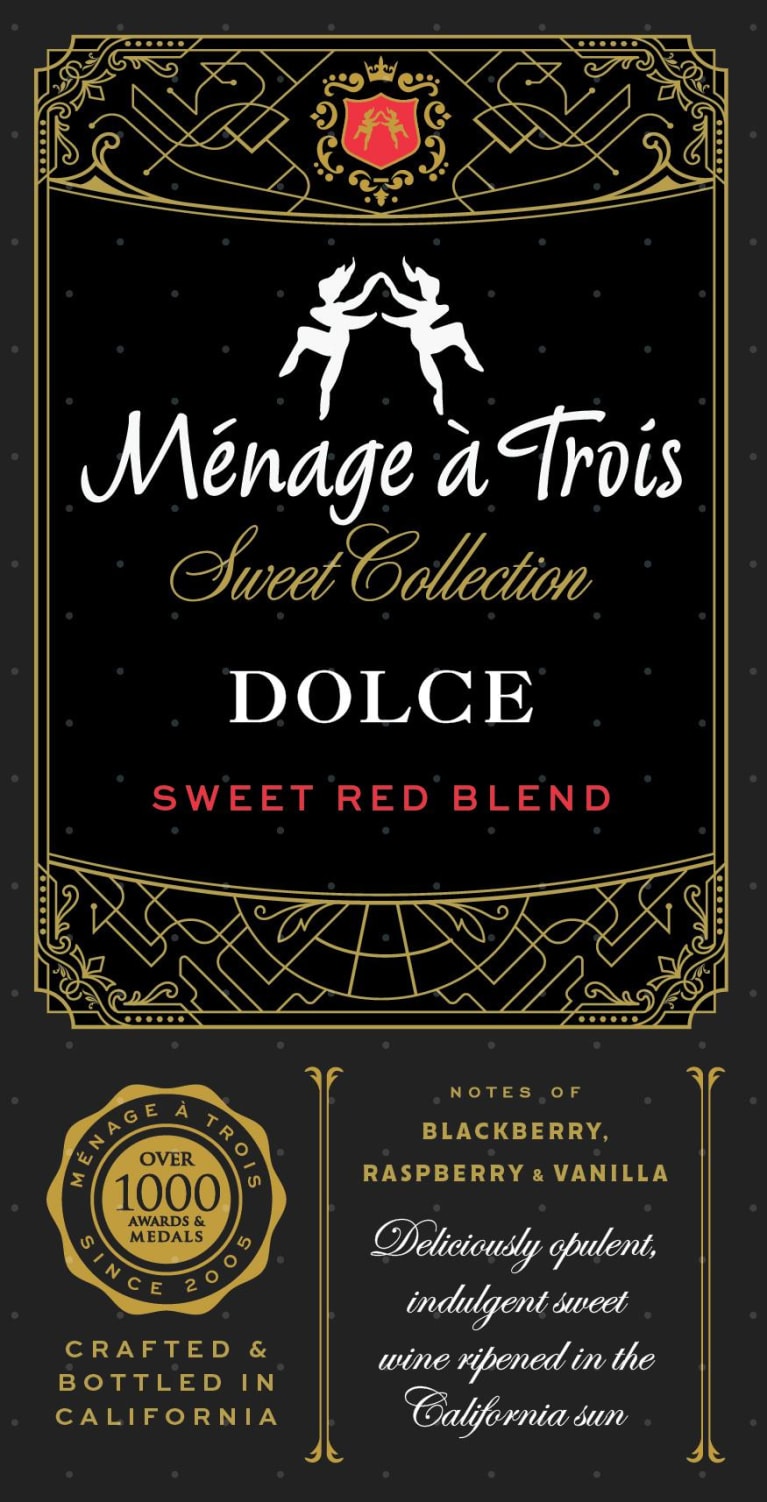 Menage a Trois Sweet Collection Dolce Red Blend
Ships today if ordered in next 7 hours
Winemaker Notes
Prepare for sweet surrender — Ménage à Trois Dolce Sweet Red Blend will surely win you over. Brimming with decadent blackberry and raspberry flavors accented by warm notes of cherry vanilla, this rich wine is lively on the palate, lifted by delicate, light carbonation and crisp acidity. Go from the everyday to the extraordinary in just one sip.
When it comes to wine, we believe the more the merrier, so we're delighted to invite you to indulge in an experience like no other. Our winemakers play matchmaker, bringing together ripe, luscious flavors, alluring aromas, and sensual textures to create our collection of fun, flirtatious wines. Ménage à Trois originated as a blend of three red varietals, created in 1996 by two psychiatric professionals at the Folie à Deux Winery in St. Helena, California. Capturing wine lovers' imagination through word of mouth, the offering was soon expanded to white and rosé blends as well. Continuing to grow, the Ménage à Trois brand increased significantly after the brand was added to the Trinchero Family Estates portfolio in 2004. Ménage à Trois is credited with creating the Red Blend category and defining the domestic Super Premium Red Blend segment, elevating the brand to iconic status within the wine industry.
A major force on the global playing field, California is the world's fourth largest wine-producing region on the planet and the majority of land under vine here is devoted to red varieties, covering nearly double the vineyard acreage of whites.
While the state's incredibly diverse terrain and microclimates allow for countless red wine styles, the one factor unifying all California red wine is the abundance of sunshine and a long, consistent growing season, which leads to well-developed and fully ripened fruit.
The most famous region today, of course, is the acclaimed Napa Valley, where Cabernet Sauvignon reigns as king.
Sonoma County, nestled between Napa Valley and the Pacific Ocean, claims great variability in geography and microclimates. Here world-class Pinot Noir is possible from Sonoma's cooler sites while old, gnarly Zinfandel vines survived Prohibition.
The Central Coast, Lodi and the Sierra Foothills also excel in the production of Zinfandel, Cabernet Sauvignon and remain active frontiers for newer varieties, namely Rhône and Spanish.
The cool Anderson Valley in California's North Coast region is a fantastic source of Pinot noir.