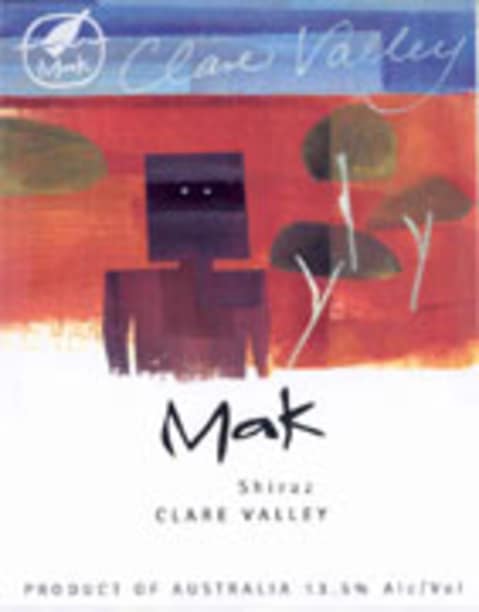 Mak Shiraz 2002
Out of Stock

(was $18.99)
Winemaker Notes
The color of this
wine offers the first clue; it has deep, dazzling purplish red hues that suggest there is something substantial ahead. This wine has a solid, ripe core of fruit encased in fine tannins. Nothing blown out or over the top; cellar this wine for up to five years or enjoy now.
About the label
Celebrating Australia's regional folklore and inspired by the artist Sir Sidney Nolan, the label depicts one of the country's most notorious outlaws, Ned Kelly. Living much of his short life on the run, his eventual capture in 1880 only furthered the legend... During an all night police siege of his small town hide-out, Kelly fashioned himself a hand-made suit of metal armor, comprising a heavy cylindrical helmet resembling an inverted bucket with eyeholes plus a large breastplate. As day broke, and wearing his new protection, Kelly confidently stepped outside amidst a hail of bullets, only to be shot in the leg! He was subsequently arrested, tried and hanged. His last words; "Such is Life."
Like the recounting of local Australian bushlore Mak wines embody the "core of regional Australia", promoting and championing the unique characters of Australia's wine districts. Mak is not constrained to any one area but instead seeks to produce wines that are "best of type", utilizing varieties that are recognized as the most suited to a particular area. The name Mak is derived from shortening the proprietor's surname "McDonald" to "Mak", a typical Australian trait.
The Clare Valley is actually a series of narrow north to south valleys, each with a different soil type and slightly different weather patterns along their stretch. In the southern heartland between Watervale and Auburn, there is mainly a crumbled, red clay loam soil called terra rossa and cool breezes come in from Gulf St. Vincent. A few miles north, in Polish Hill, is soft, red loam over clay; westerlies blowing in from the Spencer Gulf influece this area's climate.
The differences in soil, elevation, degree of slope and weather enable the region to produce some of Australia's finest, aromatic, spicy and lime-pithy Rieslings, as well as excellent Shiraz, Cabernet Sauvignon and Malbec with ripe plummy fruit, good acid and big structure.
Clare Valley is an isolated farming country with a continental climate known for its warm and sunny days, followed by cool nights—perfect for wine grapes' development of sugar and phenolic ripeness in conjunction with notable acidity levels.
Marked by an unmistakable deep purple hue and savory aromatics, Syrah makes an intense, powerful and often age-worthy red. Native to the Northern Rhône, Syrah achieves its maximum potential in the steep village of Hermitage and plays an important component in the Red Rhône Blends of the south, adding color and structure to Grenache and Mourvèdre. Syrah is the most widely planted grape of Australia and is important in California and Washington. Sommelier Secret—Such a synergy these three create together, the Grenache, Syrah, Mourvedre trio often takes on the shorthand term, "GSM."
YNG193220_2002CX
Item#
60544