Magoutes Moschomavro 2020
Out of Stock

(was $19.99)
Winemaker Notes
Magoutes Moschomavro is a unique and special medium-bodied red coming from the high elevation appellation of Siatista in Northern Greece. The aromatics are a perfect mix of fresh red fruits and dried herbs. The palate is smooth and elegant, with soft tannins and bright acidity.
It's the ideal wine to pair with a cheese and meat board or fish. It's also lovely with a slight chill on a warm day.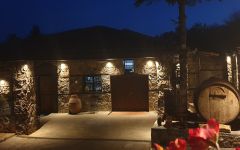 Situated in the hardscrabble hillsides and mountains of northwest Macedonia, Magoutes Vineyards is perched in a place of rugged, spartan beauty. The winery's remote location far inland and at high altitude combine to form very windy, dry conditions unlike those in most of the rest of Greece. There are no gentle maritime influences from either the Aegean or Ionian Seas because they're too far away. The terroir is notably rocky and rich in limestone. Within this area, Siatista is a town whose history as a place of wine extends back to at least 1670, but wars and revolutions over the past few centuries have resulted in records either lost or destroyed, thus a more thorough recounting has not been possible.
Originally called the Diamantis Winery, Magoutes Vineyards was established at the beginning of the 20th Century. Dimitrios Diamantis's grandfather was one of Siatista's finest grape growers. He hand-grafted the family's domaine vineyard (today, it's a century old) with the region's oldest vines of Xinomavro, along with rare, local, red-skinned varieties that existed mainly in the towns of Siatista, Moschomavro and Nigrikiotiko. Over the years, grape growing became less profitable, and most of the region's vineyards fell into obscurity. By the 1970s, only a few old vines survived. In the early 1990s, the winery began recuperating the native grape varieties and saved enough genetic material to replant 18 hectares (45 acres) on the limestone/clay slopes of an area called 'Magoutes,' situated at 750-890 meters elevation. The first official bottling was a Xinomavro/Moschomavro blend in 2002.
In addition to recuperating domaine vineyards and buying neighboring vineyards to help preserve the region's old vines and genetic patrimony, Dimitris has begun a long project to have the region's 200 hectares (500 acres, roughly the size of the Condrieu appellation in France's northern Rhone) designated a PDO, making it the fifth Xinomavro or Xinomavro-based appellation in Greece, after Naoussa, Rapsani, Goumenissa and Amyndeon. Siatista would be the smallest, or one of the smallest, PDOs in Greece, depending on its final delimitations. Dimitris's drive and passion are such that he firmly believes PDO status will help his winery communicate a concept of quality for his family's region and vines. The families of Dimitrios Diamantis and George Papageorgiou are partners in the winery and share a vision to revive and nurture their region's viticultural heritage and its potential to produce great wines. Cultivation is organic and all vineyard and cellar work is artisanal. The climate of the area is superb for growers and winemakers who favor a "hands-off" approach. Environmental stresses (flora, fauna and climatic) are minimal, thus moisture-related maladies are not an issue. Low intervention winemaking features spontaneous fermentations, with no enzymes, clarifiers or other manipulations, so that the vines can express the natural characters of their specific varieties and terroirs.
As one of the few continental-climate, mountainous growing areas of Greece, Macedonia produces notable, high-quality red wines. Xinomavro is its star variety, capable of making a spicy and age-worthy red.
Beyond the usual suspects, there are hundreds of red grape varieties grown throughout the world. Some are indigenous specialties capable of producing excellent single varietal wines, while others are better suited for use as blending grapes. Each has its own distinct viticultural characteristics, as well as aroma and flavor profiles, offering much to be discovered by the curious wine lover. In particular, Portugal and Italy are known for having a multitude of unique varieties but they can really be found in any region.
SPRDNMOSCH20C_2020
Item#
1137943