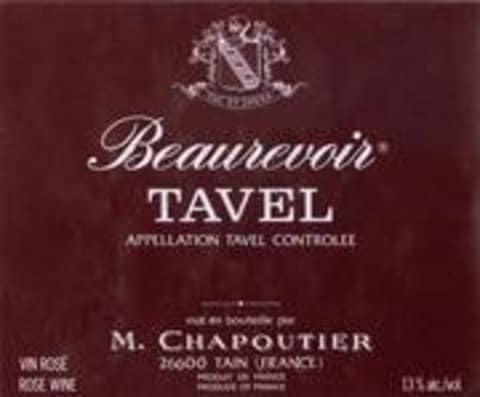 M. Chapoutier Tavel Beaurevoir Rose 1997
Out of Stock

(was $23.99)
Winemaker Notes
Color: Tawny and salmon highlights.
Nose: Ripe fruits, apricot and Morello cherry aromas.
Mouth: Rounded, mellow, wwell balanced and harmonious, with red fruits such as cherry.
No name is more closely associated with the greatness of the Rhone valley than Chapoutier.
The history of the Chapoutier family stretches back to the early nineteenth century when current owner Michel Chapoutier's great-, great-, great-grandfather Marius purchased an estate and some vineyards in the now famous village of Tain l'Hermitage in the Northern Rhône Valley. Marius Chapoutier made history in the region when he became the first grape grower there to vinify his own fruit. Marius had tasted wines other winemakers produced using his fruit and he realized that something was lost in translation, so to speak. He knew that he owned some of the best growing sites in the appellation and he believed — rightly — that the grapes grown in his vineyards could produce long-lived world-class wines. In a move unusual at the time, he decided that he should make the wine himself. Not only did the quality of the wines increase greatly, but this move provided the capital to expand the Chapoutiers' already legendary estate.
A visionary and pioneer in biodynamic winemaking, his restless energy and unconditional commitment to quality have produced tremendous success, with the most 90+ point ratings of all Rhône producers and 16 "100 point" rated wines.
Sothis Gin is distilled from grapes and plants grown near the vineyards. This family domaine is cultivated using biodynamic practices in which plants play a central role. In their wild state they offer M. Chapoutier a better understanding of the soils. When used in vine treatments they help to nourish plant life and support plant growth. They have selected a few of these plants in order to offer a new perspective of their terroirs, the story of a gin originating from the Tain l'Hermitage vineyards and their floral heritage. They have been honing this recipe for many months under the watchful eye of Sothis, the star and also the ancient Goddess who teaches us that cultivating the land is a means of moving closer to the stars.
The only all-rosé appellation in the Rhone, a Tavel comes in many hues from light salmon to bright pink and is said to be the only rosé that can actually age—and improve. The rosé wines of Tavel have a great historic reputation, having been favored by King Louis XIV in the 18th century, as well as famous authors, Balzac and Mistral.
Tavel are always dry but the high percentage of the fruity Grenache (30-60% of the blend by law) and even Cinsault, give charming aromas and flavors that make them feel "almost sweet." A great Tavel rosé will have a bouquet suggestive of rose petals, apricot, strawberry and red currant. The palate may be fleshy, round and layered but is always fresh and balanced.
Whether it's playful and fun or savory and serious, most rosé today is not your grandmother's White Zinfandel, though that category remains strong. Pink wine has recently become quite trendy, and this time around it's commonly quite dry. Since the pigment in red wines comes from keeping fermenting juice in contact with the grape skins for an extended period, it follows that a pink wine can be made using just a brief period of skin contact—usually just a couple of days. The resulting color depends on grape variety and winemaking style, ranging from pale salmon to deep magenta.
WWH357TAC72_1997
Item#
15395