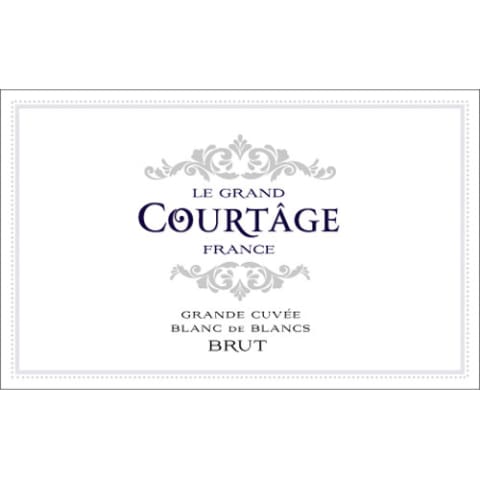 Le Grand Courtage Blanc de Blancs Brut (187ML Split)
Non-Vintage Sparkling Wine
from
France
Ships Thu, Mar 28
Limit
0
bottles
per customer
Winemaker Notes
The bouquet presents hints of green apple, honeysuckle, and toasted brioche. On the palate, a delicate balance of dryness and acidity lingers with a bit of Meyer lemon, honeydew and soft floral notes.
The Blanc de Blancs Brut is very cuisine and cocktail-friendly. Try it with savory hors d'oeuvres, buttered popcorn, creamy pasta dishes, fried chicken, spicy Asian dishes, seafood, fruit- based desserts or semi-soft cheese. Mix with elderflower or fruit liqueurs, or fresh juice and quality spirits for a light, refreshing sparkling cocktail.
The Blend: Chardonnay imparts depth and complexity for the overall balance while Chenin Blanc lends citrus and hints of honey for a creamy texture. Colombard's higher acidity provides structure, length and a pleasant minerality that is supplemented by the Ugni Blanc's fruit profile. Grapes are sourced from quality terroirs in France, such as Burgundy and Loire Valley.
Critical Acclaim
All Vintages
Perfumed and crisp, white rose petals and vanilla'd peach loom in the glass and bless the palate. Dainty bubbles pop with grace and reveal notes of aromatized lemon tart.
The Le Grand Courtage Grande Cuvée Blanc de Blancs is a beautifully positioned bubbly for all occasions. The wine's easy textures make it excellent for just sipping before or after dinner, and its fresh melon-like flavors pair it well with unagi or other sushi selections. (Tasted: October 6, 2017, San Francisco, CA)
View More
American Tawnya Falkner took the leap, gave up her career in San Francisco, and moved to Nuits-Saint-Georges in Burgundy, France to nurture her passion for food, wine and travel. She spent the next year and a half creating sparkling wines which embody the French spirit of joie de vivre (joy of life).
As a child, Tawnya grew up in a 3-street town of 400 people surrounded by farms for miles. Many of her fondest memories are of backyard barbeques and Sunday dinners. That small town awoke a desire to see the world and the more she traveled, the more she realized that the table is the universal place where memories are made, and laughter shared. Le Grand Courtâge, meaning 'the great courtship', is the culmination of her journey.
Le Grand Courtâge sparkling wines express the convergence of old and new world styles, as well as French and Americans working together. Produced in Nuits-Saint-Georges, Burgundy, with grapes sourced from top French regions including Burgundy, Beaujolais and Loire Valley, the wines achieve the desired dryness, yeast, and acidity of traditional French champagne, balanced with a hint of fruit and floral on the finish.
Nearly synonymous with fine wine and all things epicurean, France has a culture of wine production and consumption that is deeply rooted in tradition. Many of the world's most beloved grape varieties originated here, as did the concept of "terroir"—soil type, elevation, slope and mesoclimate combine to produce resulting wines that convey a sense of place. Accordingly, most French wine is labeled by geographical location, rather than grape variety. So a general understaning of which grapes correspond to which regions can be helpful in navigating all of the types of French wine. Some of the greatest wine regions in the world are here, including Bordeaux, Burgundy, the Rhône and Champagne, but each part of the country has its own specialties and strengths.
Pinot Noir and Chardonnay are the king and queen of Burgundy, producing elegant red and white wines with great acidity, the finest examples of which can age for decades. The same two grapes, along with Pinot Meunier, are used to make Champagne.
Of comparable renown is Bordeaux, focused on bold, structured red blends of Cabernet Sauvignon, Merlot, Cabernet Franc including sometimes a small amount of Petit Verdot or Malbec. The primary white varieties of Bordeaux are Sauvignon Blanc and Sémillon.
The northern Rhône Valley is responsible for single-varietal Syrah, while the south specializes in Grenache blends; Rhône's main white variety is Viognier.
Most of these grape varieties are planted throughout the country and beyond, extending their influence into other parts of Europe and New World appellations.
A term typically reserved for Champagne and Sparkling Wines, non-vintage or simply "NV" on a label indicates a blend of finished wines from different vintages (years of harvest). To make non-vintage Champagne, typically the current year's harvest (in other words, the current vintage) forms the base of the blend. Finished wines from previous years, called "vins de reserve" are blended in at approximately 10-50% of the total volume in order to achieve the flavor, complexity, body and acidity for the desired house style. A tiny proportion of Champagnes are made from a single vintage.
There are also some very large production still wines that may not claim one particular vintage. This would be at the discretion of the winemaker's goals for character of the final wine.