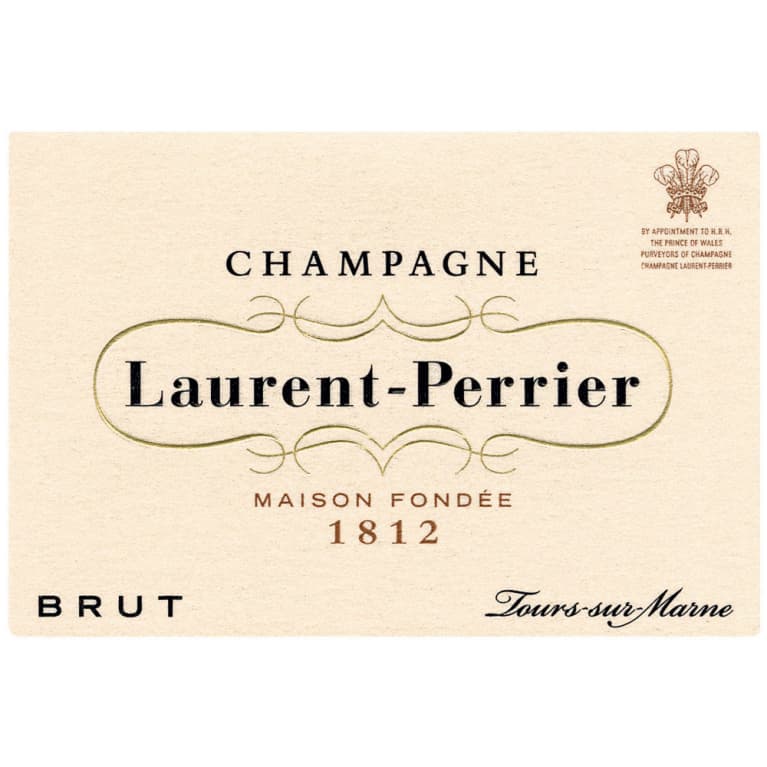 Laurent-Perrier Brut
Out of Stock

(was $39.99)
Winemaker Notes
Laurent-Perrier Brut L-P is the standard-bearer for the house style of Laurent-Perrier. Crisp, fresh and elegant, Brut L-P reflects the fundamental essence of their Champagnes.The color is a pale golden hue, with fine and persistent bubbles. The nose is fresh and delicate, showing good complexity with hints of citrus and white fruit.
Brut L-P's light style has led the way to making Champagne the ideal aperitif drink. Its perfect balance, crispness of flavors and finesse also make it the ideal companion for fish, poultry and white meat.
Critical Acclaim
All Vintages
Laurent-Perrier's dry style is reflected in this crisp, elegant and fine Champagne. The character is mineral, taut, with a great burst of citrus and white fruit acidity. The ensemble creates a delicious food-friendly wine.
Best Buy
A harmonious Champagne, with a vibrant backbone of acidity and a well-knit mix of poached pear, lemon preserves, smoke and toast. Very accessible.
This wine's fresh fruit and firm structure match bright lemon zest flavors with limestone severity. The fine bubbles add to the clean sensation of the finish. It's spicy, tight and formidable, a wine to kick-start a dinner party. Best Buy
The Laurent-Perrier NV Brut is a blend of 50% Chardonnay, 35% Pinot Noir and 15% Meunier, and is based on 2009 plus 15-30% reserve wines from two or three vintages. Citrus colored, this signature LP has a refined, fresh and elegant nose with brioche and delicate citrus flavors. Lean, refined and elegant on the palate, this is a dry and silky textured, vivacious, and perfectly fresh and balanced aperitif Champagne. It does not have the opinion-dividing thrill and tension of the Ultra Brut, but will probably find more friends.
View More
Established in 1812, Champagne Laurent-Perrier has a long tradition of innovation in Champagne and can be credited with many of the ideas that have defined Champagne production since the mid 20th century. Laurent-Perrier was among the first to introduce stainless steel fermentation tanks to the region in the 1950s, resurrected the non-dosage Champagne category with the introduction of Ultra Brut in 1981, and sparked the revival of non-vintage rosé Champagne in 1968 despite the opinion of other producers that non-vintage rosés were not to be taken seriously. Today, Laurent Perrier's iconic Cuvée Rosé remains the benchmark for non-vintage rosé champagne. 
Laurent-Perrier has become one of the international leaders in Champagne based entirely on the quality of the wines and core values as a company. Laurent-Perrier is still a family-controlled business and makes nothing other than champagne. The house prides itself on quality and consistency, attributable to having only 3 chefs de caves since 1949.
Laurent-Perrier's house style emphasizes freshness, elegance, and finesse across its entire range of champagnes. None of the wines are aged in oak, and Laurent-Perrier makes fewer single-vintage wines than many other houses. The art of blending - not just of grapes but of years, as well - is fundamental to champagne. At Laurent-Perrier, even our prestige cuvée Grand Siècle is never a single vintage wine, but always a blend of three complementary vintage years, essentially "creating" the perfect year. 
Associated with luxury, celebration, and romance, the region, Champagne, is home to the world's most prized sparkling wine. In order to bear the label, 'Champagne', a sparkling wine must originate from this northeastern region of France—called Champagne—and adhere to strict quality standards. Made up of the three towns Reims, Épernay, and Aÿ, it was here that the traditional method of sparkling wine production was both invented and perfected, birthing a winemaking technique as well as a flavor profile that is now emulated worldwide.
Well-drained, limestone and chalky soil defines much of the region, which lend a mineral component to its wines. Champagne's cold, continental climate promotes ample acidity in its grapes but weather differences from year to year can create significant variation between vintages. While vintage Champagnes are produced in exceptional years, non-vintage cuvées are produced annually from a blend of several years in order to produce Champagnes that maintain a consistent house style.
With nearly negligible exceptions, . These can be blended together or bottled as individual varietal Champagnes, depending on the final style of wine desired. Chardonnay, the only white variety, contributes freshness, elegance, lively acidity and notes of citrus, orchard fruit and white flowers. Pinot Noir and its relative Pinot Meunier, provide the backbone to many blends, adding structure, body and supple red fruit flavors. Wines with a large proportion of Pinot Meunier will be ready to drink earlier, while Pinot Noir contributes to longevity. Whether it is white or rosé, most Champagne is made from a blend of red and white grapes—and uniquely, rosé is often produce by blending together red and white wine. A Champagne made exclusively from Chardonnay will be labeled as 'blanc de blancs,' while ones comprised of only red grapes are called 'blanc de noirs.'
A term typically reserved for Champagne and Sparkling Wines, non-vintage or simply "NV" on a label indicates a blend of finished wines from different vintages (years of harvest). To make non-vintage Champagne, typically the current year's harvest (in other words, the current vintage) forms the base of the blend. Finished wines from previous years, called "vins de reserve" are blended in at approximately 10-50% of the total volume in order to achieve the flavor, complexity, body and acidity for the desired house style. A tiny proportion of Champagnes are made from a single vintage.
There are also some very large production still wines that may not claim one particular vintage. This would be at the discretion of the winemaker's goals for character of the final wine.
HNYLUPBLBNVC_0
Item#
6138