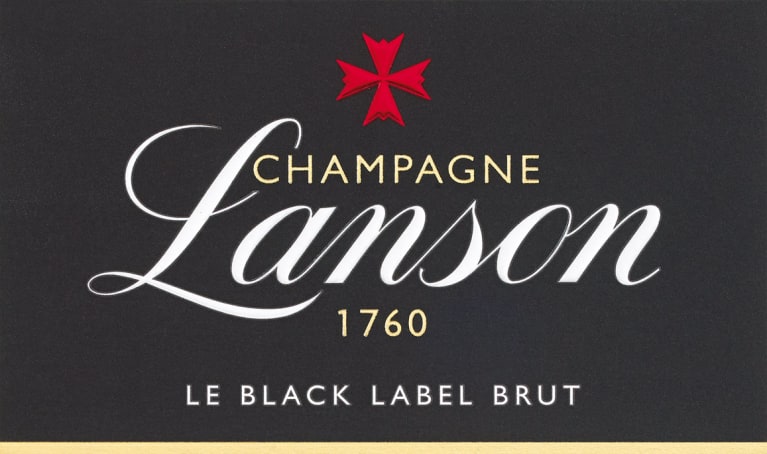 Lanson Le Black Label Brut
Ships today if ordered in next 8 hours
Winemaker Notes
The Black Label's brilliant color recalls the characteristic tones of the Pinot Noir, with glints of amber. It is lively in the flute, with a fine stream of persistent bubbles. Its fresh aromas combine the impression of vitality and spring-time scents, together with hints of toast and honey. On the palate, bouquets of ripe fruits and citrus create a sensation of opulence yet lightness.
Critical Acclaim
All Vintages
Lanson's famed nonvintage cuvée is back on form, giving a ripe style dominated by Pinot Noir. It has weight and already a fine balance between the fruits and touches of toast from four years on the lees. This bottling of this Champagne is very ready to drink.
50% Pinot Noir, 35% Chardonnay and 15% Meunier from 100 villages in all, and including 30% reserves from 10 vintages back to 1995; a small proportion now being produced with malolactic. Black Label remains the confident barometer of Lanson, and Hervé Dantan's first blend is a class act, a resounding statement of his talent in preserving the style and integrity of the house while meticulously polishing the edges. It's a very important cuvée in the grand scheme of Champagne: one of the best and most consistent of the bargain set.
Balanced and refined yet ripe, rich, and generous with sweet fruit, charm, and good length, this is a marvelous sparkler from an always reliable house.
A fresh, balanced palate with green apples, pie crust and pears. Medium body, fine bubbles and a crisp, dry finish. Nice center palate. Four years on the lees. Drink now.
Racy acidity is tightly meshed to flavors of ripe red and black currant, preserved lemon, chopped almond and honeycomb in this sleek Champagne, with a fine, chalky bead. Pinot Noir, Chardonnay and Pinot Meunier.
Soft, chalky tannins structure this wine, sur-rounded by notes of pink grapefruit and russet apple. That balance of sweet fruit and tannins will meld with pate de foie.
The flagship of the brand, the NV Champagne Le Black Label Brut release is based on the 2016 vintage with 40% reserve wine spanning 10 vintages. Some of the reserve wine is aged in cask, the remainder in stainless steel. The nose is expressive and fragrant with ripe red fruits, white strawberry, red roses, and brioche. The palate is juicy and round, with primary juicy Anjou pear, Mirabel plum, and honeycomb. A crowd pleaser, this is perfect as an aperitif and for parties. Best after 2022.
View More
Founded in 1760, Lanson is one of the oldest Champagne Houses.
Drawing on family heritage and unique expertise, the men and women of Lanson have been guided for 260 years by their love of a job well done and their love for others.
The unique and authentic style of Lanson Champagnes rests on four immutable pillars: a meticulous selection of Crus; a vinification according to the traditional Champagne principle; a rare collection of reserve wines, and a longer aging in cellars.
Hervé Dantan, Lanson Winemaker, carefully crafts elegant wines, that are characterized by an inimitable freshness, fruitiness and vitality.
Lanson Champagnes bring people together. They are made to be gifted and shared with our cherished ones. The Lanson Cross, carefully marked on each bottle, is timelessly emblematic of this philosophy.
Associated with luxury, celebration, and romance, the region, Champagne, is home to the world's most prized sparkling wine. In order to bear the label, 'Champagne', a sparkling wine must originate from this northeastern region of France—called Champagne—and adhere to strict quality standards. Made up of the three towns Reims, Épernay, and Aÿ, it was here that the traditional method of sparkling wine production was both invented and perfected, birthing a winemaking technique as well as a flavor profile that is now emulated worldwide.
Well-drained, limestone and chalky soil defines much of the region, which lend a mineral component to its wines. Champagne's cold, continental climate promotes ample acidity in its grapes but weather differences from year to year can create significant variation between vintages. While vintage Champagnes are produced in exceptional years, non-vintage cuvées are produced annually from a blend of several years in order to produce Champagnes that maintain a consistent house style.
With nearly negligible exceptions, . These can be blended together or bottled as individual varietal Champagnes, depending on the final style of wine desired. Chardonnay, the only white variety, contributes freshness, elegance, lively acidity and notes of citrus, orchard fruit and white flowers. Pinot Noir and its relative Pinot Meunier, provide the backbone to many blends, adding structure, body and supple red fruit flavors. Wines with a large proportion of Pinot Meunier will be ready to drink earlier, while Pinot Noir contributes to longevity. Whether it is white or rosé, most Champagne is made from a blend of red and white grapes—and uniquely, rosé is often produce by blending together red and white wine. A Champagne made exclusively from Chardonnay will be labeled as 'blanc de blancs,' while ones comprised of only red grapes are called 'blanc de noirs.'
A term typically reserved for Champagne and Sparkling Wines, non-vintage or simply "NV" on a label indicates a blend of finished wines from different vintages (years of harvest). To make non-vintage Champagne, typically the current year's harvest (in other words, the current vintage) forms the base of the blend. Finished wines from previous years, called "vins de reserve" are blended in at approximately 10-50% of the total volume in order to achieve the flavor, complexity, body and acidity for the desired house style. A tiny proportion of Champagnes are made from a single vintage.
There are also some very large production still wines that may not claim one particular vintage. This would be at the discretion of the winemaker's goals for character of the final wine.