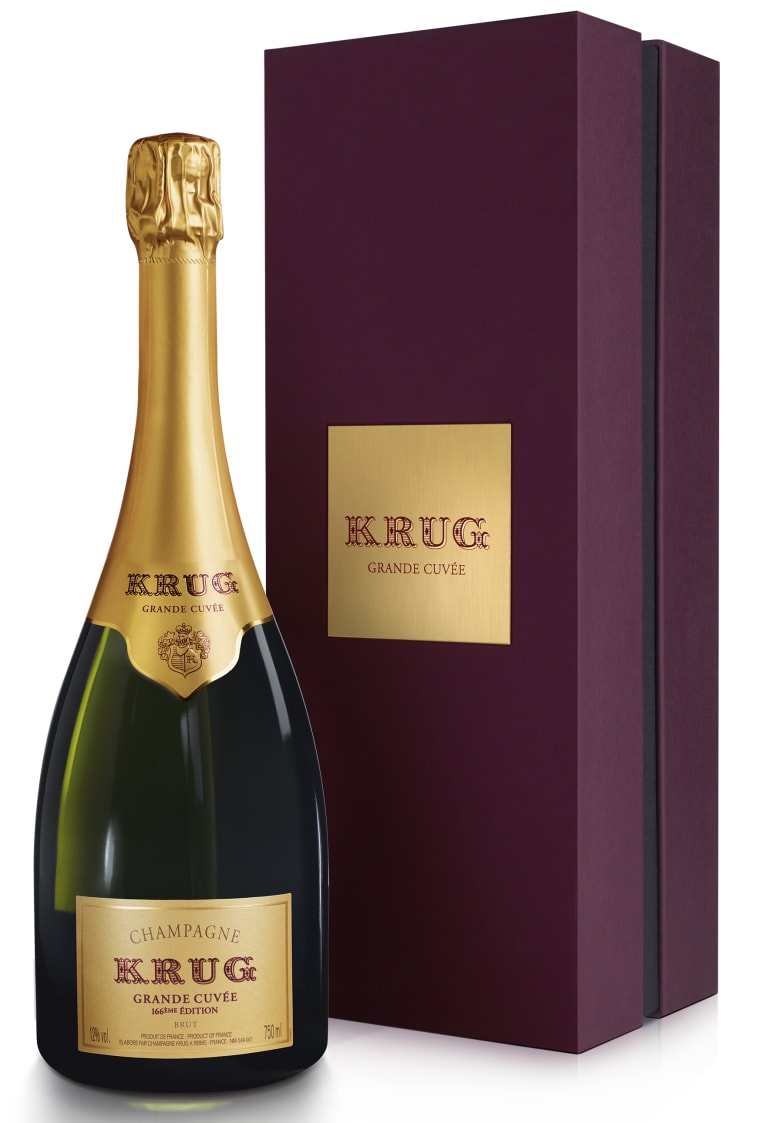 Krug Grande Cuvee Brut (166th Edition) with Gift Box
Winemaker Notes
Krug Grande Cuvee is born from the dream of one man, Joseph Krug, to offer the very best Champagne every single year, regardless of annual variations in climate.
Every year since 1843, the House of Krug has honored this dream with a new Edition of Krug Grande Cuvee: the fullest expression of Champagne. Its exceptional finesse is the result of a stay of around seven years in the cellars. Over twenty years are needed to craft each bottle of Krug Grande Cuvée.
Inspired by Joseph Krug's vision, every Édition is created anew, and is thus unique and different. The number of the Edition is now featured on the front label, and this year we celebrate the 166th Edition
The 166th Edition is a blend of 140 wines from 13 different years, the youngest of which dates back to 2010 and the oldest to 1998.
Critical Acclaim
All Vintages
45% Pinot Noir, 39% Chardonnay, 16% Meunier, blended from 140 wines dating from 1996 to 2010, including 42% reserves. Krug leads off where most other Champagne houses end, and its entry wine is every bit a prestige cuvée. It smells and tastes like no other wine, a monumental paradox of tense freshness, profound maturity and inimitable complexity. Decadently rich, extravagantly complex and thunderingly expansive, Grande Cuvée is a vinous Champagne of multifaceted personality, yet ever-heightened tension. For all it represents, spanning 25 years of production, it presents incredible value. Drinking Window 2020 - 2030
Krug Grande Cuvée always comes to the table in a big way. From one of the most prestigious Champagne houses, this wine is consistently a top performer. Creamy, complex, and exotic, it is a perfect choice with the grandest of meals. (Tasted: October 10, 2016, San Francisco, CA)
Compared to Krug's 160th edition, the bright golden-yellow colored NV Grande Cuvée 166ème Édition (ID117010) is still a baby that shows the chalky and fruity features of a young white Burgundy intermixed with notes of Schwarzwälder Kirsch (dark cherries with black chocolate) and floral (ammonia) flavors on the pure, fresh and elegant yet intense and still yeasty brioche nose with its ripe apple aromas and refreshingly bright (lemon juice) overtones. Round, wide and very elegant yet also straight and tense on the palate, this 2010-dominated cuvée is very delicate, fresh and chalky but also dense and lush in its vinous texture. The finish is well-structured, fresh and persistent, indicating great complexity and vibrancy. However, I would wait at least another three years, during which time the 166th edition will gain even more finesse and quiet. The 166ème Édition is composed of 140 wines from 13 different harvests between 1998 and 2010, and it's a blend of 45% Pinot Noir with 39% Chardonnay and 15% Pinot Meunier, the latter of which provides the vivacity that the Chardonnay from the Côte des Blancs surprisingly didn't have in 2010, a vintage that was marked by its "tumultuous climate," as Eric Lebel writes. Tasted in New York in November 2018.
Rating: 96+
A very complex nose here with ripe, deep lemon and grapefruit aromas on offer plus some restrained chalky elements, biscuit, some roasting herbs, hints of pepper, then a little tobacco too. Very complex and full of fresh characters. The palate has a wealth of different fruit flavors like lemon, peach, nectarine, and plums. The finesse in terms of structure, detail and precision is staggering; sherbet-like elegance with immense concentration and power. A great Grande Cuv'e. Incredibly satisfying. Based on 2006.Krug ID 14024.
This mouthwatering Champagne feels like a swathe of raw silk on the palate, where flavors of sun-dried white cherry, toast and Meyer lemon peel are accented by expressive saffron, ground coffee and mandarin orange peel aromas. Long and racy on the honey-, spice- and smoke-laced finish. Disgorged winter 2017. Drink now through 2025.
With its minimum of six years' bottle aging, this is a beautifully integrated, mature wine. It has a wonderful toast character, layered over sliced pears and ripe acidity. With its complex poise between lightness and richness, this remains an intensely impressive wine.
A brisk and powerful release of Grande Cuvée, this has the masculine charm of a linebacker as it pummels the palate with lime and seashells, lemon and tangerine flavors. The wine's intensity and richness has a mouthwatering effect in the finish, lasting in resonant layers of flavor—powerful, yet gracious in the end.
Non-vintaged though it may be, this wine has in the past shown as one of the older cuvees in our tastings, and so again does it do so here. This time, as one expects of Krug, the aged, toasty, minerally character is accompanied by bright, acid-braced, still evident fruit. One might quibble about a bit of chalkiness in the finish.
View More
Krug has always lived up to its reputation as the first and only Champagne House to create exclusively prestige Champagnes every year since its foundation.
The House was established in Reims in 1843, by Joseph Krug, a visionary non-conformist with an uncompromising philosophy. Having understood that the true essence of Champagne is pleasure itself, his dream was to craft the very best Champagne he could offer, every single year, regardless of annual variations in climate. Paying close attention to the vineyard's character, respecting the individuality of each plot and its wine, as well as building an extensive library of reserve wines from many different years allowed Joseph Krug to fulfil his dream.
With a very original approach to Champagne making, he decided to go beyond the notion of vintage to create the most generous expression of Champagne, every year. Thus, he founded a House in which all Champagnes are of the same level of distinction.
Six generations of the Krug family have perpetuated this dream, enriching the founder's vision and savoir faire.
Further elaborating on the notion of individuality, for Krug's Cellar Master Julie Cavil, each plot of grapes, through its wine, is like a single ingredient to a chef: carefully selected, and critical to the final composition. Each year, Krug honors this philosophy by inviting chefs from around the world to interpret a single ingredient, crafting unexpected recipes to pair with a glass of Krug Grande Cuvée or Krug Rosé. This year's ingredient is the Onion.
The unspoken onion is a key component of almost every fundamental recipe from stocks, sauces and stews to baked goods and roasts. Its multifaceted expressions beautifully marry both the fullness of flavors and aromas of Krug Grande Cuvée the elegance and boldness of Krug Rosé. 
Krug X Music
The House of Krug has long sensed a link between sound and taste perception. Music and sound have the power to reveal a myriad of new dimensions through the sensorial experience that comes with every sip of Krug Champagne.
It is in this spirit and with this understanding that the House of Krug has developed a unique endeavor: Krug Music Pairings. Each year the House invites selected musicians, in whose standards of excellence it feels a kinship, to an extended tasting of its Champagnes. Inspired by what they taste, these artists select or create a special playlist custom-tailored to reflect what they felt and how they connected to the experience of Krug Champagnes. By associating Music with its Champagnes, the House continues its quest to enhance the tasting of Krug Champagnes while discovering new experiences.
Krug Encounters
The House of Krug presents Krug Encounters 2021, a fresh and exciting online immersive Music experience to connect Krug Lovers around the world. Krug Encounters will echo the non-conformist philosophy of the founder of the House, Joseph Krug.
Together with British Vocal Ensemble VOCES8 and Belgian Music pioneer, Ozark Henry, the House of Krug is taking its Music Pairings to the next level with multisensory digital experiences through which it will present the latest Édition of Krug Grande Cuvée.
Using standard headphones, binaural audio technology envelops guests in a groundbreaking audio space echoing Krug's unique craftsmanship. Unique voices mirror the individualities – characterful wines selected from specific plots and years – that compose this Champagne and convey the effects of climate conditions on these wines. The voices interact with each other and the musical scores to ultimately express the complete vocal symphony. In this way, guests will relive the story of Krug Grande Cuvée 169ème Édition in a completely new and memorable way that showcases the unique craftsmanship of Cellar Master Julie Cavil.
Associated with luxury, celebration, and romance, the region, Champagne, is home to the world's most prized sparkling wine. In order to bear the label, 'Champagne', a sparkling wine must originate from this northeastern region of France—called Champagne—and adhere to strict quality standards. Made up of the three towns Reims, Épernay, and Aÿ, it was here that the traditional method of sparkling wine production was both invented and perfected, birthing a winemaking technique as well as a flavor profile that is now emulated worldwide.
Well-drained, limestone and chalky soil defines much of the region, which lend a mineral component to its wines. Champagne's cold, continental climate promotes ample acidity in its grapes but weather differences from year to year can create significant variation between vintages. While vintage Champagnes are produced in exceptional years, non-vintage cuvées are produced annually from a blend of several years in order to produce Champagnes that maintain a consistent house style.
With nearly negligible exceptions, . These can be blended together or bottled as individual varietal Champagnes, depending on the final style of wine desired. Chardonnay, the only white variety, contributes freshness, elegance, lively acidity and notes of citrus, orchard fruit and white flowers. Pinot Noir and its relative Pinot Meunier, provide the backbone to many blends, adding structure, body and supple red fruit flavors. Wines with a large proportion of Pinot Meunier will be ready to drink earlier, while Pinot Noir contributes to longevity. Whether it is white or rosé, most Champagne is made from a blend of red and white grapes—and uniquely, rosé is often produce by blending together red and white wine. A Champagne made exclusively from Chardonnay will be labeled as 'blanc de blancs,' while ones comprised of only red grapes are called 'blanc de noirs.'
A term typically reserved for Champagne and Sparkling Wines, non-vintage or simply "NV" on a label indicates a blend of finished wines from different vintages (years of harvest). To make non-vintage Champagne, typically the current year's harvest (in other words, the current vintage) forms the base of the blend. Finished wines from previous years, called "vins de reserve" are blended in at approximately 10-50% of the total volume in order to achieve the flavor, complexity, body and acidity for the desired house style. A tiny proportion of Champagnes are made from a single vintage.
There are also some very large production still wines that may not claim one particular vintage. This would be at the discretion of the winemaker's goals for character of the final wine.