Greenbar IXA Organic Reposado Tequila
Distiller Notes
This tequila balances the jammy flavor of ripe agave with the caramel and spices produced during nearly 1 year of aging. The secret lies in making a sip worthy silver tequila and then in aging in both new toasted oak and rye whiskey barrels. Savor it near or stir truly indulgent cocktails.
A graceful balance of ripe agave, wood spices and a mellow texture. Made with a combination of traditional tequila techniques for robust flavor and California wine making for a velvety finish aged in new and ex rye American oak barrels, IXÁ Reposado Tequila bursts with flavor but without the burn.
Critical Acclaim
All Vintages
Bright gold in the glass, this organic Tequila shows rounded notes of vanilla and buttery brioche, enlivened by a gentle white-floral touch and a sprinkling of baking spices. Squeeze some organic grapefruit juice and start making all-organic palomas.
View More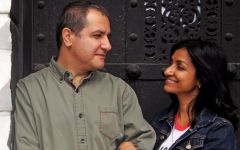 Founded in 2004, Greenbar Distillery is LA's first since Prohibition and one of the first craft distilleries in the U.S. The distillery brings a new standard of flavor to spirits lovers by marrying classic and modern techniques with whole, organic ingredients. By capturing bright, nuanced flavor, you get drinks that deliver more joy in every sip.
Way back when, Melkon Khosrovian was inspired to create infused spirits that his fiance, Litty Mathew would find more palatable than the harsh liquor served during his Armenian family celebrations— a tall task as Litty is a gourmet at heart.
Through relentless research and experimentation, the two began to innovate the art of extracting and capturing clean, rich flavors from organic ingredients. Legend of their concoctions grew and, eventually, led them to create Greenbar Distillery.
Tequila Reposado refers to Tequilas that have been 'rested', or aged, in oak barrels for a minimum of two months but not more than one year. Depending on the specific flavors a tequilero wishes to impart on the spirit, a variety of different barrels may be used, from Brandy and Bourbon, to Wine and Sherry. The time spent on the wood allows Reposado Tequilas to mellow as they age, softening and rounding powerful flavor components brought by the agave and marrying them to subtle notes of caramel and vanilla brought by the barrel itself.