Goslings Black Seal Dark Rum
Ships Tomorrow
Limit
0
bottles
per customer
Distiller Notes
Goslings Black Seal Rum, made from a 150-year-old Gosling family recipe, uses the finest distillates aged in charred American oak casks. The smooth, full flavor is the result of a careful blend of aged pot still and continuous still distillates. One imparts flavor, the other yields a subtle elegance.
Black Seal Rum is the key ingredient in Bermuda's National Drink – the Dark 'n Stormy. Goslings' trademarked cocktail, a delicious mix of Black Seal Rum and Goslings Stormy Ginger Beer, appears like a storm cloud in a glass and evokes the mystique of Bermuda.
Proof: 80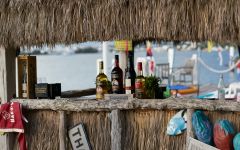 The history of Goslings Rum began long ago. In the spring of 1806 James Gosling, the oldest son of William Gosling, wine and spirits merchant, set out from England on the ship, Mercury, with £10,000 of merchandise, bound for America.
After ninety one desperate days on a becalmed sea their charter ran out, and they put in at the nearest port, St. George's, Bermuda. Rather than pressing on for America, James opened a shop on the King's Parade, St. George's in December 1806.
In 1857, the first oak barrels of rum distillate arrived in Bermuda. After much trial and error, the distinctive Bermuda black rum destined to be Black Seal was formulated and offered for sale.
A family business for over 200 years, Gosling's is today the only company that blends and bottles in Bermuda, and is the largest exporter of a Bermuda made product.