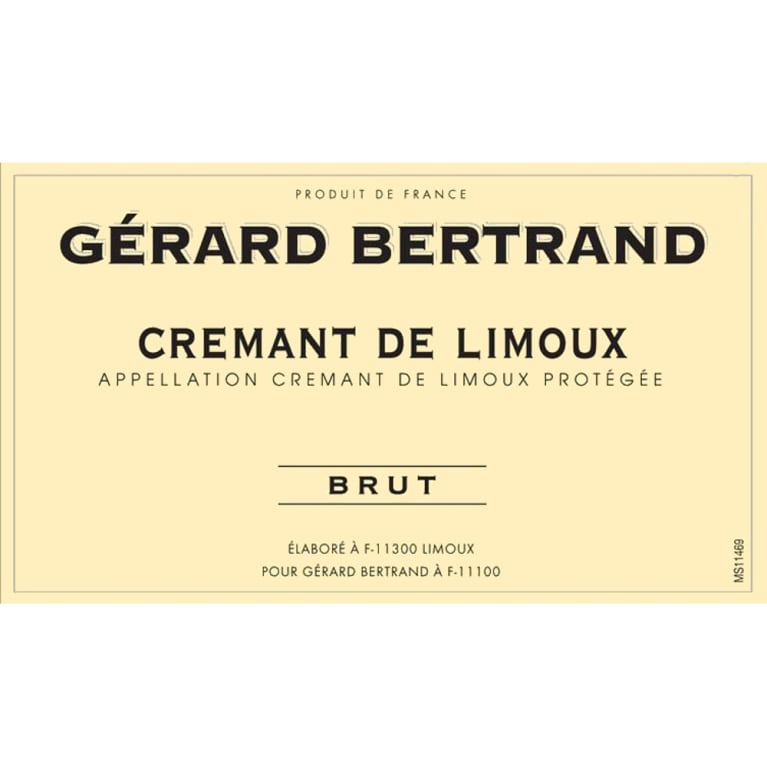 Gerard Bertrand Cremant de Limoux Brut Rose 2009
Out of Stock

(was $12.97)
Winemaker Notes
This lovely soft salmon color gives a very elegant style to this sparkling wine. Its fine bubbles add a richness to the structure. This Cremant de Limoux rose is rich and creamy with key aromas of strawberries and soft spices. It is a complex and very charming aromatic sparkling wine. Its clean mineral flavors provides a very well-balanced structure and very fresh finish.
To be served at 50 degrees and enjoyed as an aperitif or with shellfish, salads, poultry, cheeses or desserts. A wine for every occasion!
Gerard Bertrand is well-known for producing fantastic wines at excellent prices. Wine Enthusiast recently announced Gerard Bertrand the "European Winery of the Year" stating, "Both landowner and partner of the best winegrowers in the South of France, Gerard Bertrand manages over 325 hectares of vineyards across varying Languedoc terroirs. He fully understands the movement toward expressive, well-balanced and elegant wines that remain accessible and affordable."
Gerard Bertrand was born and raised in the South of France. Making wine with his father, Georges, since the age of 10, Gerard Bertrand offers the full range and diversity of wines from the region – red, white, rose, varietal, appellation, estate, still, sparkling, and dessert.
Every wine evokes the image and emotions from the South of France; "Art de Vivre" – the "art of life." Committed to producing quality wines of great value, Gerard is hands on in every facet which bears his name… and has been fortunate to receive great accolades from World Wide press reinforcing his dedication.
"I welcome all to experience the South of France; here at Chateau L'Hospitalet or at your own home or favorite restaurant."
An extensive appellation producing a diverse selection of good quality and great values, Languedoc spans the Mediterranean coast from the Pyrenees mountains of Roussillon all the way to the Rhône Valley. Languedoc's terrain is generally flat coastal plains, with a warm Mediterranean climate and frequent risk of drought.
Virtually every style of wine is made in this expansive region. Most dry wines are blends with varietal choice strongly influenced by the neighboring Rhône Valley. For reds and rosés, the primary grapes include Grenache, Syrah, Carignan, Cinsault and Mourvèdre. White varieties include Grenache Blanc, Muscat, Ugni Blanc, Vermentino, Macabéo, Clairette, Piquepoul and Bourbelenc.
International varieties are also planted in large numbers here, in particular Chardonnay, Sauvignon Blanc and Cabernet Sauvignon.
The key region for sparkling wines here is Limoux, where Blanquette de Limoux is believed to have been the first sparkling wine made in France, even before Champagne. Crémant de Limoux is produced in a more modern style.
What are the different types of sparkling rosé wine?
Rosé sparkling wines like Champagne, Prosecco, Cava, and others make a fun and festive alternative to regular bubbles—but don't snub these as not as important as their clear counterparts. Rosé Champagnes (i.e., those coming from the Champagne region of France) are made in the same basic way as regular Champagne, from the same grapes and the same region. Most other regions where sparkling wine is produced, and where red grape varieties also grow, also make a rosé version.
How is sparkling rosé wine made?
There are two main methods to make rosé sparkling wine. Typically, either white wine is blended with red wine to make a rosé base wine, or only red grapes are used but spend a short period of time on their skins (maceration) to make rosé colored juice before pressing and fermentation. In either case the base wine goes through a second fermentation (the one that makes the bubbles) through any of the various sparkling wine making methods.
What gives rosé Champagne and sparkling wine their color and bubbles?
The bubbles in sparkling wine are formed when the base wine undergoes a secondary fermentation, which traps carbon dioxide inside the bottle or fermentation vessel. During this stage, the yeast cells can absorb some of the wine's color but for the most part, the pink hue remains.
How do you serve rosé sparkling wine?
Treat rosé sparkling wine as you would treat any Champagne, Prosecco, Cava, and other sparkling wine of comparable quality. For storing in any long-term sense, these should be kept at cellar temperature, about 55F. For serving, cool to about 40F to 50F. As for drinking, the best glasses have a stem and a flute or tulip shape to allow the bead (bubbles) and beautiful rosé hue to show.
How long do rosé Champagne and sparkling wine last?
Most rosé versions of Prosecco, Champagne, Cava or others around the "$20 and under" price point are intended for early consumption. Those made using the traditional method with extended cellar time before release (e.g., Champagne or Crémant) can typically improve with age. If you are unsure, definitely consult a wine professional for guidance.
YNG270124_2009
Item#
113395