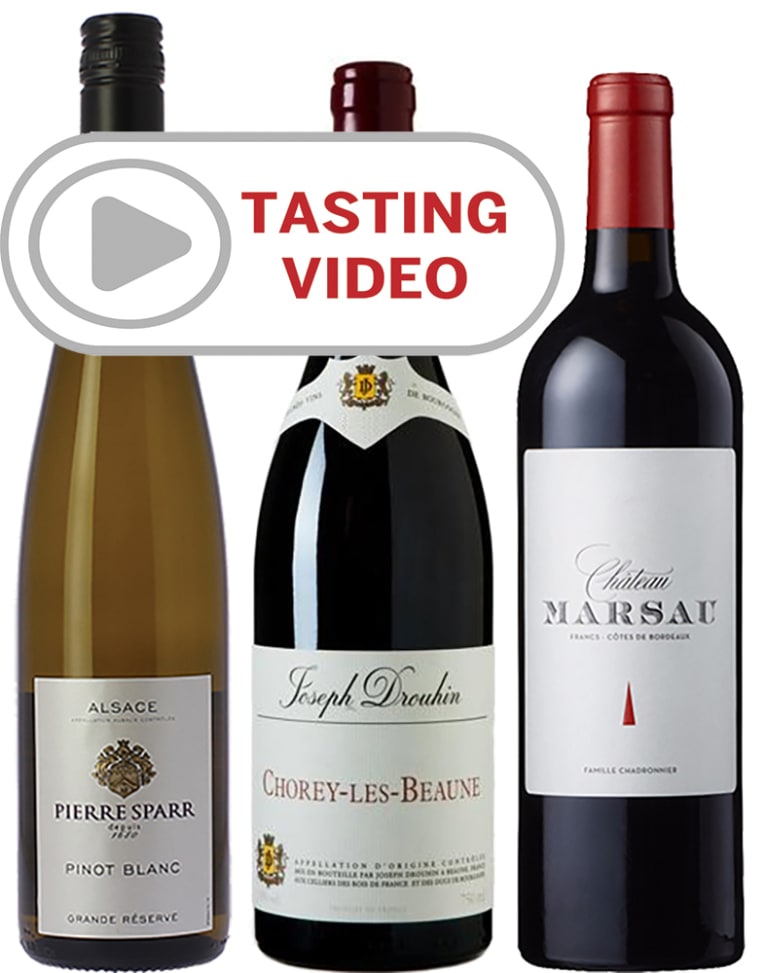 French Wine Country Trio with Tasting Video
Out of Stock

(was $69.99)
Description
Join French winemakers for a tour with esteemed guests Hélène Georges in Alsace, Véronique Drouhin from Burgundy, and Bordeaux Chateaux & negociant owner Mathieu Chadronnier. Wine.com host Gwendolyn Osborn starts with the Pierre Sparr Pinot Blanc, before heading south to Beaune, in the heart of Burgundy, for Pinot Noir, before finishing in the Cotes de Francs of Bordeaux where Merlot dominates.
Guests include:
Tasting Set Includes:
Pierre Sparr Pinot Blanc
Pale yellow in color, this wine is clear and brilliant The nose is fresh and delicate Aromas of white fruits, like pear, dominate On the palate, again there are fruit flavors and a dynamic, ripe acidity that refreshes, while the fine minerality gives the right tension.
Joseph Drouhin Chorey Les Beaune
A very pleasant wine. Bright, clear red colour. Aromas are surprising in their intensity and fruit. On the palate, a tender, supple, graceful, round body. Very flavourful in the aftertaste, with a hint of blackberry jam. When the wine gets older, wild blackberry is the dominant aroma.
Chateau Marsau
Deep, rich color. A nose of black fruit, menthol, evolving into mineral notes when aired (pencil lead, chalk). An elegant palate, voluptuous, supple, silky tannins.
Download the tasting mat here.
Interested in other virtual wine tastings? Check out our upcoming tastings
PDX673931CA_0
Item#
673931