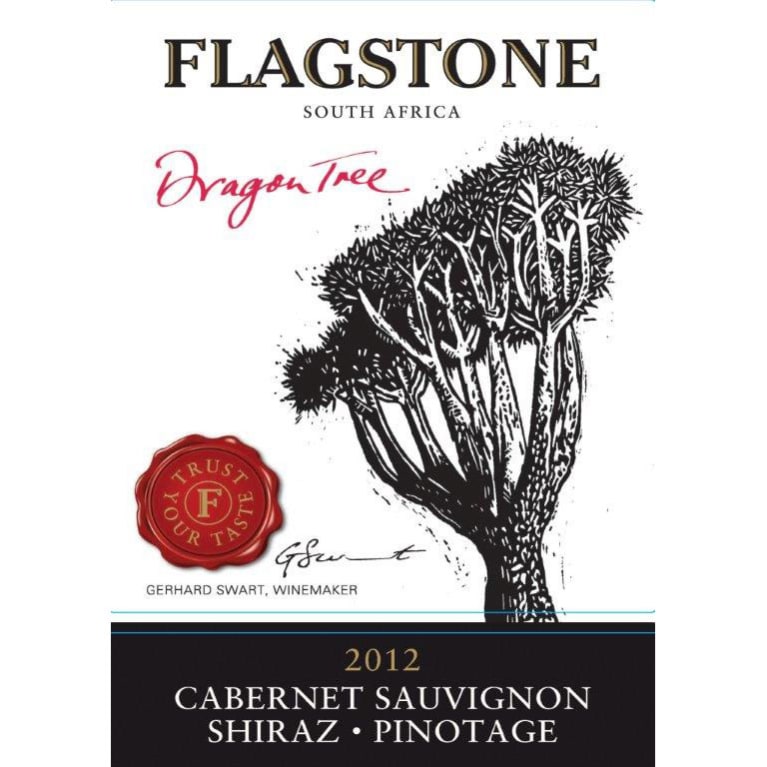 Flagstone Dragon Tree 2012
Winemaker Notes
The unmistakable wild berry Pinotage aromas and juicy flavours are only a small portion of its specific character. The real secret Pinotage gives in a blend is a burst of fruit on the finish.
Blend: 32% Cabernet Sauvignon, 27% Shiraz, 25% Pinotage, 8% Merlot, 4% Cabernet Franc, 4% Touriga Nacional, Tinta Barocca, Barbera
Flagstone is a winemaker-driven wine business, rather than a marketing-led business. This means we first do what is right for the grapes and the wine and only then worry about how to sell the gorgeous stuff. More than most, we are totally committed to making honest, real wine that is an authentic reflection of its provenance, even if this means taking the hard path. We believe that this is the only sustainable, honorable way. We have been sourcing grapes from our five core vineyards for over 8 years. Viticultural strategies are specifically tailored to individual varieties and vineyard parameters. The natural environment in which the vines grow and bear fruit play a huge role in the style and quality of the resultant wine and we go to great lengths to study and know everything we can about that environment. This includes careful soil analysis, and an on-going study of climate parameters. As a company we are totally committed to our world-leading "Integrated Production of Wine" (IPW) scheme and our "Biodiversity in Wine Initiative" (BWI).
With an important wine renaissance in full swing, impressive red and white bargains abound in South Africa. The country has a particularly long and rich history with winemaking, especially considering its status as part of the "New World." In the mid-17th century, the lusciously sweet dessert wines of Constantia were highly prized by the European aristocracy. Since then, the South African wine industry has experienced some setbacks due to the phylloxera infestation of the late 1800s and political difficulties throughout the following century.
Today, however, South Africa is increasingly responsible for high-demand, high-quality wines—a blessing to put the country back on the international wine map. Wine production is mainly situated around Cape Town, where the climate is generally warm to hot. But the Benguela Current from Antarctica provides brisk ocean breezes necessary for steady ripening of grapes. Similarly, cooler, high-elevation vineyard sites throughout South Africa offer similar, favorable growing conditions.
South Africa's wine zones are divided into region, then smaller districts and finally wards, but the country's wine styles are differentiated more by grape variety than by region. Pinotage, a cross between Pinot Noir and Cinsault, is the country's "signature" grape, responsible for red-fruit-driven, spicy, earthy reds. When Pinotage is blended with other red varieties, like Cabernet Sauvignon, Merlot, Syrah or Pinot Noir (all commonly vinified alone as well), it is often labeled as a "Cape Blend." Chenin Blanc (locally known as "Steen") dominates white wine production, with Chardonnay and Sauvignon Blanc following close behind.
With hundreds of red grape varieties to choose from, winemakers have the freedom to create a virtually endless assortment of blended red wines. In many European regions, strict laws are in place determining the set of varieties that may be used, but in the New World, experimentation is permitted and encouraged resulting in a wide variety of red wine styles. Blending can be utilized to enhance balance or create complexity, lending different layers of flavors and aromas. For example, a red wine blend variety that creates a fruity and full-bodied wine would do well combined with one that is naturally high in acidity and tannins. Sometimes small amounts of a particular variety are added to boost color or aromatics. Blending can take place before or after fermentation, with the latter, more popular option giving more control to the winemaker over the final qualities of the wine.
How to Serve Red Wine
A common piece of advice is to serve red wine at "room temperature," but this suggestion is imprecise. After all, room temperature in January is likely to be quite different than in August, even considering the possible effect of central heating and air conditioning systems. The proper temperature to aim for is 55° F to 60° F for lighter-bodied reds and 60° F to 65° F for fuller-bodied wines.
How Long Does Red Wine Last?
Once opened and re-corked, a bottle stored in a cool, dark environment (like your fridge) will stay fresh and nicely drinkable for a day or two. There are products available that can extend that period by a couple of days. As for unopened bottles, optimal storage means keeping them on their sides in a moderately humid environment at about 57° F. Red wines stored in this manner will stay good – and possibly improve – for anywhere from one year to multiple decades. Assessing how long to hold on to a bottle is a complicated science. If you are planning long-term storage of your reds, seek the advice of a wine professional.
SWS351858_2012
Item#
139711