Fantinel Tenuta Sant'Helena Ribolla Gialla 2017
Out of Stock

(was $22.99)
Winemaker Notes
An elegantly subtle, radiant white with a tangy, vibrant mouthfeel. This ancient vine exudes the consistently delightful abundance of its native lands. So abundant that it easily accompanies every occasion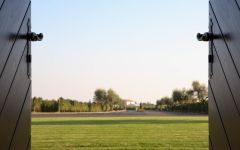 This family estate was founded in 1969 by well known and admired hotelier and restaurateur Mario Fantinel. Driven to produce wines that would defy the expectations of his tasteful clientele, Mario purchased the initial vineyards in the Dolegna Collio area. In 1973 Mario's sons Luciano, Gianfranco and Loris embarked upon the next chapter of the Fantinel story by acquiring some of the finest vineyards in Collio, Grave, and Colli Orientali as well as opening a wine bar in San Daniele del Friuli. At the threshold of the third millennium, the third generation of the family: Lara, Manuela, Stefano, Marco, Marielena, and Paolo- embarked on further expansion. Over the years, the production of and the demand for Fantinel wines has grown steadily. Today they are enjoyed around the world while the Fantinel family continues in their ceaseless efforts to advance the cuisine and culture of Friuli.
Collio is a crescent-shaped sub region of Friuli-Venezia Giulia that hugs right up against the Slovenian border. It is perfectly situated for growing wine grapes, especially of the white variety.
The Julian Alps to Collio's north allow the influx of cool, nighttime breezes, while the Adriatic Sea to its south regulates the region's temperatures. The area contains flysch soils,locally known as, ponca, a layered, sedimentary rock that formed millions of years ago as continents collided under the sea. Today the flysch soils that dominate the hills of Collio provide an interesting substrate for vine roots, with measurable mineral variations within small areas. The fractured layers of flysch soils also facilitate drainage and deepening of vine roots.
The region boasts a unique set of indigenous white varieties including Friulano, Ribolla Gialla, Malvasia and the rare, Picolit. International whites—Pinot Grigio, Pinot Bianco, Sauvignon (Blanc) and Chardonnay—have also been in the area for well over 100 years. Today Collio is often associated with crisp, clean, floral and fruity whites. But in recent years, there has been a resurgence in popularity of the ancient Slovenian style of fermenting white grapes on their skins. This process retains additonal colors and phenols, producing a complex finished wine with an orange hue, warranting the term, "orange wines."
Reds are far less common but the indigenous Pignolo makes an age-worthy red, and the international varieties Merlot and Cabernet grow here as well.
The exact origins of Ribolla Gialla remain unclear, though it most likely came to Friuli before the 1200s by way of Slovenia, where it goes by the moniker, Rebula. Blanketing vineyard hillsides along the Italian-Slovenian border, unconcerned about which side it is on, this pink-skinned variety creates a range of styles from the crisp, dry, still or sparkling whites to the charmingly ephemeral, skin-contact orange wines. Somm Secret—If you're into orange wines, go visit Collio's Oslavia and Slovenia's Goriska Brda regions. They are so close you'll hardly know you've gone from one to the other.
PBC9022901_2017
Item#
652960