Elijah Craig 12 Year Barrel Proof Bourbon Whiskey
Ships Tomorrow
Limit
0
bottles
per customer
Distiller Notes
Wine Enthusiast Top 100 Spirits of 2019
Each batch of Elijah Craig Barrel Proof is an uncut Small Batch of 12-year-old Bourbon bottled straight from the barrel. This bourbon has a deep amber color. On the nose, caramel with toasted oak, fruit notes of apple and orange. Rich vanilla, caramel, and butterscotch along with spices of black pepper and cinnamon at the back of the palate.
Proof: 122.2
Critical Acclaim
All Vintages
Here, a perfect harmony delivers crème brûlée, butterscotch, fruit, cinnamon, and rising cornbread. Right away complexity sets in, delivering salted baked almonds, cashews, dried apricot, pistachio gelato, Nutter Butters, salted caramel popcorn, rye toast with brown sugar butter, and sugarcane. Somehow, a drop of water makes it even more complex, amplifying the butterscotch and presenting cinnamon-soaked roasted pecans and almonds. Pure bliss; a must-sip.
This 12-year-old cask-strength whiskey offers chocolate and vanilla aromas. The drying, numbingly hot palate opens with fiery cayenne and clove, yielding a Mexican chocolate-like effect. Balanced with water, the whiskey evolves into an oakier dark chocolate profile, lightened with almond, ginger and white pepper. 
From an uncut small batch of 12-year-old bourbon; toasty, lush nose; sweet and rich with layers of flavor; spicy, nicely aged, and intense; smooth when watered.
View More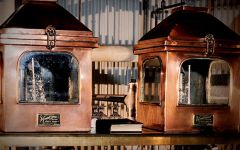 The history of Elijah Craig is the history of Bourbon. Reverend Elijah Craig was a Baptist preacher and active character in 1800s Kentucky. He was an educator, road builder, land speculator, and built the first paper and wool mills in Georgetown, KY. But it was his gift as a distiller and entrepreneur that establishes his place in history as The Father of Bourbon.
Today, Heaven Hill Distillery preserves the Bourbon making traditions developed by Elijah Craig. Each bottle of our Bourbon is crafted with the same method used by Elijah over two hundred years ago: local corn and grains are milled and mixed with limestone-rich Kentucky spring water, then fermented and distilled. After years of aging in charred oak, our Master Distillers select the most complex barrels to become Elijah Craig Small Batch, Barrel Proof, and Single Barrel Bourbons. Our rich history and craftsmanship can be savored in every sip.
Although Bourbon may be produced anywhere in the United States, it is most commonly associated with Bourbon County, Kentucky, where it has been produced since the late 18th century. Made from a mash bill containing at least 51% corn, the Bourbon Whiskey distillate must be aged in new, charred white oak barrels. Bourbon Whiskeys are bottled at eighty proof (40% abv) or higher and cannot contain any added color or flavor. A versatile spirit that can be sipped neat, with water or on the rocks, it also performs nicely added to cocktails like the Old Fashioned.