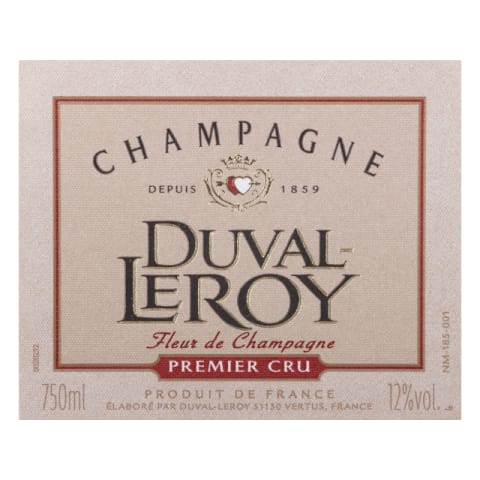 Duval-Leroy Brut Premier Cru
Winemaker Notes
Elegant and well-structured, it is veiled with fine, satiny bubbles. Bringing together a long, well-balanced taste and a cultivated, distinguished character, this champagne is a harmonious prelude to a delicious meal. Derived from a lively cuvee, o lofty, fragrant source with a hint of minerals, it will capture the memories of shared emotions for a very long time.
Critical Acclaim
All Vintages
This mouthwatering Champagne presents a tightly meshed mix of blackberry coulis, lemon meringue pie and candied ginger flavors on a finely detailed mousse, underscored by a rich skein of ground spice that unwinds and lingers on the racy finish.
The NV Brut Premier Cru is a blend of 70% Chardonnay and 30% Pinot Noir (with 15% of reserve wines) from the Côte des Blancs, Montagne de Reims and the Vallée de la Marne. Pure, bright and fresh on the lovely aromatic nose, this is a very delicate, round, fruity and elegant Brut with good intensity, structure and juicy length.
View More
Since 1859, Duval-Leroy family has been perfecting the quality of its champagne, balancing passion with an aesthetic sensibility. 160 years of family history, currently the 6th generation is in charge to lead the house towards excellence. 
Feminine and Ambitious! One of the very few champagne houses led by a feminine duo. Carol Duval-Leroy the CEO is highly respected by her peers while Sandrilne Logette, the head winemaker is the keeper of Duval Leroy style creating champagnes both elegant and feminine.
The winery has been awarded one of the most prestigious organic certifications in France, Haute Valeur Environnementale (HVE), Level 3, awarded by the French Ministry of Agriculture for its excellence, its respect for nature, biodiversity, and water management. Also, Duval- Leroy is the first House to create a certified organic Brut Champagne.It is in this product that one can feel the unique power and character which marks out a top-of-the-range champagne. Consistency, expertise and a creative spirit ensure a success which needs no further demonstration.
Associated with luxury, celebration, and romance, the region, Champagne, is home to the world's most prized sparkling wine. In order to bear the label, 'Champagne', a sparkling wine must originate from this northeastern region of France—called Champagne—and adhere to strict quality standards. Made up of the three towns Reims, Épernay, and Aÿ, it was here that the traditional method of sparkling wine production was both invented and perfected, birthing a winemaking technique as well as a flavor profile that is now emulated worldwide.
Well-drained, limestone and chalky soil defines much of the region, which lend a mineral component to its wines. Champagne's cold, continental climate promotes ample acidity in its grapes but weather differences from year to year can create significant variation between vintages. While vintage Champagnes are produced in exceptional years, non-vintage cuvées are produced annually from a blend of several years in order to produce Champagnes that maintain a consistent house style.
With nearly negligible exceptions, . These can be blended together or bottled as individual varietal Champagnes, depending on the final style of wine desired. Chardonnay, the only white variety, contributes freshness, elegance, lively acidity and notes of citrus, orchard fruit and white flowers. Pinot Noir and its relative Pinot Meunier, provide the backbone to many blends, adding structure, body and supple red fruit flavors. Wines with a large proportion of Pinot Meunier will be ready to drink earlier, while Pinot Noir contributes to longevity. Whether it is white or rosé, most Champagne is made from a blend of red and white grapes—and uniquely, rosé is often produce by blending together red and white wine. A Champagne made exclusively from Chardonnay will be labeled as 'blanc de blancs,' while ones comprised of only red grapes are called 'blanc de noirs.'
A term typically reserved for Champagne and Sparkling Wines, non-vintage or simply "NV" on a label indicates a blend of finished wines from different vintages (years of harvest). To make non-vintage Champagne, typically the current year's harvest (in other words, the current vintage) forms the base of the blend. Finished wines from previous years, called "vins de reserve" are blended in at approximately 10-50% of the total volume in order to achieve the flavor, complexity, body and acidity for the desired house style. A tiny proportion of Champagnes are made from a single vintage.
There are also some very large production still wines that may not claim one particular vintage. This would be at the discretion of the winemaker's goals for character of the final wine.