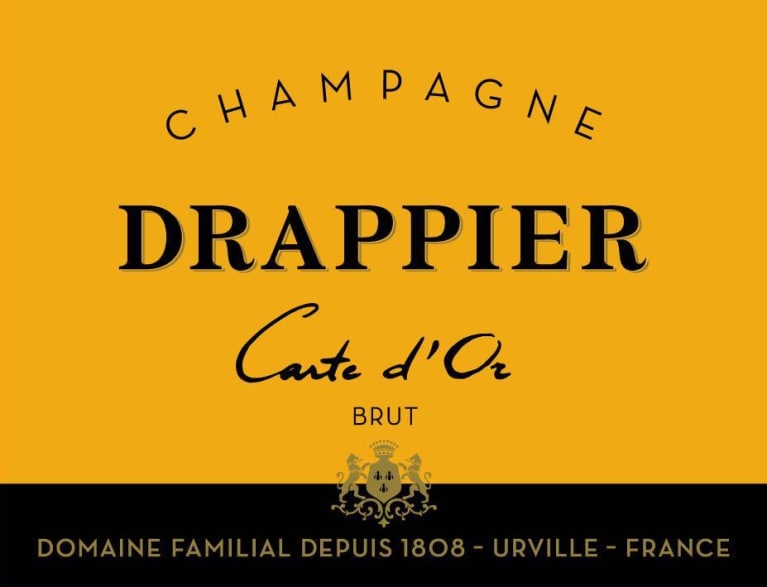 Drappier Carte d'Or Brut (6 Liter Bottle)
Winemaker Notes
Critical Acclaim
All Vintages
This bright and zesty Champagne is lightly juicy and appealing, offering flavors of Honeycrisp apple, ripe white cherry, biscuit and pickled ginger. Balanced and lacy in texture, with a lingering, spiced finish. Drink now through 2022.
Pretty notes of toasted bread, yeast, orange peel and white peach introduce rich, full-bodied and borderline creamy flavors that are shaped by a relatively soft effervescence before terminating in an agreeably dry, clean and focused finale. This is drier than the 7 g/l would usually suggest but I underscore that it stops short of austerity. Lovely stuff fashioned in a "drink me now" style.
This well-balanced nonvintage Champagne from this major producer in the Aube region is dominated by Pinot Noir, giving rich character and structure. Red apple and ripe melon flavors mean everything is in place, making for a wine that is deliciously ready to drink.
Disgorged in June 2019, the latest rendition of Drappier's NV Brut Carte d'Or is showing well, bursting with pretty aromas of peach, honeyed orchard fruit and white flowers. On the palate, it's medium to full-bodied, chalky and incisive, with fine depth and tension and a penetrating finish.
View More
Although the vines in Urville were originally planted by the Romans 2000 years ago, it was Saint Bernard, founder of Clairvaux Abbey, who had cellars built in 1152.
Seven centuries later, in 1808, the family domaine was created -- today, it is headed by Michel Drappier, and cultivated according to organic and natural principles. Urville is an area in which Pinot Noir thrives, however, Drappier also cultivates "forgotten" grape varieties: Arbane, Petit Meslier and Blanc Vrai.
Rather than ultra-sophisticated, sometimes overdone, wine, the winery prefers authenticity and a natural approach, limiting usage of sulphites.
Associated with luxury, celebration, and romance, the region, Champagne, is home to the world's most prized sparkling wine. In order to bear the label, 'Champagne', a sparkling wine must originate from this northeastern region of France—called Champagne—and adhere to strict quality standards. Made up of the three towns Reims, Épernay, and Aÿ, it was here that the traditional method of sparkling wine production was both invented and perfected, birthing a winemaking technique as well as a flavor profile that is now emulated worldwide.
Well-drained, limestone and chalky soil defines much of the region, which lend a mineral component to its wines. Champagne's cold, continental climate promotes ample acidity in its grapes but weather differences from year to year can create significant variation between vintages. While vintage Champagnes are produced in exceptional years, non-vintage cuvées are produced annually from a blend of several years in order to produce Champagnes that maintain a consistent house style.
With nearly negligible exceptions, . These can be blended together or bottled as individual varietal Champagnes, depending on the final style of wine desired. Chardonnay, the only white variety, contributes freshness, elegance, lively acidity and notes of citrus, orchard fruit and white flowers. Pinot Noir and its relative Pinot Meunier, provide the backbone to many blends, adding structure, body and supple red fruit flavors. Wines with a large proportion of Pinot Meunier will be ready to drink earlier, while Pinot Noir contributes to longevity. Whether it is white or rosé, most Champagne is made from a blend of red and white grapes—and uniquely, rosé is often produce by blending together red and white wine. A Champagne made exclusively from Chardonnay will be labeled as 'blanc de blancs,' while ones comprised of only red grapes are called 'blanc de noirs.'
A term typically reserved for Champagne and Sparkling Wines, non-vintage or simply "NV" on a label indicates a blend of finished wines from different vintages (years of harvest). To make non-vintage Champagne, typically the current year's harvest (in other words, the current vintage) forms the base of the blend. Finished wines from previous years, called "vins de reserve" are blended in at approximately 10-50% of the total volume in order to achieve the flavor, complexity, body and acidity for the desired house style. A tiny proportion of Champagnes are made from a single vintage.
There are also some very large production still wines that may not claim one particular vintage. This would be at the discretion of the winemaker's goals for character of the final wine.