Dr. Loosen Riesling Extra Dry Sekt
Ships today if ordered in next 9 hours
Winemaker Notes
The Dr. Loosen Sekt Extra Dry is produced with fruit from estate vineyards in the Middle Mosel. Bottle fermented, it is brisk and refreshing, with pure Riesling fruit and crisp acidity. Sparkling wine, called "Sekt" in German, has a long history in Germany. A fact that you can see in the many German family names among famous Champagne houses (think Bollinger, Krug and Mumm, for example). Dr. Loosen celebrates this tradition with an Extra Dry Sekt from 100% Riesling, which makes excellent sparkling wine because of its natural acidity.
Critical Acclaim
All Vintages
Zesty green apple and crisp stone fruits are electrified by spine tingling acidity in this invigorating sekt. It's fresh and primary in style, with just a hint of cookie crumbs that linger on the midpalate. Tiny, vigorous bubbles dissipate elegantly on the finish.
View More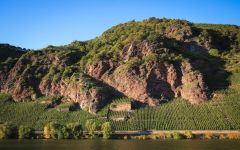 The Dr. Loosen Estate has been in the same family for over 200 years. With ungrafted vines averaging 50 years old, some of the best vineyard sites in Germany (four rated grand cru and two premier cru by both the 1868 German classification and the more current Wine Atlas of Germany), Ernst Loosen has the raw materials for stunningly intense, world-class wines. With crop yields almost half of what is permitted by law, only moderate use of organic fertilizers, and old-fashioned cellar practices, Loosen strives to create wines that unmistakably say, "Riesling, Mosel, and Dr. Loosen." In his own words, "The great winemakers I have met invariably possess a clear concept in their mind of what their wine should be. It's a vision that places terroir over technology, and grape quality over quantity. This is the level of winemaking we pursue at Dr. Loosen. Our goal is to produce wines that are luscious, complex, and true to their roots."
Following the Mosel River as it slithers and weaves dramatically through the Eifel Mountains in Germany's far west, the Mosel wine region is considered by many as the source of the world's finest and longest-lived Rieslings.
Mosel's unique and unsurpassed combination of geography, geology and climate all combine together to make this true. Many of the Mosel's best vineyard sites are on the steep south or southwest facing slopes, where vines receive up to ten times more sunlight, a very desirable condition in this cold climate region. Given how many twists and turns the Mosel River makes, it is not had to find a vineyard with this exposure. In fact, the Mosel's breathtakingly steep slopes of rocky, slate-based soils straddle the riverbanks along its entire length. These rocky slate soils, as well as the river, retain and reflect heat back to the vineyards, a phenomenon that aids in the complete ripening of its grapes.
Riesling is by far the most important and prestigious grape of the Mosel, grown on approximately 60% of the region's vineyard land—typically on the desirable sites that provide the best combination of sunlight, soil type and altitude. The best Mosel Rieslings—dry or sweet—express marked acidity, low alcohol, great purity and intensity with aromas and flavors of wet slate, citrus and stone fruit. With age, the wine's color will become more golden and pleasing aromas of honey, dried apricot and sometimes petrol develop.
Other varieties planted in the Mosel include Müller-Thurgau, Spätburgunder (Pinot Noir) and Weissburgunder (Pinot Blanc), all performing quite well here.
A term typically reserved for Champagne and Sparkling Wines, non-vintage or simply "NV" on a label indicates a blend of finished wines from different vintages (years of harvest). To make non-vintage Champagne, typically the current year's harvest (in other words, the current vintage) forms the base of the blend. Finished wines from previous years, called "vins de reserve" are blended in at approximately 10-50% of the total volume in order to achieve the flavor, complexity, body and acidity for the desired house style. A tiny proportion of Champagnes are made from a single vintage.
There are also some very large production still wines that may not claim one particular vintage. This would be at the discretion of the winemaker's goals for character of the final wine.
CHMLSN64010NV_0
Item#
578624