Dow's Vintage Port 1912
Out of Stock

(was $455.99)
Winemaker Notes
On account of the tremendous age of this wine, the occasion that you decide to pull the cork will always be momentous. It is difficult to comment further, except for the fact that Port is very resilient and can spring the odd surprise, even at this age.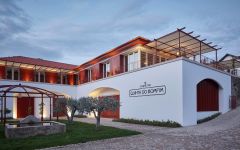 For over two centuries the name of DOW has been associated with the finest Port from the vineyards of the Upper Douro Valley. Throughout the 20th Century and into the 21st, the Symington family has built on the legacy of the preceding Silva and Dow families. Generations of Symington winemakers have worked at the Dow's vineyards: Quinta do Bomfim and Quinta da Senhora da Ribeira, creating from them Dow's superbly concentrated wines that are intense and tannic when young, maturing towards a superlative racy elegance with age and scented with violet and mint aromas. Dow's attractive and distinctive drier finish is the recognizable hallmark of the wines from this great Port house.
The story of Dow's is unusual amongst all the great Port houses. It began in 1798 when Bruno da Silva, a Portuguese merchant from Oporto, made a journey which was the opposite to that of the first British merchants. Bruno set up in London from where he imported wine from his native country. He married an Englishwoman and was rapidly assimilated into London society where his business acumen led to a fine reputation for his wines. But the outbreak of the Napoleonic wars put his business in jeopardy. Undaunted, Bruno da Silva applied for 'letters of marque' (Royal Assent to equip a merchant ship with guns) to secure safe passage of his Port from Oporto to Bristol and to London. His became the first and only Port company to transport its precious cargo of casks of fine Ports under its own armed protection across the treacherous Bay of Biscay, a strong dissuasion to attack during a period when less audacious companies saw their sales dwindle away.
The Port shipping business was continued by Bruno's son, John da Silva who in 1862 brought into partnership Frederick William Cosens. Together with John's son, Edward, they became the active partners in Silva & Cosens. Edward da Silva inherited his grandfather's business ability and the company continued to prosper. Edward became a highly respected figure in the London wine trade and was one of the founders of the Wine Trade Benevolent Society, the leading charity which survives to this day as the principal British wine trade organisation. Edward da Silva was to be the Benevolent's chairman and then, from 1892, its president for many years.
With the continuing expansion of the firm, Edward da Silva and Frederick Cosens were joined by George Acheson Warre, whose well known family had been involved in the Port trade since its earliest years. 'GAW' joined as partner in 1868 and became its driving force in Portugal.
In 1877, Silva & Cosens merged with another leading Port company, Dow & Co, who's senior partner was James Ramsay Dow, who had made a name for himself in 1856 with the publication of his important treatise, 'An Inquiry into the Vine Fungus with Suggestions as to a Remedy.' The Oidium fungus was at the time devastating the Douro's vineyards.
Although smaller than Silva & Cosens, Dow & Co had become a very highly regarded Port producer with a particularly fine reputation for its Vintage Ports and when the two companies merged, it was decided to adopt DOW'S as the brand name.
Best known for intense, impressive and age-worthy fortified wines, Portugal relies almost exclusively on its many indigenous grape varieties. Bordering Spain to its north and east, and the Atlantic Ocean on its west and south coasts, this is a land where tradition reigns supreme, due to its relative geographical and, for much of the 20th century, political isolation. A long and narrow but small country, Portugal claims considerable diversity in climate and wine styles, with milder weather in the north and significantly more rainfall near the coast.
While Port (named after its city of Oporto on the Atlantic Coast at the end of the Douro Valley), made Portugal famous, Portugal is also an excellent source of dry red and white Portuguese wines of various styles.
The Douro Valley produces full-bodied and concentrated dry red Portuguese wines made from the same set of grape varieties used for Port, which include Touriga Nacional, Tinta Roriz (Spain's Tempranillo), Touriga Franca, Tinta Barroca and Tinto Cão, among a long list of others in minor proportions.
Other dry Portuguese wines include the tart, slightly effervescent Vinho Verde white wine, made in the north, and the bright, elegant reds and whites of the Dão as well as the bold, and fruit-driven reds and whites of the southern, Alentejo.
The nation's other important fortified wine, Madeira, is produced on the eponymous island off the North African coast.
Port is a sweet, fortified wine with numerous styles: Ruby, Tawny, Vintage, Late Bottled Vintage (LBV), White, Colheita, and a few unusual others. It is blended from from the most important red grapes of the Douro Valley, based primarily on Touriga Nacional with over 80 other varieties approved for use. Most Ports are best served slightly chilled at around 55-65°F.
WWH361DO122_1912
Item#
14172