Domaines Schlumberger Les Princes Abbes Gewurztraminer 2015
Winemaker Notes
The robe is golden yellow with green reflections of good intensity. The disk is bright, limpid and transparent. The wine shows youth. The nose is marked, pleasant and intense. Sophisticated, we perceive a dominant of candied and overripe scents marked by exoticism; grapefruit, passion fruit, papaya, spices and ginger. The airing enhances these scents and reveals mango as well as a slight floral hint of peony. The nose reflects the perfect state of health of the grapes as well as a beautiful ripening. Its refined expression is a great pleasure without heaviness. Excellent varietal definition! The onset in the mouth is moderately ample and mellow. The alcohol support is full-bodied. The wine evolves on a medium with a frank liveliness, marked by a sparking note. The range of aromas is the same as the nose, still dominated by citrus fruits and exoticism; grapefruit, litchi, mango, papaya, passion fruit, spices, candied ginger and peony. We perceive a hint of firm and savory bitterness. The finish has a good length, 7-8 caudalies, a frank liveliness and a persistent bitterness. Very nice and tasty balance. The class of the vintage tempers the extent of the grape variety. Marked by a sophisticated and subtle aromatic palette, this profile is remarkable.
It can be paired with Maatjes with a five-berry mixture and hash brown potatoes, a shrimp curry with coconut milk, a cumin poultry fricassee with mustard sauce or a soft and washed-rind cheese.
Critical Acclaim
All Vintages
Bright and buoyant, this creamy Gewürztraminer shows a pleasing mix of candied pink grapefruit zest, lychee, ground ginger and pink peppercorn notes. Offers a silky, smoke-tinged finish. Drink now through 2025.
An off-dry style, this wine feels sumptuous and velvety rather than sweet, its satin texture carrying flavors of fresh ginger and oranges. Layered and mouthfilling, this is lively and lasting.
Yellow peach, honeysuckle and russet pear combine in a very inviting nose. The palate amalgamates these flavors even more, bathing them in tangy but sightly sweet orange notes. The result is a bullet of flavor and freshness, balanced, friendly and very moreish. The finish is off dry and wonderfully clean and spicy.
The 2015 Gewurztraminer Les Princes Abbés opens beautifully clear and aromatic, with floral and even stony aromas of ripe stone fruits. On the palate this wine is round and elegant, a picture-book Alsace Gewurz—classic with tension, grip and expression. Everything is in perfect balance here and that does not exclude tension and drinkability. An excellent wine and the best Les Princes Abbés I had during this year's tastings.
View More
The vineyards of Domaines Schlumberger were originally planted by the Romans and were later controlled by the Prince Abbotts of Murbach, an order of monks who established their seat at the town of Guebwiller in the southern end of Alsace. When the estates of the Abbey were put up for sale after the French Revolution, a local mill owner named Nicolas Schlumberger purchased 20 hectares.
Today, the Nicolas Schlumberger's heirs own and cultivate a 135 hectares spread located over four miles on the steep flanks of the Vosges Mountains. The Schlumberger vineyards are the largest in Alsace, and one of the largest blocks of contiguous vineyards in France. The domaine also has the distinction of owning the largest acreage of Alsace grand cru vineyards, and references to the famous blocks of Kessler, Kitterle and Saering date back to ancient Roman times.
These impressive holdings are the result of efforts devoted over six successive generations of the Schlumberger family. Many growers gave up their property in the late 1800s as they became involved in industrial and commercial activities, leaving the vines to languish untended. In the beginning of the 20th Century, phylloxera further ravaged the vineyards, and war completed the devastation.
In 1911, Ernest Schlumberger undertook the rebuilding of not only the familial vineyards, but the whole of Guebwiller. Over the years, he pieced together more than 2,500 parcels abandoned by their owners. In time, the small domains grew from an original 20 hectares to its present 135 hectares. Today, Schlumberger wines are made exclusively from grapes grown in these estate vineyards.
Planted at altitudes of 750 to 1,450 feet, much of the terraced hillside vineyards above Guebwiller are so steep that driving tractors can be extremely hazardous. Therefore, the domaine uses draught horses specially bred for balance and unaffected by vertigo.
The vineyards are divided into large parcels, each planted to specific Alsace varieties selected according to microclimate and soil characteristics. In general, the soil is light, sandy and porous, ideal for grapes. The natural dryness contributes to the richness and mineral flavor of the wines.
Due to the aridity and steepness of the domaine, production levels at Schlumberger are generally 50% lower than the average in Alsace. By law, Schlumberger could produce 160,000 cases a year from its vineyards, but they limit production to 80,000 cases per annum. Limits dictated both by nature and the domaine result in small yields of very high quality grapes, with an exceptional concentration of flavors.
After harvest, all Domaines Schlumberger wines are fermented and aged in large oak tuns. These large casks have been used in the cellars for decades and are the heart of the Schlumberger cellars.
Domaines Schlumberger is renowned for its luscious wines, full in body and flavor. Their richness and delicate sweetness is balanced by excellent acidity. Therefore, the wines are never cloying or overly heavy. Even the vendange tardive, or late harvest dessert wines - the Gewurztraminers Cuvée Anne and Cuvée Christine capture exquisite honeyed flavors with an ethereal lightness.
With its fairytale aesthetic, Germanic influence and strong emphasis on white wines, Alsace is one of France's most unique viticultural regions. This hotly contested stretch of land running north to south on France's northeastern border has spent much of its existence as German territory. Nestled in the rain shadow of the Vosges mountains, it is one of the driest regions of France but enjoys a long and cool growing season. Autumn humidity facilitates the development of "noble rot" for the production of late-picked sweet wines, Vendange Tardive and Sélection de Grains Nobles.
The best wines of Alsace can be described as aromatic and honeyed, even when completely dry. The region's "noble" varieties, the only ones permitted within Alsace's 51 Grands Crus vineyards, are Riesling, Gewurztraminer, Muscat, and Pinot Gris.
Riesling is Alsace's main specialty. In its youth, Alsace Riesling is dry, fresh and floral, but develops complex mineral and flint character with age. Gewurztraminer is known for its signature spice and lychee aromatics, and is often utilized for late harvest wines. Pinot Gris is prized for its combination of crisp acidity and savory spice as well as ripe stone fruit flavors. Muscat, vinified dry, tastes of ripe green grapes and fresh rose petal.
Other varieties grown here include Pinot Blanc, Auxerrois, Chasselas, Sylvaner and Pinot Noir—the only red grape permitted in Alsace and mainly used for sparkling rosé known as Crémant d'Alsace. Most Alsace wines are single-varietal bottlings and unlike other French regions, are also labeled with the variety name.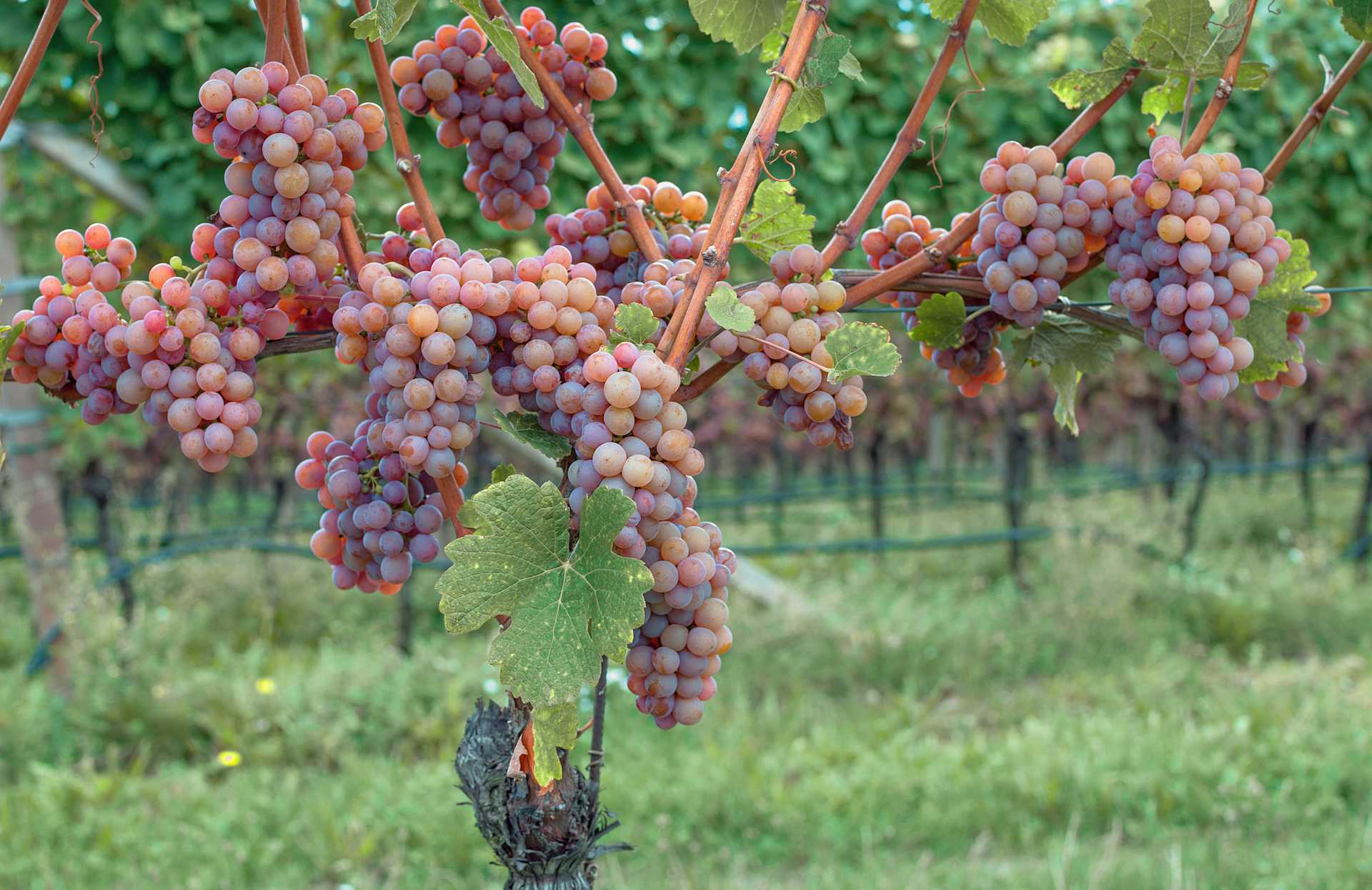 Gewürztraminer, an expressive and aromatically distinctive white grape variety, is considered a noble variety in the Alsace region of France, and produces wonderful wines in the mountainous Alto Adige region of NE Italy. Generally this grape grows well in cooler regions and its natural intensity makes it a great ally for flavorful cuisine such as Indian, Middle Eastern or Moroccan. Somm Secret—Because of a charming perfume and tendency towards slight sweetness, Gewürztraminer makes for an excellent gateway wine for those who love sweet wines but want to venture into the realm of drier whites.
CGM38191_2015
Item#
515512