Dingle Batch No. 3 Single Malt Irish Whiskey
Distiller Notes
A marriage of hand selected bourbon and port casks, this unique and rare, Batch No. 3 is a limited release of 600 cases. Three distinctive hand-crafted copper pot stills are used to achieve Dingle Single Malt's unique flavor profile. Wooden mash tun and fermentation vessels are used in a nod tradition. Three bespoke copper pot stills are used for the triple distillation. Each still providing an individual nuance to achieve Dingle Single Malt's unique flavor profile. The spirit coming off the still uses only the pristine water drawn from their well, 240 feet below the distillery.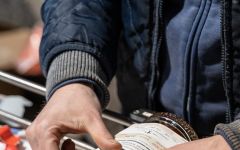 The Dingle Whiskey Distillery was crafted and conceived by three independent spirits: Oliver Hughes; Liam LaHart and Peter Mosley. Oliver, Liam and Peter are the people behind Porterhouse Brewing Company; one of the pioneers of craft brewing in Ireland in 1996. Craft beer in Ireland in the mid-1990s was not appealing to the masses. The idea was radical to some, simply mad to the rest. The refined pallets of the then youthful Oliver, Liam and Peter had seen a love for beer. As their palates became more and more experienced to the taste of Earth's natural ingredients, the attention turned to whiskey.
We have always had quality over quantity at the forefront of our thoughts. We never had any interest in distilling enormous quantities of bland whiskey. We understand and respect the concept, it just wasn't for us! We aren't passionate about bland spirit. We are hugely passionate about flavorsome, well-crafted spirit.
To achieve the flavors we want to achieve in our whiskey, we use three distinctive, hand-crafted copper pot stills to create what we believe is the ultimate Irish whiskey. Their distinctive design, incorporating a boil ball, encourages reflux and has much to do with the remarkable smoothness and purity of our spirit. We use a small, swan neck pot still to achieve our desired effect on our award-winning Gin and Vodka.
 Once again, we appear to be at the forefront of a minor revolution in that the Dingle Whiskey Distillery is the first of what appears to be – and we certainly hope will be – artisan distilleries throughout the island of Ireland. The future of the Irish Whiskey industry looks bright and we are proud to have been the first to break the mold. Long may it continue!