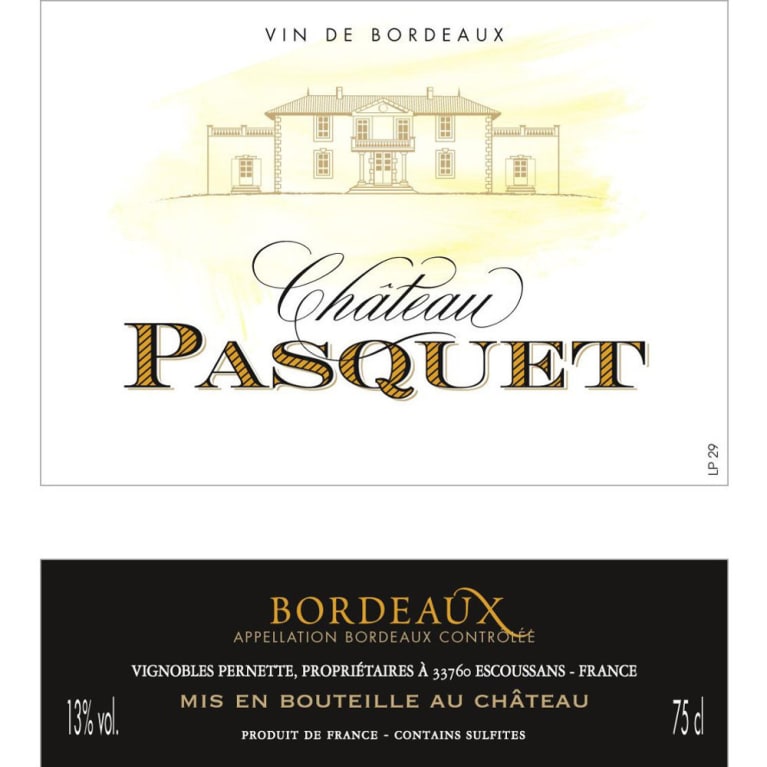 Winemaker Notes
Unusual blend, predominant Cabernet Sauvignon with a Malbec balance. Of course, even more than usual. Very dark in color. Deep nose on licorice, and very dark ripe fruits. Full bodied, deep and structured palate with spicy notes and the perfect Cabernet tannins note.
When George Pernette fell in love with Pasquet, everything had to be re-done: the Chateau was falling apart, the cellar only housed a small crop and the vines were left abandoned.
Over the years, the property was reconstructed, thus the family estate was born. The vineyard is now run by George's two sons Michel and Jean-Francois. They share the same ambition to better the quality of their wine and to share their passion and knowledge of the process of winemaking from the vine to the bottle.
Situated at 320 feet above sea level, Chateau Pasquet takes advantage of ideally exposed hillsides in the heart of the Haut-Benauge, 20 miles south-east of Bordeaux. Known since the Middle Ages for the quality of its wines, this region of the "Entre-Deux-Mers" became the first AOC of Bordeaux in 1925.
The site of Pasquet offers a remarkable panoramic viewpoint. As far as the eye can see, vine hillsides and wooded valleys stretch our around the feudal castle of Benauge. You can catch a glimpse of the hills of Saint-Emilion, the mound of Launay, the highest point of the Entre-Deux-Mers, Cadillac, Sauternes and the Garonne River.
In most of France, wines are named by their place of origin and not by the type of grape (with the exception of Alsace). Just like a red Burgundy is by law, always made of Pinot noir, a red Bordeaux is a blended wine composed mainly of Cabernet Sauvignon and Merlot. Depending on the laws of the village from which the grapes come, the conditions of the vintage and decisions of the winemaker, the blend can be further supported by Cabernet Franc, Malbec, Petit Verdot and in rare cases, Carmenere. So popular and repeated has this mix of grape varieties become worldwide, that the term, Bordeaux Blend, refers to a wine blended in this style, regardless of origin.
WWH141274_2014
Item#
197766