Charbay S Hop Flavored Whiskey
Out of Stock

(was $149.97)
Distiller Notes
Charbay 'S' Whiskey was double-distilled in the family's copper Alambic Charentais Pot Still. "It's extremely complex. Single malts only use a single malt—this Stout has over five different malts, as well as adjuncts and several different hop varieties. All of these qualities come through into an extremely complex whiskey.
Proof: 99
Critical Acclaim
All Vintages
Distilled from beer and aged in French oak, this is a sophisticated flavored whiskey. The aromas are honeyed and sweet, with touches of beer and a faint floral note. On the palate, it shows oak, a bitter hoppiness and a wash of honey. It tastes hot, so have some branch water at the ready.
Distilled from Bear Republic Big Bear Black Stout, alambic pot distilled, aged 29 months in used French oak. Gooey nose, with lots of dark chocolate, toffee, fruit (ripe honeydew, Asian pear, red plum); no hint of the 49.5% ABV heat. Deliciously layered palate: dry malt, juicy fruit, and savory wood spice, sweet malt and chocolate, and a finish that's sweet, light, and quite refreshing and inviting. Lives up to the Charbay hype!
View More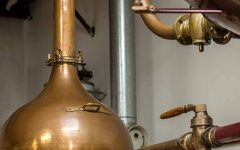 For 34 years, Charbay has been producing small releases of handcrafted spirits, wines, ports, aperitifs & liqueurs in Northern California.
Our family is committed to offering the finest spirits made in the true spirit of American creativity while grounded in 13 generations of old world European knowledge. Founder, Milorad (Miles) Karakasevic, traces his family winemaking & distilling heritage over 250 years to 1751 in former-Yugoslavia. After receiving both formal and classical apprenticeship training, Miles arrived in North America at the age of 21. Through the years, he and our family have created an American legacy of consistent quality... and consistent surprises. 
No other family in the United States hand produces the scope of handcrafted wines & spirits than that of Charbay. Our family promises to carry on the tradition of the finest quality of artisan wines & spirits, always pushing the creative edge and accenting the ingredients we work with. We hope you enjoy the Charbay story and will stay in touch for years to come.
What Whiskey will not cure, there is no cure for.
Coming in a multitude of styles depending on its origin, Whisk(e)y's flavors range across the board from the sweet, caramel and vanilla-dominated American Bourbons to the briny, peat-heavy Islay Single Malts from Scotland. Though production methods differ widely, all Whiskeys are made by distilling beer made from some type of grain, such as barley, corn, wheat or rye. After the distillation process is complete, the new, clear spirit is transferred to wooden casks where it matures, a process that can take up to thirty years or more.