Charbay No. 83 Brandy 1983
Out of Stock

(was $489.97)
Distiller Notes
Double-distilled from rare 1983 Folle Blanche (Mendocino County) in the classic 660-gallon Alambic Charentais Pot Still, then aged 27 years in French Limousin oak. Hand bottled and numbered. Offers classic floral, spicy, toasty, caramel aromas with evolving richness. Flavors of toasty vanilla, caramel, and blood orange with medium viscous body that unfolds layer after layer of richness.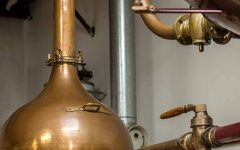 For 34 years, Charbay has been producing small releases of handcrafted spirits, wines, ports, aperitifs & liqueurs in Northern California.
Our family is committed to offering the finest spirits made in the true spirit of American creativity while grounded in 13 generations of old world European knowledge. Founder, Milorad (Miles) Karakasevic, traces his family winemaking & distilling heritage over 250 years to 1751 in former-Yugoslavia. After receiving both formal and classical apprenticeship training, Miles arrived in North America at the age of 21. Through the years, he and our family have created an American legacy of consistent quality... and consistent surprises. 
No other family in the United States hand produces the scope of handcrafted wines & spirits than that of Charbay. Our family promises to carry on the tradition of the finest quality of artisan wines & spirits, always pushing the creative edge and accenting the ingredients we work with. We hope you enjoy the Charbay story and will stay in touch for years to come.
Taking its name from the Dutch term, brandewijn, for burnt or cooked wine, in the broadest sense of the term, Brandy is any liquor made from the distillation of fruit wine. Though any kind of fruit may be used, wine grapes are the most common. Clear Brandy, commonly referred to as Eau de Vie, is unaged and bottled directly after distillation. Finer grape-based Brandies are often aged in oak barrels for anywhere from two years (VS) to six years (XO) or longer, gradually gaining color and complexity as they interact with the wood.
YNG228501_1983
Item#
540608