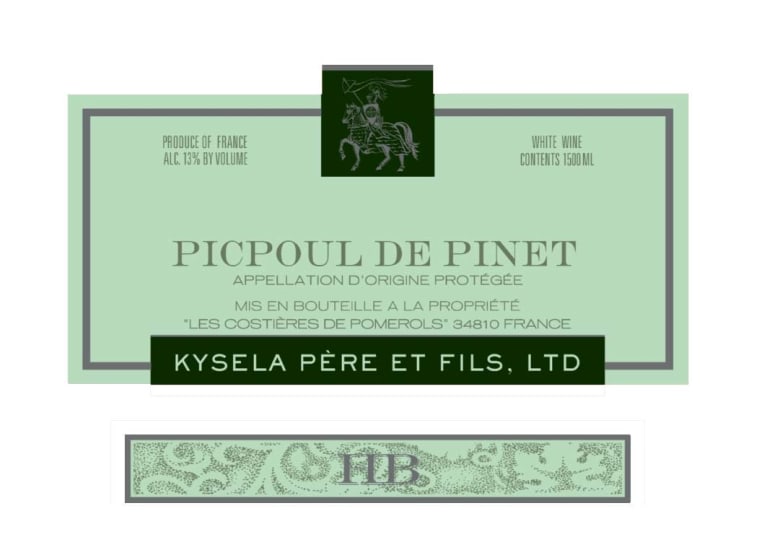 Cave de Pomerols HB Picpoul de Pinet 2021
Out of Stock

(was $15.99)
Winemaker Notes
The color is a superb pale yellow with bright hues. The nose is elegant, with aromas of fresh fruit and citrus fruit especially grapefruit. Well-balanced with typical zesty acidity. A pure expression of the grape varietal, the wine shows how good Picpoul can be when grown on its favorite terroir!
Known as "the Muscadet of the South" in France, this is to the Mediterranean coast of France what Albariño is to northwest Spain...the default wine for fresh shellfish and seafood! It is equally good with grilled monkfish, or crayfish bisque.
Founded in 1932, this Cave Cooperative is located in the top commune of Pomerols, located between the garrigue of Pezenas and the sea dominated by the Mont St Clair in Sete.
Sipping a glass of crisp white wine in the Mediterranean heat is an instinctive reflex, one which the inhabitants of Languedoc have met with the Picpoul grape since Roman times. The grape, widely planted until the late 19th century, became bound to the sandy soils around the Étang de Thau coastal lagoon during the phylloxera epidemic, where the root-sucking American louse cannot thrive. Picpoul de Pinet is one of the few AOCs in the Languedoc where only one grape is allowed, but the refreshing, mouthwatering quality of the wines makes clear why.
Late to ripen and high in acid, Picpoul (whose name means "lip-stinger") does well in the coastal heat where aridity reduces the threat of downy mildew and the sea-scented breeze imbues the wine with seafood-friendly salinity. Made to be drunk young, with a fresh floral, citrus and herbal character, it will go down equally well by itself or in the company of brandade, octopus, or ceviche!
Picpoul remains one of the few wines in France named for the grape more than the place; Picpoul de Pinet refers to the white wines made exclusively from the grape called Piquepoul Blanc in the Languedoc communes of Pinet, Mèze, Florensac, Castelnau-de-Guers, Montagnac and Pomérols. Confusingly, the spelling, Piquepoul, can be used for the variety in all other appellations except for those named above. The grape is ubiquitous throughout the Languedoc. Somm Secret—Pomérols is a commune in the Languedoc-Rousillon region in the south of France and has nothing to do with the Bordeaux village of virtually the same name, Pomerol.
AUT21POMPICPOUL_2021
Item#
964011