Casa Marrone Pinot Grigio 2019
Out of Stock

(was $13.99)
Winemaker Notes
A classic example of a fresh, Italian pinot grigio, with a distinctiveyellow colour and refreshing taste. Opening up a bottle of Casa Marrone Pinot Grigio will reveal a plentiful and fresh bouquet, with mouthwatering notes of apple and a clean, fresh palate with a typical mineral taste.
We recommend enjoying a chilled glass or bottle of our PinotGrigio on a warm spring or summer's day. Savour with greatcompany and conversation as an aperitif, or pair with deliciousfish dishes accompanied by fresh ingredients for an outstandingwine experience.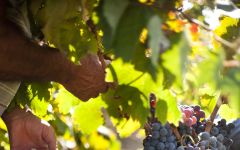 Casa Marrone wines are produced through a close cooperation with Casa Botter. Founded by Carlo and Maria Botter back in 1928, Casa Botter began its life in the small town of Fossalta di Piave, and remains based there to this day. Nestled between Venice and Verona in the Italian wine region of Veneto, Casa Botter hails from the home of wines such as Valpolicella and Amarone, with wineries and vineyards in both Veneto and in Puglia. Casa Botter are also part owners in a wine cooperative together with small local growers in the Veneto region.
Now managed and run by the third generation of the Botter family, Luca, Annalisa and Alessandro, Casa Botter are integrating their almost century old winemaking traditions with a new vision focused on modern techniques and innovation. An exciting future made possible by the foundations laid over 90 years ago by their grandparents.
Our wines are lovingly produced in two of the classic Italian wine regions, Puglia and Veneto. Both of these areas are famous for producing exceptionally high quality wines as a result of their sunny and warm climates, which creates the perfect conditions for growing grapes.
Casa Marrone wines are produced through a close cooperation with Casa Botter, 30020 Fossalta di Piave, ITA.
Producing every style of wine and with great success, the Veneto is one of the most multi-faceted wine regions of Italy.
Veneto's appellation called Valpolicella (meaning "valley of cellars" in Italian) is a series of north to south valleys and is the source of the region's best red wine with the same name. Valpolicella—the wine—is juicy, spicy, tart and packed full of red cherry flavors. Corvina makes up the backbone of the blend with Rondinella, Molinara, Croatina and others playing supporting roles. Amarone, a dry red, and Recioto, a sweet wine, follow the same blending patterns but are made from grapes left to dry for a few months before pressing. The drying process results in intense, full-bodied, heady and often, quite cerebral wines.
Soave, based on the indigenous Garganega grape, is the famous white here—made ultra popular in the 1970s at a time when quantity was more important than quality. Today one can find great values on whites from Soave, making it a perfect choice as an everyday sipper! But the more recent local, increased focus on low yields and high quality winemaking in the original Soave zone, now called Soave Classico, gives the real gems of the area. A fine Soave Classico will exhibit a round palate full of flavors such as ripe pear, yellow peach, melon or orange zest and have smoky and floral aromas and a sapid, fresh, mineral-driven finish.
Much of Italy's Pinot grigio hails from the Veneto, where the crisp and refreshing style is easy to maintain; the ultra-popular sparkling wine, Prosecco, comes from here as well.
Showing a unique rosy, purplish hue upon full ripeness, this "white" variety is actually born out of a mutation of Pinot Noir. The grape boasts two versions of its name, as well as two generally distinct styles. In Italy, Pinot Grigio achieves most success in the mountainous regions of Trentino and Alto Adige as well as in the neighboring Friuli—all in Italy's northeast. France's Alsace and Oregon's Willamette Valley produce some of the world's most well-regarded Pinot Gris wine. California produces both styles with success.
Where Does Pinot Gris / Pinot Grigio Come From?
Pinot Gris is originally from France, and it is technically not a variety but a clone of Pinot Noir. In Italy it's called Pinot Grigio (Italian for gray), and it is widely planted in northern and NE Italy. Pinot Gris is also grown around the globe, most notably in Oregon, California, and New Zealand. No matter where it's made or what it's called, Pinot Gris/Pinot Grigio produces many exciting styles.
Tasting Notes for Pinot Grigio
Pinot Grigio is a dry, white wine naturally low in acidity. Pinot Grigio wines showcase signature flavors and aromas of stone fruit, citrus, honeysuckle, pear and almond. Alsatian styles are refreshing, expressive, aromatic (think rose and honey), smooth, full-bodied and richly textured and sometimes relatively higher in alcohol compared to their Italian counterpart. As Pinot Grigio in Italy, the style is often light and charming. The focus here is usually to produce a crisp, refreshing, lighter style of wine. While there are regional differences of Pinot Grigio, the typical profile includes lemon, lime and subtle minerality.
Pinot Grigio Food Pairings
The viscosity of a typical Alsatian Pinot Gris allows it to fit in harmoniously with the region's rich foods like pork, charcuterie and foie gras. Pinot Grigio, on the other hand, with its citrusy freshness, works well as an aperitif wine or with seafood and subtle chicken dishes.
Sommelier Secrets
Given the pinkish color of its berries and aromatic potential if cared for to fully ripen, the Pinot Grigio variety is actually one that is commonly used to make "orange wines." An orange wine is a white wine made in the red wine method, i.e. with fermentation on its skins. This process leads to a wine with more ephemeral aromas, complexity on the palate and a pleasant, light orange hue.
SDYW90861_19_2019
Item#
718748