Caol Ila 12 Year Single Malt Scotch Whisky
Out of Stock

(was $94.99)
Distiller Notes
2017 San Francisco World Spirits Competition Winner
With a subdued, citric fruitiness and a sweet start, our whisky ends with a lengthy, slightly sour finish. Consider pairing this whisky with the provincial olive dish, tapenade, which helps bring out Caol Ila's peaty and salty notes, while the mix of capers and herbs accentuates the citrus flavors.
Proof: 86
Critical Acclaim
All Vintages
A seductive brininess and waves of oily peat-reek greet the olfactory sense. The palate entry finds a surprisingly buttery-creamy leaning along with the peat-reek; at midpalate the flavor becomes concentrated, oily, malty sweet, and only moderately peaty. Ends on a sweet malty note. Builds from stage to stage, each phase being better than the last. Best Buy.
?Range: 90-95 Points
View More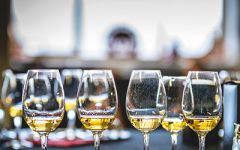 In 1846, Glasgow distillery owner Hector Henderson picked a little bay on the Sound of Islay for his distillery site. He named it for the sound itself, using the Gaelic Caol Ila, and it was across this sound the little puffer ships made their round trips to the mainland – slowly helping to establish the distillery as the biggest on Islay.
Over two decades and three changes of hands sees the distillery rebuilt and expanded. By 1879 Caol Ila has its own pier where steam ships or puffers can unload supplies and load up on whisky for sale on the mainland. The distillery is sold and the Distillers Company Ltd. Lands controlling interest. In 1941, restrictions on people power and barley mean the distillery had to close.
In 1974, a demand for blended whisky once again influences the fate of Caol Ila, which is completely rebuilt to meet increasing demand – making it the biggest on Islay.
"A good gulp of hot Scotch Whisky at bedtime–it's not very scientific, but it helps!"
Alexander Fleming, Scottish inventor of penicillin, prescribed it as a cure for the common cold. Today Single Malt Scotch Whiskies are prized by enthusiasts and aficionados the world over for their rarity, age and complexity. By definition these must be produced in Scotland from a single distillery and made entirely from malted barley, using a pot still. The appearance, aroma and flavor of a Single Malt Scotch Whisky can vary widely depending on whether it was produced in the Highlands, Lowlands Islands, Speyside, Islay or Campbelltown regions.