Bread & Butter Cabernet Sauvignon 2019
Out of Stock

(was $13.99)
Winemaker Notes
Bread & Butter wines celebrate the diversity and natural beauty of California vineyards, which are located in ideal climates for creating this classic ripe, luscious and bold Cabernet Sauvignon. Sometimes the best things in life are those simple pleasures. Which is why Bread & Butter believes in making good, honest, delicious wine meant to be simply enjoyed.
A ripe and robust California Cabernet Sauvignon that charms with layers of mocha, fresh berries, black currants and subtle black pepper. Round and luscious, soft tannins weave into a smooth and lingering finish.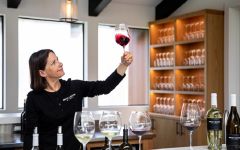 At Bread & Butter they believe good things in life shouldn't be complicated. Good things should just be good, honest, and simple. And the same goes for their wine. Bread & Butter Wines unlock the simplicity that people crave in life. Simply enjoyable flavors made for simple moments in a complex world. A bottle of Bread & Butter is the opportunity to take a breath, let your shoulders drop, and refresh your mindset. It's really quite simple… Don't Overthink It. 
Covering the most vine acreage in the state compared to any other red wine variety, Cabernet Sauvignon produces as much wine in California as Merlot and Pinot Noir combined. The state's diverse terrain and microclimates, as well as the freedom of its winemakers, allow for an incredible range of wine styles from this single grape.
California's most famous region—and especially for Cabernet Sauvignon—is the acclaimed Napa Valley. While Cabernet is successful throughout the world, rarely has it achieved such merit as it does from the Napa Valley. At this point the two are so intrinsically linked that it is difficult to discuss one without the other.
Napa's closest neighbor, Sonoma County, does an impressive job keeping up with Napa's fame and glory. Alexander Valley, Sonoma Mountain, Moon Mountain and Knights Valley contribute to the lot of some of California's top-rated Cabernet Sauvignon.
Lake County in California's North Coast has become a focus for some of Napa's more respected growers. From the Central Coast come iconic examples of classic California Cabernet; Lodi and the Sierra Foothills are great budget-friendly sources of amicable Cabernets.
YNG402616_2019
Item#
706984