Bravdo Coupage (OK Kosher) 2013
Ships today if ordered in next 7 hours
Winemaker Notes
The unique composition of the Coupage expresses the synergy between three varieties of quality wines. The wine has aged 12 months in new French oak barrels. Firm solid and concentrated. Opens to show intense, caressing and generous aromas and flavors of berries, black cherries, currents and bitter chocolate and on the long finish, a hint of crystallized fruits. The wine is deep in color and mouth – filling: it envelops the palate with a rich fruity aroma.
Blend: 40% Cabernet Franc, 33% Shiraz, and 27% Cabernet Sauvignon.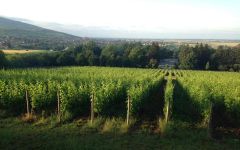 In 1999, Professor Ben Ami Barbado and his former student Professor Oded Shoseyov decided to utilize their vast knowledge in grape growing and wine production and established the Karmei Yosef winery that produces the wines of Barbado.
The winery is located in the heart of the Shuseyov family's vineyards, (who have been farming for over 130 years). The process of wine production always takes place immediately after manual harvest at dawn. The wine is produced according to the vast knowledge and experience accumulated by Professor Barbado and Professor Shoseyov in advanced technology that ensures high quality wines with an emphasis on aroma of the fruit.
The vineyards and winery are located next to the settlement of Karmei Yosef, on the lower slopes of the Judean Hills, on the way to Jerusalem on heavy limestone soil rich in stone. This land is known for its great compatibility with the growth of fine wine grapes since Solomon's reign. In the vineyard, trimming, thinning of clusters and shoots are carried out to achieve an optimal crop level, while monitoring the development of sugar, acid, color materials and minerals.
Strict adherence to the vine's growing conditions and adequate pruning allow for an appropriate ratio between the quantity of the landscape and the quantity of fruit, a ratio that ensures optimum ripening conditions of the cluster. In preparation for harvest, the vineyard is treated with dryness and exposure to solar radiation. This unique treatment ensures the receipt of high quality aromatic fruit.
The fermentation process is carried out at different temperatures to maximize the potential of the grapes at each fermentation stage. The wine is produced without filtering in long shading processes to ensure beautiful aroma and taste. The wine is then aged for 12 months in wooden barrels made mostly from French oak and a few of American oak to create a true combination between the aroma of the fruit and the smell of the barrel.
With a rich history of wine production dating back to biblical times, Israel is a part of the cradle of wine civilization. Here, wine was commonly used for religious ceremonies as well as for general consumption. During Roman times, it was a popular export, but during Islamic rule around 1300, production was virtually extinguished. The modern era of Israeli winemaking began in the late 19th century with help from Bordeaux's Rothschild family. Accordingly, most grapes grown in Israel today are made from native French varieties. Indigenous varieties are all but extinct, though oenologists have made recent attempts to rediscover ancient varieties such as Marawi for commercial wine production.
In Israel's Mediterranean climate, humidity and drought can be problematic, concentrating much of the country's grape growing in the north near Galilee, Samaria near the coast and at higher elevations in the east. The most successful red varieties are Cabernet Sauvignon, Merlot, and Syrah, while the best whites are made from Chardonnay and Sauvignon Blanc. Many, though by no means all, Israeli wines are certified Kosher.
With hundreds of red grape varieties to choose from, winemakers have the freedom to create a virtually endless assortment of blended red wines. In many European regions, strict laws are in place determining the set of varieties that may be used, but in the New World, experimentation is permitted and encouraged resulting in a wide variety of red wine styles. Blending can be utilized to enhance balance or create complexity, lending different layers of flavors and aromas. For example, a red wine blend variety that creates a fruity and full-bodied wine would do well combined with one that is naturally high in acidity and tannins. Sometimes small amounts of a particular variety are added to boost color or aromatics. Blending can take place before or after fermentation, with the latter, more popular option giving more control to the winemaker over the final qualities of the wine.
How to Serve Red Wine
A common piece of advice is to serve red wine at "room temperature," but this suggestion is imprecise. After all, room temperature in January is likely to be quite different than in August, even considering the possible effect of central heating and air conditioning systems. The proper temperature to aim for is 55° F to 60° F for lighter-bodied reds and 60° F to 65° F for fuller-bodied wines.
How Long Does Red Wine Last?
Once opened and re-corked, a bottle stored in a cool, dark environment (like your fridge) will stay fresh and nicely drinkable for a day or two. There are products available that can extend that period by a couple of days. As for unopened bottles, optimal storage means keeping them on their sides in a moderately humid environment at about 57° F. Red wines stored in this manner will stay good – and possibly improve – for anywhere from one year to multiple decades. Assessing how long to hold on to a bottle is a complicated science. If you are planning long-term storage of your reds, seek the advice of a wine professional.
EPC31963_2013
Item#
158989