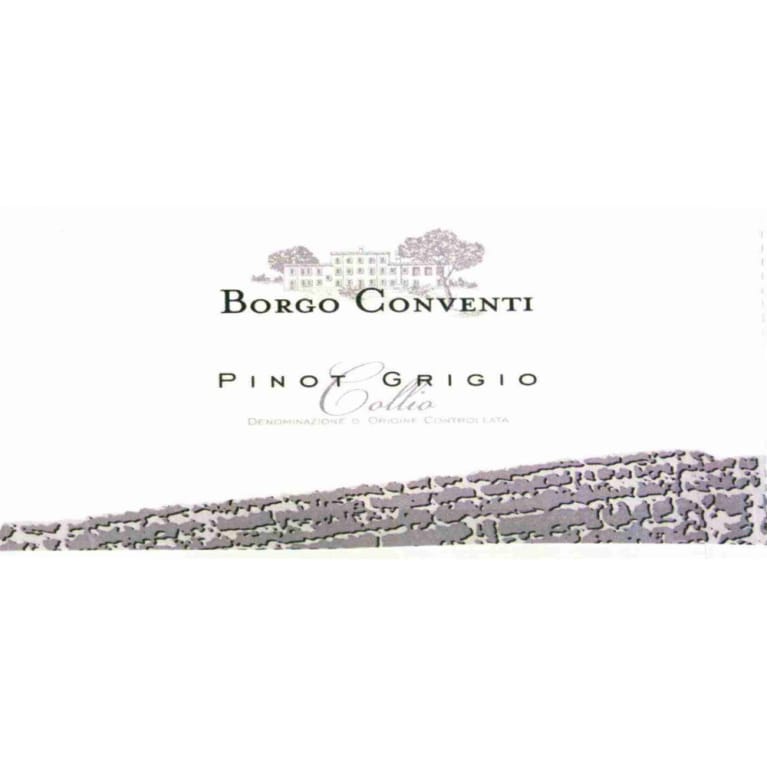 Borgo Conventi Pinot Grigio 2015
Out of Stock

(was $19.99)
Winemaker Notes
Borgo Conventi Pinot Grigio is a lively, medium-bodied Pinot Grigio with complex aromas of wild flowers, ripe pear and a hint of bread crust. Elegant with a fine balance between structure, fruit, and acidity and a full, lingering finish.
Serve as an aperitif or with dishes such as soft-shelled crabs, grilled prawns, pasta primavera and pork tenderloin.
Critical Acclaim
All Vintages
Delicate alluring scents suggesting ripe orchard fruit and Spanish broom lead the nose on this subtle elegant white. On the bright balanced palate, notes of beeswax and mineral underscore Bartlett pear and yellow apple. It boasts impressive harmony and freshness for what was an extremely hot vintage.
View More
The name Borgo Conventi, which translates to "hamlet convent", was inspired by a legend and a plot of land in the ancient hamlet of Farra d'Isonzo, located in Italy's Friuli-Venezia Giulia region. In the 17th Century, a noble landowner, Count Strassoldo, donated the land to a friar named Basilio Pica, on which the province's first monastery was built. Established in 1975, Borgo Conventi took its name from this legendary land in Farra d'Isonzo and was founded on the promise to produce elegant wines which respect the land and the province's history. Today, Giancarlo Polegato and his family remain committed to that promise.
Borgo Conventi owns 20 hectares of prime vineyards in the Collio DOC, which covers the hills of Gorizia in the prestigious wine growing region of Friulia-Venezia Giulia. Collio borders Italy's Veneto region and the neighboring countries of Slovenia and Austria. Geographically, Collio is influenced by the Alps to the north, the Adriatic Sea to the south and the Friulian Plain in between, and the DOC is known for producing complex and aromatic white wines which exhibit Slavic, Germanic and Italian traits. The reigning white-wine grape varieties include the indigenous Friulano as well as the international varieties of Pinot Grigio and Sauvignon. Borgo Conventi's estate vineyards range in age from 15 to 45 years old and the soil is composed of layers of marl and sandstone which impart a unique minerality to the wines.
Winemaker Paolo Corso has been making wines for Borgo Conventi since 1989, and believes great wine is crafted in the vineyard. The passionate team at Borgo Conventi is devoted to their vineyards and their ecosystem and the use of sustainable farming practices, such as the elimination of chemical weed control and the use of weather stations in the vineyard - it's their way of saying, "thank you", to the land.
Collio is a crescent-shaped sub region of Friuli-Venezia Giulia that hugs right up against the Slovenian border. It is perfectly situated for growing wine grapes, especially of the white variety.
The Julian Alps to Collio's north allow the influx of cool, nighttime breezes, while the Adriatic Sea to its south regulates the region's temperatures. The area contains flysch soils,locally known as, ponca, a layered, sedimentary rock that formed millions of years ago as continents collided under the sea. Today the flysch soils that dominate the hills of Collio provide an interesting substrate for vine roots, with measurable mineral variations within small areas. The fractured layers of flysch soils also facilitate drainage and deepening of vine roots.
The region boasts a unique set of indigenous white varieties including Friulano, Ribolla Gialla, Malvasia and the rare, Picolit. International whites—Pinot Grigio, Pinot Bianco, Sauvignon (Blanc) and Chardonnay—have also been in the area for well over 100 years. Today Collio is often associated with crisp, clean, floral and fruity whites. But in recent years, there has been a resurgence in popularity of the ancient Slovenian style of fermenting white grapes on their skins. This process retains additonal colors and phenols, producing a complex finished wine with an orange hue, warranting the term, "orange wines."
Reds are far less common but the indigenous Pignolo makes an age-worthy red, and the international varieties Merlot and Cabernet grow here as well.
Showing a unique rosy, purplish hue upon full ripeness, this "white" variety is actually born out of a mutation of Pinot Noir. The grape boasts two versions of its name, as well as two generally distinct styles. In Italy, Pinot Grigio achieves most success in the mountainous regions of Trentino and Alto Adige as well as in the neighboring Friuli—all in Italy's northeast. France's Alsace and Oregon's Willamette Valley produce some of the world's most well-regarded Pinot Gris wine. California produces both styles with success.
Where Does Pinot Gris / Pinot Grigio Come From?
Pinot Gris is originally from France, and it is technically not a variety but a clone of Pinot Noir. In Italy it's called Pinot Grigio (Italian for gray), and it is widely planted in northern and NE Italy. Pinot Gris is also grown around the globe, most notably in Oregon, California, and New Zealand. No matter where it's made or what it's called, Pinot Gris/Pinot Grigio produces many exciting styles.
Tasting Notes for Pinot Grigio
Pinot Grigio is a dry, white wine naturally low in acidity. Pinot Grigio wines showcase signature flavors and aromas of stone fruit, citrus, honeysuckle, pear and almond. Alsatian styles are refreshing, expressive, aromatic (think rose and honey), smooth, full-bodied and richly textured and sometimes relatively higher in alcohol compared to their Italian counterpart. As Pinot Grigio in Italy, the style is often light and charming. The focus here is usually to produce a crisp, refreshing, lighter style of wine. While there are regional differences of Pinot Grigio, the typical profile includes lemon, lime and subtle minerality.
Pinot Grigio Food Pairings
The viscosity of a typical Alsatian Pinot Gris allows it to fit in harmoniously with the region's rich foods like pork, charcuterie and foie gras. Pinot Grigio, on the other hand, with its citrusy freshness, works well as an aperitif wine or with seafood and subtle chicken dishes.
Sommelier Secrets
Given the pinkish color of its berries and aromatic potential if cared for to fully ripen, the Pinot Grigio variety is actually one that is commonly used to make "orange wines." An orange wine is a white wine made in the red wine method, i.e. with fermentation on its skins. This process leads to a wine with more ephemeral aromas, complexity on the palate and a pleasant, light orange hue.
SWS121659_2015
Item#
160678