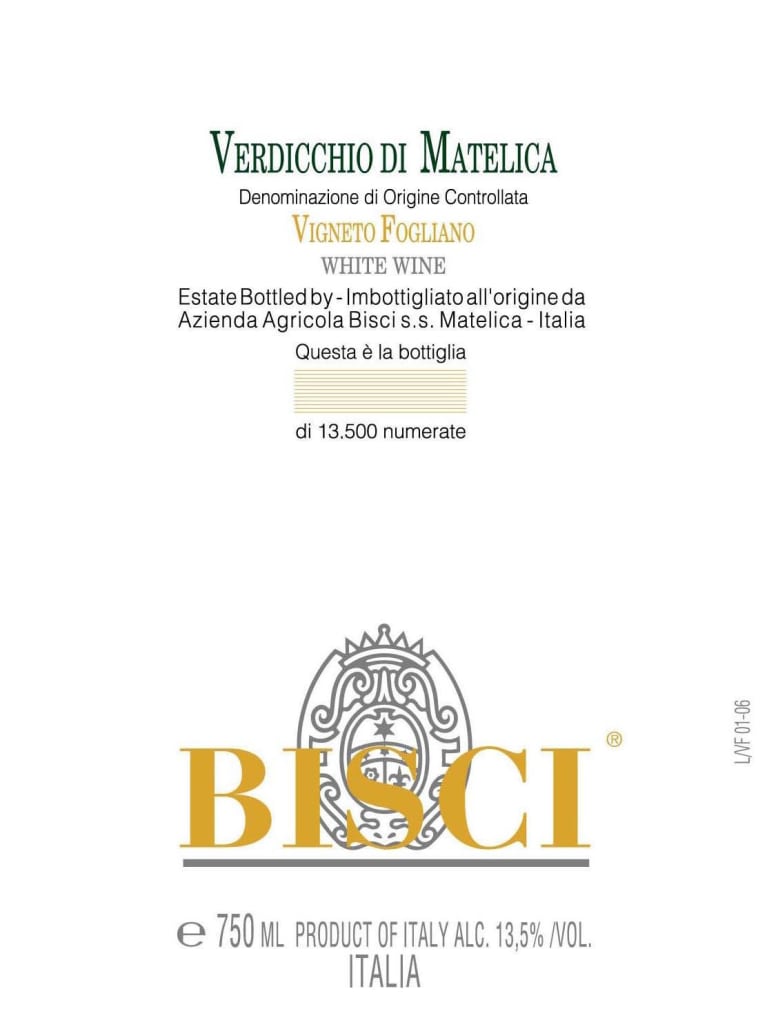 Bisci Verdicchio di Matelica Vigneto Fogliano 2005
Price per bottle
Currently Unavailable

$16.99
Halfway between Ancona and Macerata, Bisci is certainly one of the estates where the qualities of Verdicchio di Matelica are most valued. The vineyards were totally replanted starting from the seventies and are located at an altitude of 300-350 mts above sea level with southern exposure. The alternation of sunny days and of fresh and dry nights gives the grapes character and an extremely fine fragrance.
Bisci practices organic agriculture, but is not certified organic. Integrated insect and disease control is followed. The Marche Region monitors climatic data and informs the growers in regard to the need for disease control. To thwart mold and pests, sulfur and copper-based products are used in the vineyards. For nutritional purposes, vineyard owners use "managed" cover crops between the rows of vines. The soil is tilled to avoid competition between the roots for nutrients, water and oxygen. When needed, organic fertilizer (manure) is used after the harvest. Low doses of SO2 in the wines help preserve the wine's quality.
Stretching along Italy's eastern coast with neighbors, Umbria to its west and Abruzzo to its south, Marche is a region with a varying climate from north to south. Its coastal plains roll into hills that become the Apennine Mountains, which run the length of the country. The Marche's best red wines come from the grapes, Montepulciano and Sangiovese; the local Verdicchio makes refreshing, crisp and light whites.
There are hundreds of white grape varieties grown throughout the world. Some are indigenous specialties capable of producing excellent single varietal wines. Each has its own distinct viticultural characteristics, as well as aroma and flavor profiles.
ZZZREFPRODUCT376747
Item#
376747