Barton & Guestier Sparkling Rose
Out of Stock

(was $12.99)
Winemaker Notes
Bright, salmon-pink in color. Flattering notes of strawberry, raspberry and gentle spice aromas. Rich, fresh cherry and gentle spice aromas lead to a pure, mouthful of freshly picked forest fruits. Very uplifting, a perfect aperitif with canapes or red fruit desserts!
Blend: 40% Grenache, 30% Syrah, 30% Cinsault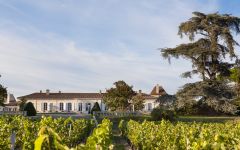 Barton & Guestier is the oldest and one of the most prestigious wine houses in Bordeaux. With nearly 300 years of history, Barton & Guestier was established in 1725 by Thomas Barton, a renowned negociant coming from Ireland. In the early 19th century, his grandson joined forces with Frenchman Daniel Guestier, a reputed importer of Bordeaux wines into Baltimore, in the British colonies in America, and the one who delivered the wines that President Thomas Jefferson had ordered from the Barton family. It remains the most iconic French wine brand bringing authentic French terroir and emotions to wine lovers all over the world.
The Barton & Guestier range represents a wonderful diversity of the best French wine appellations with about 200 passionate winegrowers over the main winegrowing regions: Bordeaux, Loire Valley, Burgundy, Beaujolais, Rhône Valley, Languedoc, Gascony and Corsica. With its wide variety of wines, Barton & Guestier enables wine lovers - from the occasional wine drinker to the connoisseur - to make a journey through France. The B&G winemaking team guarantees consistent quality and style, vintage after vintage. The company headquarters is based at Château Magnol, Haut-Médoc, a great Cru Bourgeois wine estate certified "High Environmental Value" and ISO 14001. Chateau Magnol also serves as a guesthouse and wine academy open to wine professionals from all over the world. 
Appreciated worldwide as an iconic token of celebration and luxury, sparkling wines from France come in more forms than just Champagne. In order to bear the label, 'Champagne', a sparkling wine must originate from the northeastern region of France—called Champagne—and adhere to strict quality standards. Champagne's chalky, limestone and soils and cold, continental climate create grapes with ample acidity and concentration. Chardonnay, Pinot Noir, and Pinot Meunier are permitted for use in Champagne.
French sparkling wines made outside of Champagne take the name Crémant. Crémant de Bourgogne, Alsace, Loire and Limoux are the best known. These are made using the same technique as that of Champagne, called méthode traditionelle, but typically are composed of the regional grape variety. Usually dry to off-dry with bright acidity, these are often characterized by qualities of lemon, peach, marzipan and white flowers.