Product Details
---
Varietal
---
Region
---
Producer
---
Size
750ML
---
ABV
46%
---
Distiller Notes
Honeycrisp apples, toasted oak, kettle corn, graham cracker and oiled glove on the nose. Flavors of honey, sweet cream, candied pecans, sandalwood and leather. The finish is soft and sweet, drying and tannic fade with lingering spice.
Proof: 92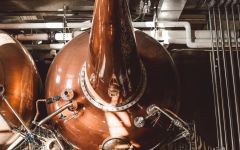 In 2008, Balcones was nothing more than an idea driven by a passion to create something original and authentic, right here in the Heart of Texas. It all started in an old welding shop under a bridge in Waco. For the next year, they replaced the roofing, knocked out walls, laid brick, cut pipes, installed copper pot stills from Portugal, and shoehorned a whisky distillery inside that quaint building. Proud of what they had accomplished on their own, they began distilling in 2009.
Although Bourbon may be produced anywhere in the United States, it is most commonly associated with Bourbon County, Kentucky, where it has been produced since the late 18th century. Made from a mash bill containing at least 51% corn, the Bourbon Whiskey distillate must be aged in new, charred white oak barrels. Bourbon Whiskeys are bottled at eighty proof (40% abv) or higher and cannot contain any added color or flavor. A versatile spirit that can be sipped neat, with water or on the rocks, it also performs nicely added to cocktails like the Old Fashioned.