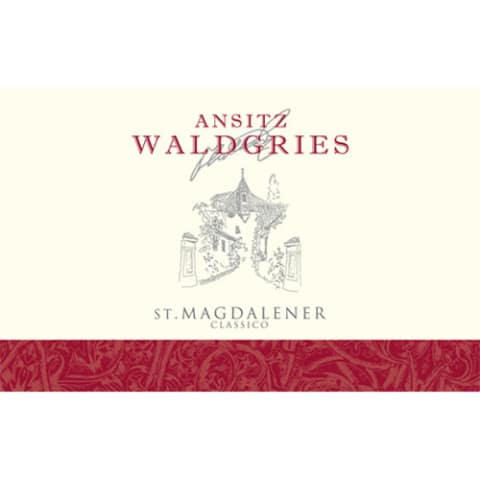 Ansitz Waldgries St. Magdalener Classico 2013
Out of Stock

(was $25.99)
Winemaker Notes
Color is bright ruby red. On the nose, cherry, raspberry,red fruits, almonds. On the palate, harmonious, crisp with well integrated tannins, firm texture, clear expression and long intriguing finish.
Pairs well with cold starters, smoked bacon,ham and sausages, Italian starters.
Wine growing has a lot to do with tradition - in the original sense of the word: handing down from one generation to the next. My parents and their family taught me values, knowledge and experience that form a fertile foundation for my daily work in the vineyard. To that extent there is a message in every bottle of wine, communicating a deeply rooted passion for wine growing and the tradition of a family. This tradition also entails the duty to pass on the work of my forefathers to the next generation.
A mountainous northern Italian region heavily influenced by German culture, Trentino-Alto Adige is actually made up of two separate but similar regions: Alto Adige and Trentino.
Trentino, the southern half, is primarily Italian-speaking and largely responsible for the production of non-native, international grapes. There is a significant quantity of Chardonnay, Pinot Grigio and Merlot produced. But Trentino's native and most unique red variety, Teroldego, while still rare, is gaining popularity. It produces a deeply colored red wine rich in wild blackberry, herb, coffee and cocoa.
The rugged terrain of German-speaking Alto Adige (also referred to as Südtirol) focuses on small-scale viticulture, with great value placed on local varieties—though international varieties have been widely planted since the 1800s. Sheltered by the Alps from harsh northerly winds, many of the best vineyards are at extreme altitude but on steep slopes to increase sunlight exposure.
Dominant red varieties include the bold, herbaceous Lagrein and delicate, strawberry-kissed, Schiava, in addition to some Pinot Nero.
The primary white grapes are Pinot grigio, Gewürztraminer, Chardonnay and Pinot blanc, as well as smaller plantings of Sauvignon blanc, Müller Thurgau. These tend to be bright and refreshing with crisp acidity and just the right amount of texture. Some of the highest quality Pinot grigio in Italy is made here.
Beyond the usual suspects, there are hundreds of red grape varieties grown throughout the world. Some are indigenous specialties capable of producing excellent single varietal wines, while others are better suited for use as blending grapes. Each has its own distinct viticultural characteristics, as well as aroma and flavor profiles, offering much to be discovered by the curious wine lover. In particular, Portugal and Italy are known for having a multitude of unique varieties but they can really be found in any region.
EWLITWALSMC13_2013
Item#
149074