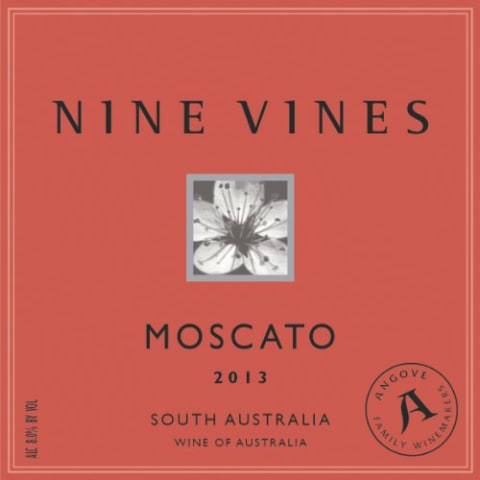 Angove Family Winemakers Nine Vines Moscato 2013
Winemaker Notes
Crisp and fresh bursting with grapey flavours this is a light delightfully sweet slightly fizzy wine made to drink soon after bottling.
Perfect as an aperitif, or to accompany dessert, this is a wine that speaks of its South Australian origins, perfect with a picnic next to the river or a lazy afternoon on the beach.
The Angove family company, Angove's Pty. Ltd., ranks among Australia's largest privately owned wine companies and stands as one of the few with strong interests in distilling as well as grape growing and winemaking.
His early experimentation with vines, winemaking and distilling, led to the establishment of a proud family business. Dr. Angove's initial plantings at the township of Tea Tree Gully in the Adelaide foothills were the forerunner of one of the largest vineyards in the southern hemisphere - the magnificent Nanya Vineyard at Renmark in South Australia's Murray Valley.
Since World War II, the company has steadily expanded its operations and structure. Their Renmark facility has grown to become a major winemaking and distilling enterprise, with storage capacity for more than15 million litres of wine and spirit. In 1947, Thomas William Carlyon Angove, grandson of the founder, took the helm as Managing Director, beginning a new era in development.
In 1983, the fourth generation of the family took control, when John Carlyon Angove succeeded his father as Managing Director of the company.
The success of the Angove's identity owes a great deal to a pioneering spirit. The same urge that drove Dr. Angove to leave his home in Cornwall and emigrate to Australia is evident in many of the developments the company has taken since.
South Australia is the historic heart of Australian wine, a great wine capital of the world, and home to some of the most famous regions. It produces more than 80% of Australia's premium wine from some of the oldest vines in the world. There is an abundance of varieties and wide spectrum of styles to explore. From the rogue to refined, discover Australian wines that are far from ordinary.
While Muscat comes in a wide range of styles from dry to sweet, still to sparkling and even fortified, it's safe to say it is always alluringly aromatic and delightful. The two most important versions are the noble, Muscat Blanc à Petits Grains, making wines of considerable quality and Muscat of Alexandria, thought to be a progeny of the former. Somm Secret—Pliny the Elder wrote in the 13th century of a sweet, perfumed grape variety so attractive to bees that he referred to it as uva apiana, or "grape of the bees." Most likely, he was describing Muscat.
SOU164849_2013
Item#
129234