Altocedro Ano Cero Malbec 2006
Winemaker Notes
Blend: 85% Malbec, 15% Tempranillo
Aged for 6 months in oak. Deep purple color, sweet tannins, aromas of red fruit, spice, and flowers. A huge extraction and a long silky finish.
"This malbec is packed with flavors of cherry and ripe strawberry, its tannins forming a dense structure supported by vivid acidity..."
-Wines & Spirits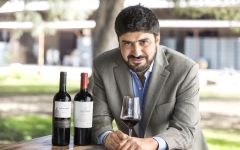 The winery of Altocedro is located in the growing region of La Consulta, Valle de Uco, Mendoza. This is one of the premier Argentine growing zones. Limited production with sustainable growing practices make the Altocedro wines a cult-type wine in Argentina. Winemaker Karim Mussi Saffie focuses on producing terroir-driven wines.
All harvesting, sorting, and crushing are done in individual batches by hand using no machinery in the process. The vines range up to 70 years of age, with only 1,600 plants per acre, and strict harvesting of only 1.2 kg of grapes per vine. The extract is done with a gravity flow system developed at the winery over 100 years ago.