Alain Voge Saint Peray Harmonie 2015
Out of Stock

(was $17.99)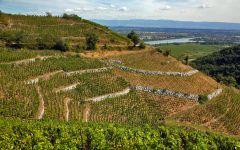 Since its inception, several generations ago, Domaine Alain Voge has always been a family domain located in Cornas. In 1958, Alain Voge joined his father to work on the small typical farm. He decided to specialise in wine.
At the time, it was an audacious decision: despite their history, the Cornas and Saint Peray appellations were forgotten sleeping beauties. Very quickly, he extended the vineyards in places which had remained uncultivated over the last 30 years and developed the sales of his bottled wines. Supported by his wife Eliane, he visited the best national and regional restaurants to make his wines known.
Thanks to their quality and to Alain Voge's creative approach, the domain's reputation has rapidly increased. Yesterday, as today and tomorrow, our philosophy is to practice a hand made viticulture on the slopes of the Rhône right bank, dedicated to Syrah and Marsanne. Our wines are the expression of their terroir, for the pleasure of lovers, all over the world.
A long and narrow valley producing flavorful red, white, and rosé wines, the Rhône is bisected by the river of the same name and split into two distinct sub-regions—north and south. While a handful of grape varieties span the entire length of the Rhône valley, there are significant differences between the two zones in climate and geography as well as the style and quantity of Rhône wines produced. The Northern Rhône, with its continental climate and steep hillside vineyards, is responsible for a mere 5% or less of the greater region's total output. The Southern Rhône has a much more Mediterranean climate, the aggressive, chilly Mistral wind and plentiful fragrant wild herbs known collectively as 'garrigue.'
In the Northern Rhône, the only permitted red variety is Syrah, which in the appellations of St.-Joseph, Crozes-Hermitage, Hermitage, Cornas and Côte-Rôtie, it produces velvety black-fruit driven, savory, peppery red wines often with telltale notes of olive, game and smoke. Full-bodied, perfumed whites are made from Viognier in Condrieu and Château-Grillet, while elsewhere only Marsanne and Roussanne are used, with the former providing body and texture and the latter lending nervy acidity. The wines of the Southern Rhône are typically blends, with the reds often based on Grenache and balanced by Syrah, Mourvèdre, and an assortment of other varieties. All three northern white varieties are used here, as well as Grenache Blanc, Clairette, Bourbelenc and more. The best known sub-regions of the Southern Rhône are the reliable, wallet-friendly Côtes du Rhône and the esteemed Châteauneuf-du-Pape. Others include Gigondas, Vacqueyras and the rosé-only appellation Tavel.
There are hundreds of white grape varieties grown throughout the world. Some are indigenous specialties capable of producing excellent single varietal wines. Each has its own distinct viticultural characteristics, as well as aroma and flavor profiles.
ZZZREFPRODUCT209396
Item#
209396