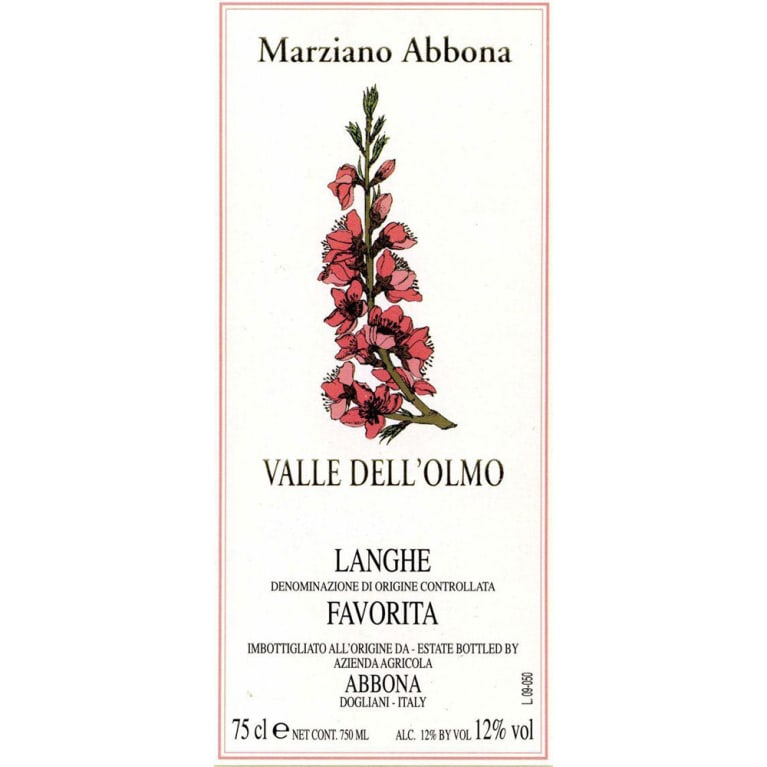 Abbona Favorita Valle Dell'Olmo 2014
Out of Stock

(was $17.99)
Winemaker Notes
The Favorita is a typical variety of the Roero, this wine also obtains excellent results in the Langhe. For this reason, we decided to allot a small vineyard in San Luigi to cultivating this perfumed and captivating variety, which has much in common with Pigato and Vermentino. On the nose, aromas of herbs and wildflowers, and in the mouth it is pleasantly dry. Easy to pair, it goes well with vegetable-based appetizers, first courses with tomato, fish, and white meat. The Favorita ages exclusively in stainless steel in order to preserve the freshness of its aromas.
The vineyards of Marziano Abbona, a vintner and farmer of great sensitivity and dedication to environmental protection, are set in the Langhe area, in one of Italy's regions best suited to winegrowing. The winery was founded by Celso, Marziano's father, who had the foresight to recognize the area's potential for the production of top-quality wines. About sixty years ago, he planted the Doriolo vineyard in an area whose soil composition, exposure to sunlight and surrounding environment made it the ideal choice for the production of Dogliani Dolcetto wine. Marziano took up his father's challenge and passion and, with the greatest care, patience and insight, he was able to produce wines of the highest quality, in which aromas and colors blend to give nectars reflecting the spirit of one of the Langhe area's most highly regarded vintners. The same can be said about the non-autochthonous grape-based wines, in particular Cinerino, made from Viogner grapes, which is an extremely enjoyable, charming and aromatic wine. The great red wines, from the above-mentioned Dolcetto to Barberas and Nebbiolo in all its versions, represent the perfect blend of quality, balance, charm and structure.
Set upon a backdrop of the visually stunning Alps, the enchanting and rolling hills of Piedmont are the source of some of the country's longest-lived and most sought-after red wines. Vineyards cover a great majority of the land area—especially in Barolo—with the most prized sites at the top hilltops or on south-facing slopes where sunlight exposure is maximized. Piedmont has a continental climate with hot, humid summers leading to cold winters and precipitation year-round. The reliable autumnal fog provides a cooling effect, especially beneficial for Nebbiolo, Piedmont's most prestigious variety.
In fact, Nebbiolo is named exactly for the arrival of this pre-harvest fog (called "nebbia" in Italian), which prolongs cluster hang time and allows full phenolic balance and ripeness. Harvest of Nebbiolo is last among Piedmont's wine varieties, occurring sometime in October. This grape is responsible for the exalted Piedmont wines of Barbaresco and Barolo, known for their ageability, firm tannins and hallmark aromas of tar and roses. Nebbiolo wines, despite their pale hue, pack a pleasing punch of flavor and structure; the best examples can require about a decade's wait before they become approachable. Barbaresco tends to be more elegant in style while Barolo is more powerful. Across the Tanaro River, the Roero region, and farther north, the regions of Gattinara and Ghemme, also produce excellent quality Nebbiolo.
Easy-going Barbera is the most planted grape in Piedmont, beloved for its trademark high acidity, low tannin and juicy red fruit. Dolcetto, Piedmont's other important red grape, is usually ready within a couple of years of release.
White wines, while less ubiquitous here, should not be missed. Key Piedmont wine varieties include Arneis, Cortese, Timorasso, Erbaluce and the sweet, charming Muscat, responsible for the brilliantly recognizable, Moscato d'Asti.
There are hundreds of white grape varieties grown throughout the world. Some are indigenous specialties capable of producing excellent single varietal wines. Each has its own distinct viticultural characteristics, as well as aroma and flavor profiles.
WLD271646_2014
Item#
165822