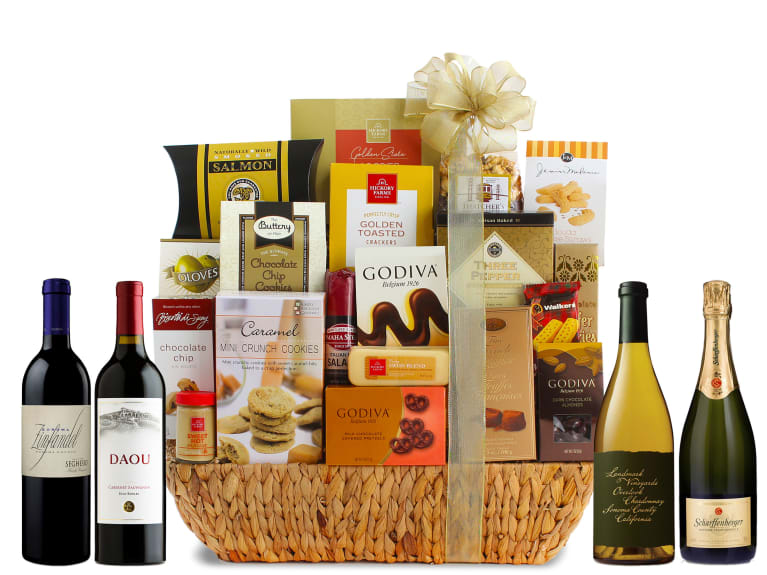 90 Point Grand Gourmet Wine Gift Basket
Ships Sat, Jun 13
Limit
0
bottles
per customer
Description
We filled this basket to the brim and paired it with an incredible selection of four delicious wines sure to impress the discerning palate: DAOU Cabernet Sauvignon, Scharffenberger Brut Excellence, Landmark Overlook Chardonnay, and Seghesio Sonoma Zinfandel. For food and treats, we added a collection of superb goodies and tied everything up with a gorgeous bow. Great for gifting!
Wine Gift Basket Includes:
2017 DAOU Vineyards Cabernet Sauvignon:
Rich deep dark berry color with creamy mocha-espresso flavors is the first impression of this wine. The tannins are well integrated with the fruit and create a long finish that keeps going.
Rated 93 Points: Wine Enthusiast
Scharffenberger Brut Excellence:
Scharffenberger Brut Excellence is made by the traditional méthode champenoise process – whereby the wines are individually bottle-fermented before being riddled and disgorged. The wine is approximately two-thirds Pinot Noir and one-third Chardonnay and undergoes 100% malolactic fermentation.
Rated 91 Points: Wine & Spirits
2017 Landmark Overlook Chardonnay:
Pale yellow in the glass, showing aromas of Meyer lemon, baked apple, and honeysuckle. The full-bodied palate shows ripe lemon, yellow apple skin on entry with, creamy peach, subtle butterscotch notes and chamomile flower with a hint of salted caramel on the mid palate. The finish has an attractive mineral texture and fresh acidity with lightly toasted brioche and tropical fruit notes.
Rated 92 Point: Tasting Panel
2017 Seghesio Sonoma Zinfandel:
Aromas of wild blueberry, briary raspberry patch and baking spice give way to a palate of juicy, ripe blackberry and black plum. Soft tannins, a rich mouthfeel and focused acidity lead to a long finish, creating a delightful wine to pair with red sauces, pizza, and barbeque, as well as sopressata and dry jack.
Rated 91 Points: Wine Spectator
Alaskan Smokehouse Salmon Fillet 2 oz
Partner's Three Pepper Water Crackers 2 oz
Hickory Farms Creamy Swiss Blend Cheese 4 oz
Oloves Bistro Olives 1.1 oz
Omaha Steaks Italian Dry Salami 5 oz
Hickory Farms Sweet Hot Mustard 2.5 oz
Hickory Farms Golden Toasted Crackers 1.5 oz
J&M Cheddar Cheese Straws 2.5 oz
Hickory Farms Chocolate Covered Oreos 8 oz
Godiva Milk Chocolate Pretzels 2.5 oz
Godiva Crème Brulee Truffles 4.3 oz
Godiva Chocolate Covered Almonds 2 oz
Caramel Mini Crunch Cookies 6 oz
Walkers Shortbread Cookie 1 oz
Chocolate Chip Biscotti by Biscotti di Suzy 1.8 oz
Thatcher's Caramel Popcorn 3 oz
Buttery on Main Chocolate Chip Cookies 2 oz
Chocolate Wafer Cookies 2.1oz
Jacques French Truffles 3.5 oz
Large Reusable Hyacinth Basket
Gift components, gift baskets, ribbon, wine or vintages can sometimes sell out due to the popularity of our gifts. If this happens, we will always substitute with replacements of equal or greater value such as similar gift components, gift baskets, ribbon, wines or alternative vintages. Pursuant to state laws in New York, gifts that contain both food and wine will be sent in two separate packages.
ADXTX1W5L62537_0
Item#
62537