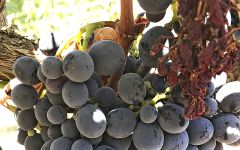 Palmina's philosophy, passion and strongly held belief is that wine is an extension of the plate, a component of a meal and a means to bring people together. Formed by winemaker Steve Clifton (of La Voix Winery and formerly of Brewer-Clifton Wines) in 1995, Palmina is named in honor of Steve's great friend Paula. Like a grandmother to him, she taught Steve the love of cooking, wine and the Italian lifestyle and was a spark in his life. After Paula succumbed to breast cancer, Steve found that her given name on her Italian birth certificate was Palmina, and the winery was thus fittingly named. 
Palmina produces a full range of wines crafted solely from Italian varietals with names that are as fun to say as they are delicious to drink; Dolcetto, Barbera, Nebbiolo, Pinot Grigio. Palmina translates the history of those grapes to the growing conditions and vineyard sites of the very unique characteristics of Santa Barbara County. In California, the transverse mountain ranges typically run north to south but the Santa Barbara County region is unlike any other in the world: its transverse ranges take a turn, running east and west. This creates a unique growing climate for a range of grape varietals by offering daily, both hot and cool climates. The resulting wines are Italian by inspiration with flavors rooted in Santa Barbara County, and all are intended to be a delicious component of a meal.
Palmina "pure farms" its 11 acres in Santa Barbara County. Pure farming gives back more than it takes. Unwavering in its farming standards, Palmina does not utilize herbicides or pesticides. Weed-clearing is done through laborious hand-hoeing, with critical soil nutrients reintroduced by planting organic legumes and grasses between the vines. With mindful intention, organic, sustainable and biodynamic practices are utilized.
With a dry and mild climate cooled significantly by moist ocean fog and breezes, Santa Barbara County is a grape-grower's dream. Part of the larger Central Coast appellation, Santa Barbara is home to Santa Maria Valley and Santa Ynez Valley. The conditions here provide an opportunity for nearly effortless production of high-quality cool-climate wines. This is also the site of the 2004 film Sideways, which caused Pinot Noir's popularity to skyrocket and brought new acclaim to the region.
Chardonnay and Pinot Noir are the stars of Santa Barbara, producing wines marked by racy acidity. Crisp Sauvignon Blanc and savory Syrah are also important. The region is home to many young and enthusiastic winemakers eager to experiment with less common varieties including Chenin Blanc, Grüner Veltliner, Trousseau Gris, Gamay and Cabernet Franc, making it an exciting area to watch.
An easy drinking red with soft fruity flavors—but catchy tannins, Dolcetto is often enjoyed in its native Piedmont on a casual weekday night, or for apertivo (the canonical Piedmontese pre-dinner appetizer hour). Somm Secret—In most of Piedmont, easy-ripening Dolcetto is relegated to the secondary sites—the best of which are reserved for the king variety: Nebbiolo. However, in the Dogliani zone it is the star of the show, and makes a more serious style of Dolcetto, many of which can improve with cellar time.
ZZZREFPRODUCT409506
Item#
409506