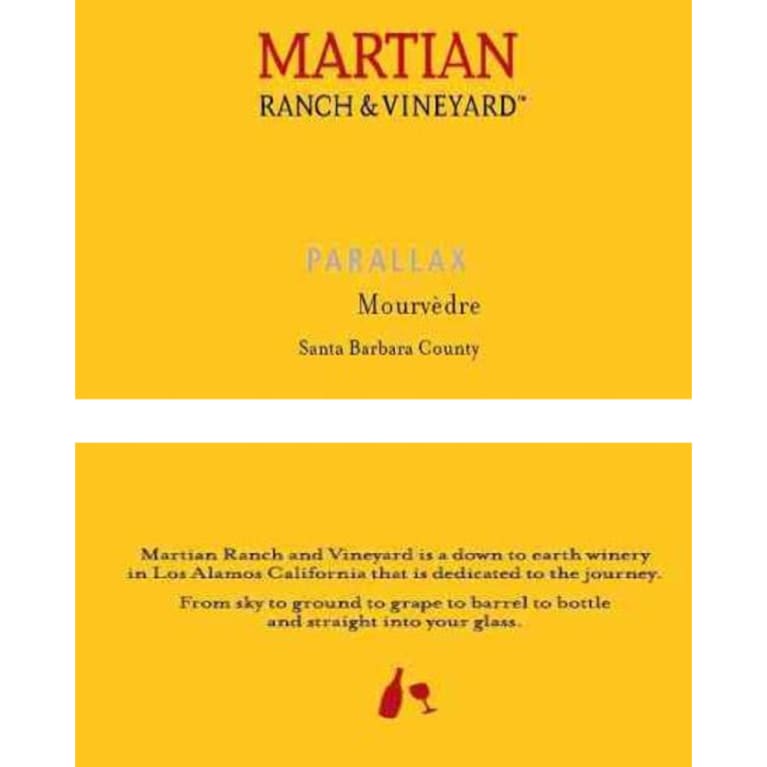 Martian Parallax Mourvedre 2014
Winemaker Notes
Hints of game and sweet tobacco on the nose with blackberry, cassis and hints of lavender on the palate. Wow...Meanwhile, when walking in the vineyard one day, it occurred to us that when you move your head side to side, objects in the distance seem to move at a different speed than the objects close up (the Mourvèdre grapes in this case). Webster's defines this as parallax, the apparent shift in position of an object as seen from two different points. It's how those pesky astronomers measure distances to the Moon, the Sun and the stars. In other words, Parallax is a giant outer space measuring stick. Luckily Mourvedre berries are thick skinned. They therefore can withstand the scrutiny of being judged and appraised. And we are confident that our Parallax will one day be the Mourvedre that all others are measured by. It's an exciting wine to drink.
Pairs well with chicken & chipotle sausage on sliced baguettes; mushroom & roasted red pepper pasta with feta cheese; white beans with bacon.
Martian is a down to earth winery in Los Alamos California that is dedicated to the journey. From sky to ground to grape to barrel to bottle and straight into your glass. Martian Ranch & Vineyard is the creation of its proprietor Nan Helgeland. Despite rumors to the contrary, Martian is the blending of the names of her sons Martin and Ian. The Martian seen occasionally on the premises is as much a mystery to her as it is to anyone else.
With a dry and mild climate cooled significantly by moist ocean fog and breezes, Santa Barbara County is a grape-grower's dream. Part of the larger Central Coast appellation, Santa Barbara is home to Santa Maria Valley and Santa Ynez Valley. The conditions here provide an opportunity for nearly effortless production of high-quality cool-climate wines. This is also the site of the 2004 film Sideways, which caused Pinot Noir's popularity to skyrocket and brought new acclaim to the region.
Chardonnay and Pinot Noir are the stars of Santa Barbara, producing wines marked by racy acidity. Crisp Sauvignon Blanc and savory Syrah are also important. The region is home to many young and enthusiastic winemakers eager to experiment with less common varieties including Chenin Blanc, Grüner Veltliner, Trousseau Gris, Gamay and Cabernet Franc, making it an exciting area to watch.
Full of ripe fruit, and robust, earthy goodness, Mourvèdre is actually of Spanish provenance, where it still goes by the name Monastrell or Mataro. It is better associated however, with the Red Blends of the Rhône, namely Chateauneuf-du-Pape. Mourvèdre shines on its own in Bandol and is popular both as a single varietal wine in blends in the New World regions of Australia, California and Washington. Somm Secret—While Mourvèdre has been in California for many years, it didn't gain momentum until the 1980s when a group of California winemakers inspired by the wines of the Rhône Valley finally began to renew a focus on it.
HNYMRVPLX14C_2014
Item#
164221