Chacewater Winery Sauvignon Blanc 2017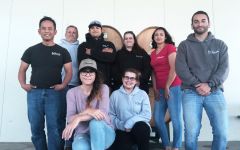 Paul and Kellye Manuel's roots both go back to Cornwall England. The Cornish were excellent tin miners, and Paul's great-grandfather brought this expertise to the Gold Country. On a visit to the family church in the village of Chacewater, a mason's mark caught Paul's eye. This is now their logo, to honor their pioneering roots. Paul worked in the family's construction business on 80 acres outside of Nevada City. When a devastating fire in 1988 swept through the land, clearing it, he decided to see if he could grow grapes. In 1988 they put in their first 10 acres and earned a reputation for exceptional quality for their organically grown fruit. They expanded to 36 acres, selling fruit to big wineries such as Fetzer. In 2004 they tried a custom crush in Lake County and sold it as bulk wine. In 2008 they purchased a 10-acre olive farm and mill from a local monastery and built a 10,000 sq. ft. winery next to the mill. A county superstar, they rapidly progressed from their first release in 2011 to being the "Golden State Winery of the Year in 2012."
?Chacewater Winery & Mill is a true family concern. The family's remarkably strong work-ethic (which they attribute to their Cornish gold-mining roots) has seen them turn a devastating fire into a golden opportunity. Paul and Kellye Manuel's' decision to plant vines on their land after a fire cleared it 30 years ago–has proven to be a very good one. Paul, had previously ran multi-million-dollar construction projects, but felt those mining roots drawing him back to the land, and that somehow his "blood and spirt" was "firmly rooted in the earth." The love-of-land gene has been passed down to the next generation (of three boys who grew up playing and working in the vineyards). Matt the youngest son, who was born the same month the first vines were planted, is now a passionate organic farmer. He manages the family's Ponderosa Vineyards, ensuring wine grapes of exceptional quality–proven by their many award-winning wines. The Manuel's' also source fruit from carefully selected local growers. 
A warm inland area just north of Napa Valley, Lake County represents a new frontier for California winemaking. While Prohibition halted viticulture here just as it did in so many California regions, winemaking activity remained fairly insignificant for a few decades longer than others. Finally in the 1990s Lake County Sauvignon blanc—uniquely savory and fruity—earned the appellation a renewed reputation.
Lake County is comprised of a handful of unique American Viticultural Areas (AVAs).
Vineyards that settle into the hills on the west side of Clear Lake create the Clear Lake AVA and produce good quality Cabernet Sauvignon, Sauvignon blanc and Zinfandel.
Recently the Red Hills AVA, located within the boundaries of the Clear Lake AVA, has become the focus of some of Napa's more respected growers. Its notable volcanic and obsidian-based soils could be the source of California's next best Cabernet Sauvignons. Andy Beckstoffer, a leader in recognizing prime Napa Valley vineyard locales, has already invested heavily in the area.
Guenoc Valley AVA produces fine examples of Petite Sirah, recognized for their voluptuous aromas of clove, cocoa, tobacco and deep red and blue berry flavors.
The High Valley AVA sits northeast of Clear Lake. This warm area boasts multiple soil types allowing growers a lot of flexibility and experimentation with grape varieties. While Sauvignon blanc is a mainstay, this zone excels with Zinfandel, Petite Sirah, as well as other less common varieties like Barbera and Tempranillo.
Capable of a vast array of styles, Sauvignon Blanc is a crisp, refreshing variety that equally reflects both terroir and varietal character. Though it can vary depending on where it is grown, a couple of commonalities always exist—namely, zesty acidity and intense aromatics. This variety is of French provenance. Somm Secret—Along with Cabernet Franc, Sauvignon Blanc is a proud parent of Cabernet Sauvignon. That green bell pepper aroma that all three varieties share is no coincidence—it comes from a high concentration of pyrazines (herbaceous aromatic compounds) inherent to each member of the family.
MPW90084_2017
Item#
507435